The Google Pixel 6 is on the way soon. Despite rival companies also launching phones in this period, the Pixel 6 is perhaps the one to watch since it marks a big change to how Google is designing its phones.
The Pixel 6 and Pixel 6 Pro — yes, there are two versions — promise to change everything we know about Google's phones. While there are still a few things we don't know, what has been confirmed and rumored is intriguing. And the biggest feature of all is a new system-on-chip called Tensor that is designed to provide the Pixel 6 series with a bunch of AI powers we haven't seen before. 
Here's what we've heard so far about the Pixel 6 release date, price, specs and features, as well as what we'd like to see from Google's next phone.
Latest Google Pixel 6 news (updated October 2)
Google Pixel 6 and Pixel 6 Pro specs: Rumored
| | | |
| --- | --- | --- |
| | Google Pixel 6 | Google Pixel 6 Pro |
| OS | Android 12 | Android 12 |
| Display | 6.4 inches AMOLED (90Hz) | 6.71 inches AMOLED (120Hz) |
| RAM | 8GB | 12GB |
| Storage | 128GB/256GB | 128GB/256GB/512GB |
| Rear camera | 50MP (Wide) + 12MP (Ultra wide) | 50MP (Wide) + 48MP (Tele) + 12MP (Ultra wide) |
| Front camera | 8MP | 12MP |
| Battery | 4,614 mAh | 5,000 mAh |
Google Pixel 6 Tensor chip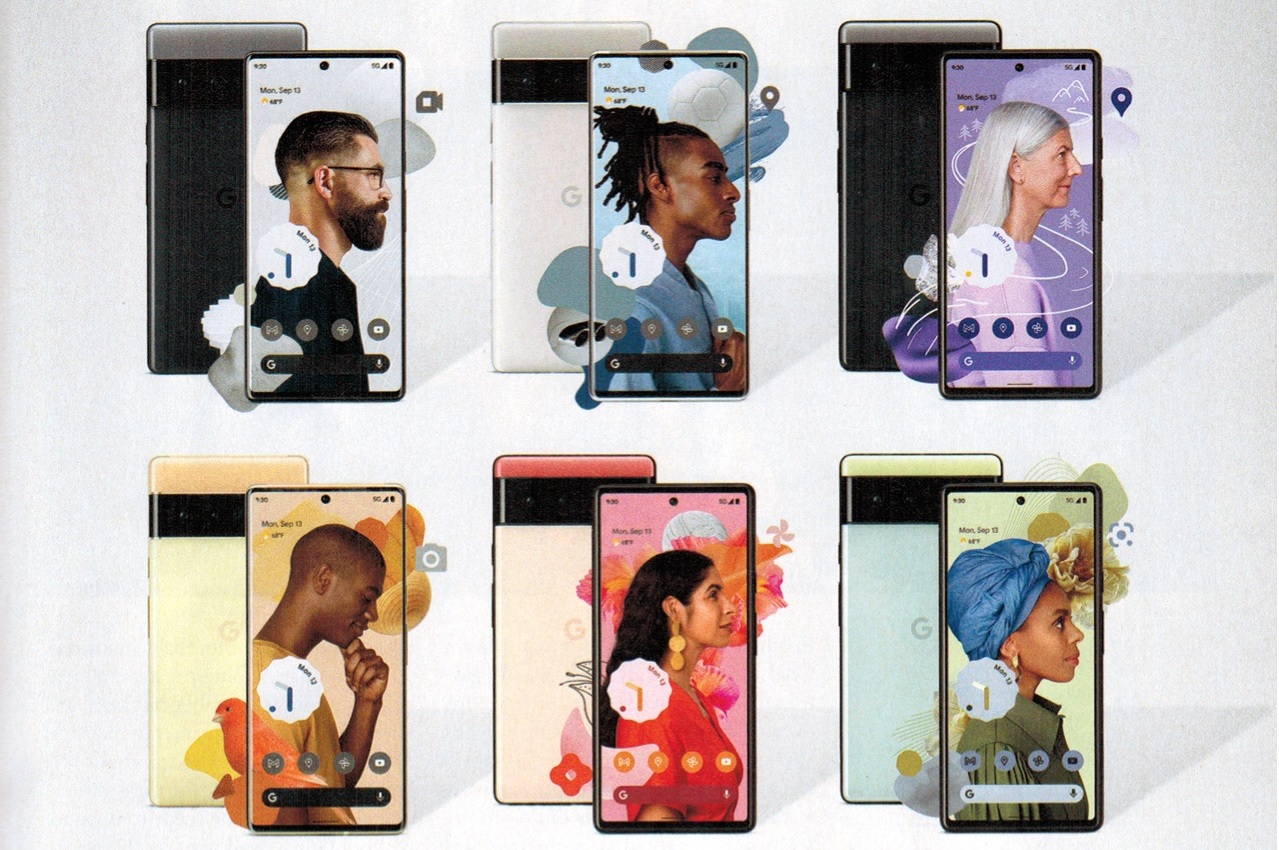 The Google Pixel 6's killer feature is the new Tensor SoC, which is focusing big on AI and machine learning. For example, the Tensor Processing Unit could take a blurry image of a toddler and make the child's face sharper. The TPU would recognize the unclear image is a face and then make the necessary adjustments. 
In addition, the Pixel 6 can apply AI and computational photography to video. When shooting a sunset, for example, the Pixel 6 can automatically adjust the white balance and increase the dynamic range. 
When using speech-to-text, the TPU can let you edit words on the keyboard even while you're speaking, and the speech-to-text is almost instantaneous. These are just some of the things Tensor is capable of. 
The above features appear or have been heavily hinted at in a new Google Pixel 6 advert, which has teased powerful translation, photography and speech recognition, as well as user-centric customization, which could all be powered by the Tensor chip. 
Google could have plans for the Tensor chip beyond the Pixel 6 lineup. A report claims Tensor will power the Pixel Fold, if that foldable phone proves to be more than just a rumor.
We'll be interested to see how the Tensor system-on-chip compares to a Snapdragon 888 which powers most Android flagships. Leaked Geekbench results suggest the Snapdragon 888 doesn't have anything to worry about, as the numbers attributed to a Tensor-powered device didn't approach the best Snapdragon scores. Then again, that could be a pre-production unit that hasn't been optimized for performance — assuming it even reflects the Tensor experience at all. 
Google Pixel 6 release date rumors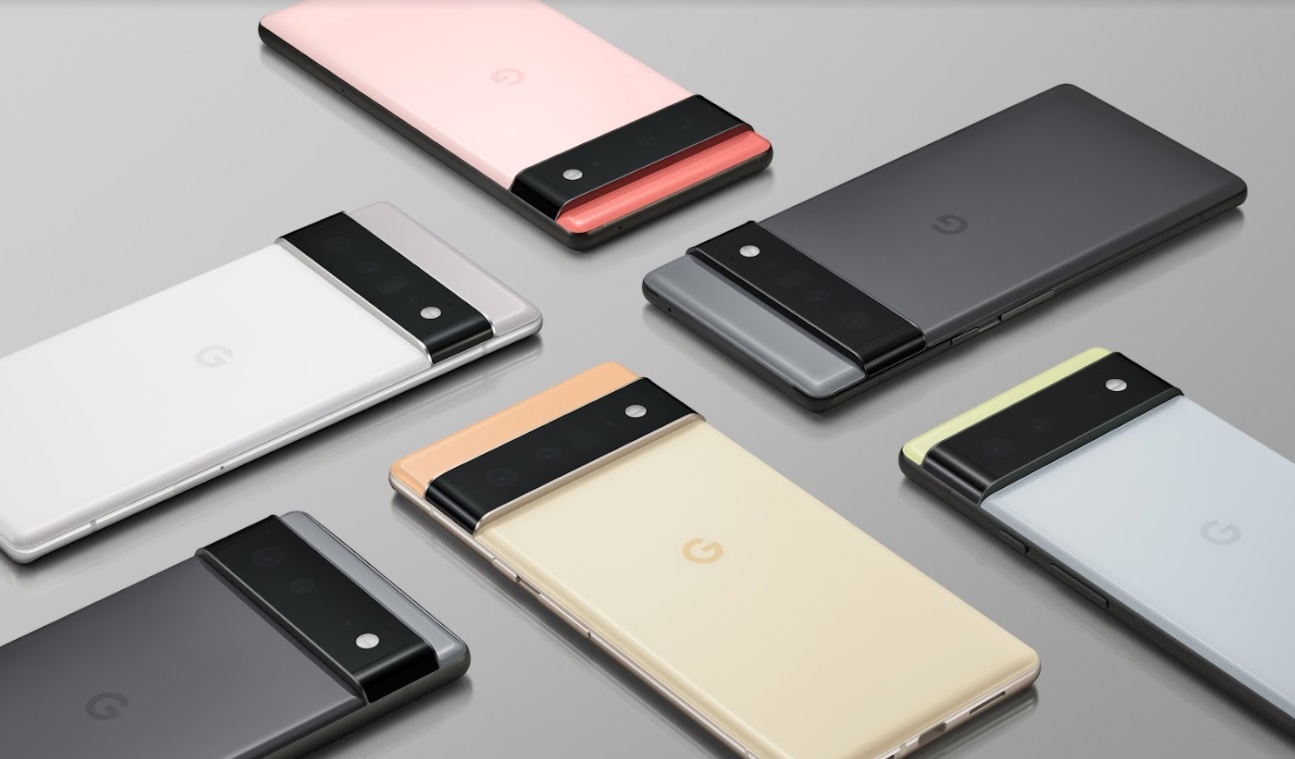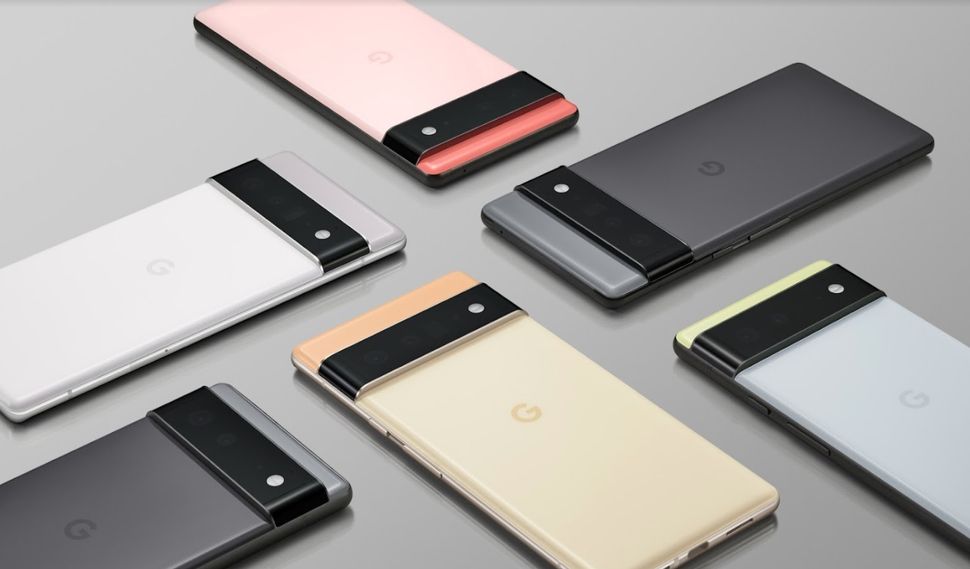 We had been expecting Google to stick to previous Pixel phone form with an early October launch for the Pixel 6. And going by an advert from an Australian carrier, it looks like we can expect Pixel 6 news on October 19, likely the full launch of the standard and Pro phones. 
And by leaker Jon Prosser, claims that the Pixel 6 will hit stores on October 28 after pre-orders get underway October 19. This seems to be supported by code spotted within the Google Camera app that shows the Pixel 6 Pro will need to update the app on October 27. It makes sense that Google would push out a camera app update just before the phone hits store shelves.
Adding fuel to the speculative fire about the Pixel 6 release date is a leaked internal document that indicates Android 12 will debut on October 4. And it's possible that the Pixel 6 could launch alongside a Google Pixel Fold, as one display analyst says that Google's first foldable could launch before the end of the year. We'd take that prediction with a pinch of salt though. 
Google Pixel 6 price
According to Twitter leaker Yogesh Brar, the Pixel 6 is going to start at $749. That's not a small amount, but it's still cheaper than the $799 iPhone 13. Meanwhile the Pixel 6 Pro may be pricier, with a $1,049 or $1,099 price tag.
A separate rumor has the Pixel 6 tipped to cost €649 in Europe, with the larger Pixel 6 Pro supposedly set to be priced at €899. That would put the smaller Pixel 6 at only €20 more expensive than the Pixel 5, which is surprising given it's set to offer a lot of premium features.
Google says that the Pixel 6 will be a "premium-priced product," so we would expect it to cost considerably more than the Pixel 5, which launched at $699/£599. It's possible that the Pixel 6 could start at $999, similar to the iPhone 12 Pro, but we'll have to see what happens this fall. 
Google's Rick Osterloh, SVP Devices and Services, gave a bit more context to German language Der Spiegel magazine:
"We weren't represented in the smartphone flagship segment for the past two years – and not really before that either. But the Pixel 6 Pro, which will be expensive, was designed specifically for users who want the latest technology…But the Pixel 6 also belongs in the upper segment and can keep up with competing products. I would call it a 'mainstream premium product.'"
Google Pixel 6 cameras
It's confirmed that the Google Pixel 6 will feature both a main sensor and ultra-wide camera. The Google Pixel 6 Pro adds a 4X optical-zoom telephoto lens. Google also says that the main wide-angle sensor now lets in 150% more light, but it isn't sharing any details beyond that. One possible leaked spec, based on findings within the code of the latest version of the Android Camera app, suggests that the main camera on both phones could feature the 50MP Samsung GN1 sensor. That's confirmed by a subsequent Pixel 6 Pro leak, which adds that the telephoto lens will be a 12MP sensor while the ultrawide angle camera will use a 48MP sensor.
Still, it appears that the big news is all about Tensor and how Google's improved computational photography will enhanced both still photos and videos.
Google has confirmed that it will be making some changes to the computational software that powers the cameras on its phone, with those new capabilities appearing on the Pixel phones arriving in the fall. Google says it's working with image experts so that its cameras do a better job taking accurate photos of people of color. That means adjusting the Auto White balance to prevent over-brightening of darker skin tones and developing more accurate detection for different types of hair, so that hair stands out more from the background of a photo.
Furthermore, the Android 12 Beta code notes that the phone will have a special "p21_fronmmt_setup" feature for the Pixel 6 Pro that the regular phone won't have. 9to5Google speculated might be reference to the Pixel 6 Pro being able to shoot selfie videos in 4K resolution.
On the camera feature side, a recent teardown of the Google Camera app has reportedly revealed some of the capabilities we could expect from the Pixel 6. The teardown hints at 4K video capture at 60 frames per second, the potential return of features like the magic eraser and a 'face deblur' option, and a manual white balance adjustment. 
Google Pixel 6 design and colors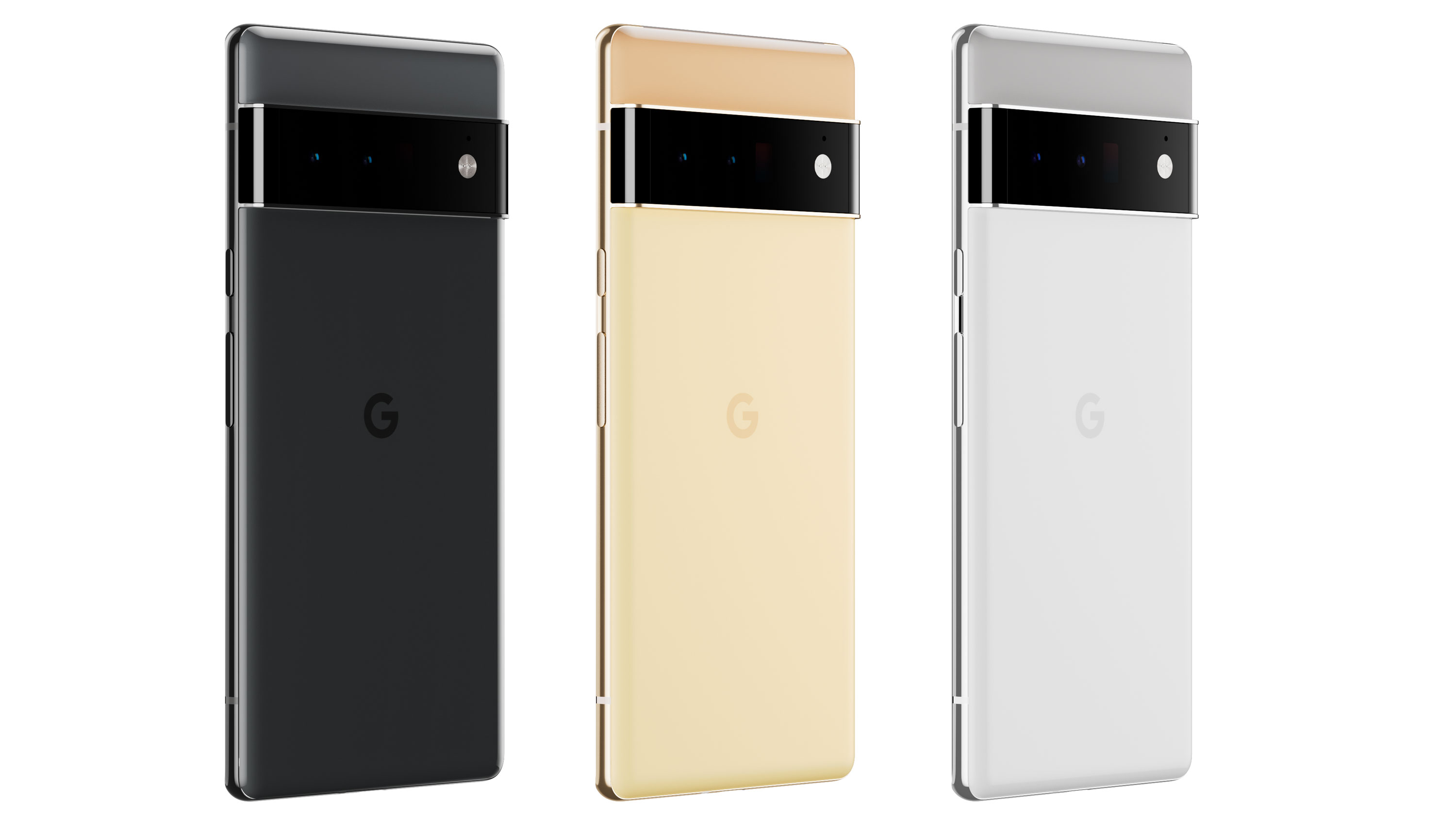 The most striking thing about the Pixel 6 and Pixel 6 Pro is its design. Both Pixel phones feature a large black rectangular camera bar across the top of the phones' rears along with a two-tone design. 
The Pixel 6 offers a few color options, including pink, bluish-gray with a pale yellow accent and black model with a light-gray top accent color. The Pixel 6 Pro black-on-gray model a white model with a cream or pale slate accent bar and a pale orange with brighter orange accent. 
The majority of the glass rear appears to have a matte finish, whereas the space above the camera bar appears to have a brighter, glossier tone.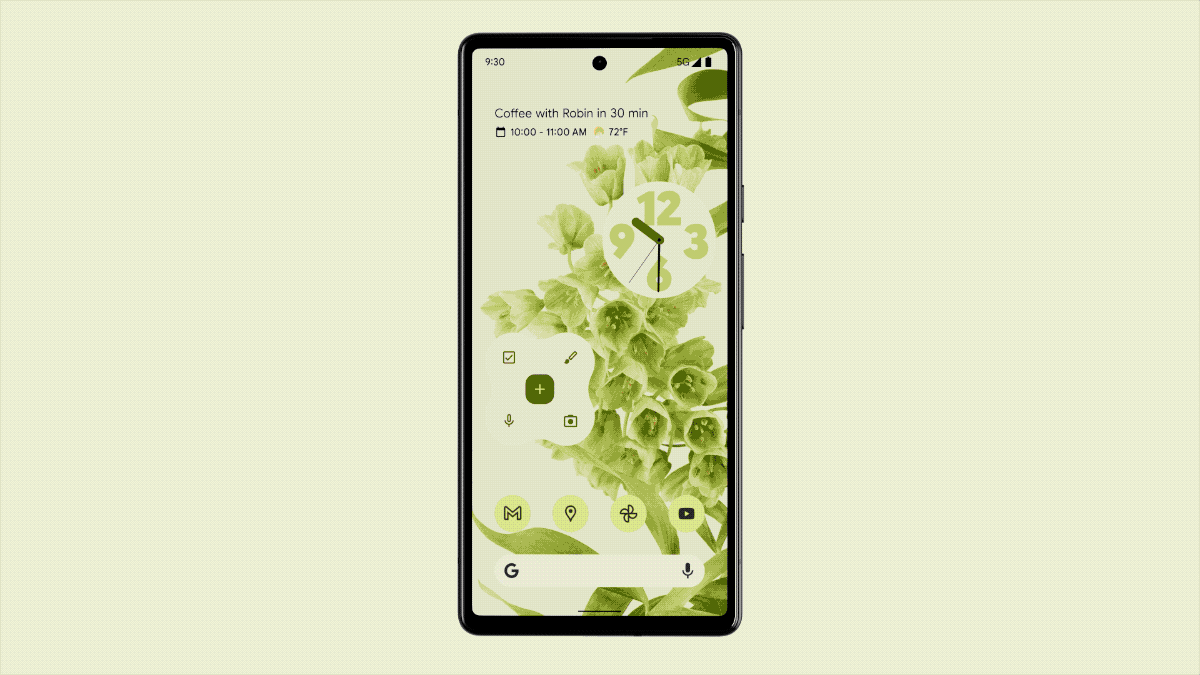 The front of the Pixel 6 is almost all screen with a centered hole punch cutout for the selfie camera. And it's also good to see the thin bezels around the display.
In another positive move, Google has moved away from the under-display earpiece on the Pixel 5 in favor of a more traditional earpiece speaker on the Pixel 6. Some have complained about the speaker being too loud and leaking sound.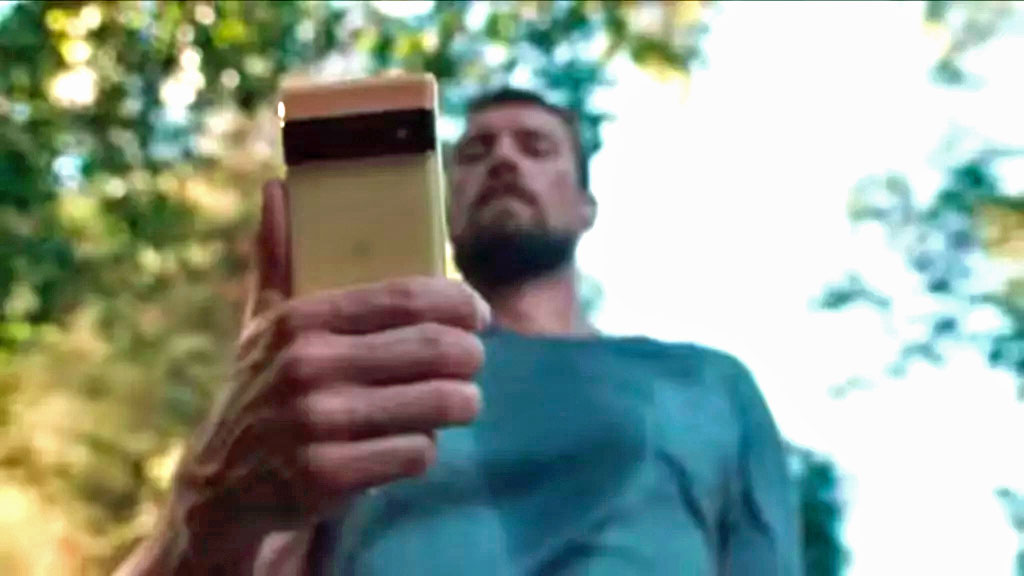 Since the initial design reveal, Google has shown off what the Pixel 6 Pro looks like in the hand, with a video, with an Instagram post also gives us a better look at the Material You design changes made by Android 12.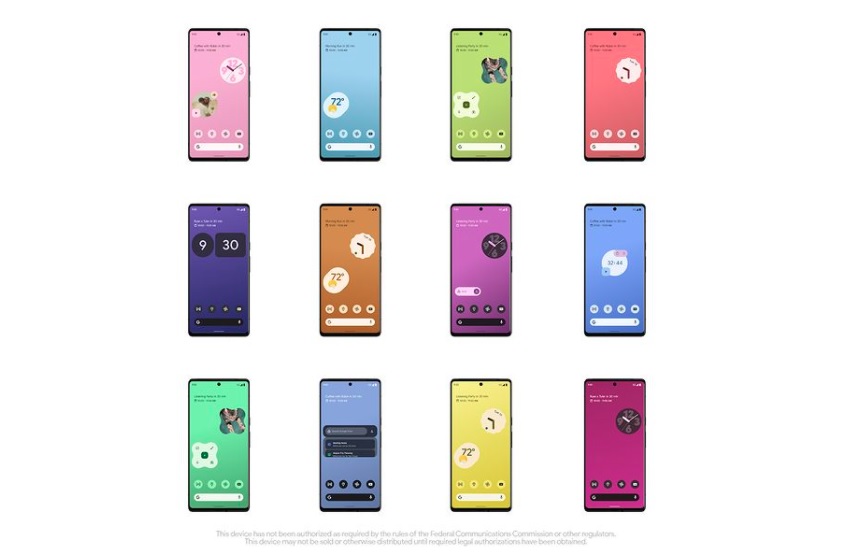 We also got a less official glimpse in a hands-on video of a Pixel 6 Pro. The logo's not right since it's a pre-production camouflaged model, but everything else seems to fit with what's been rumored and officially shown off.
Image 1 of 2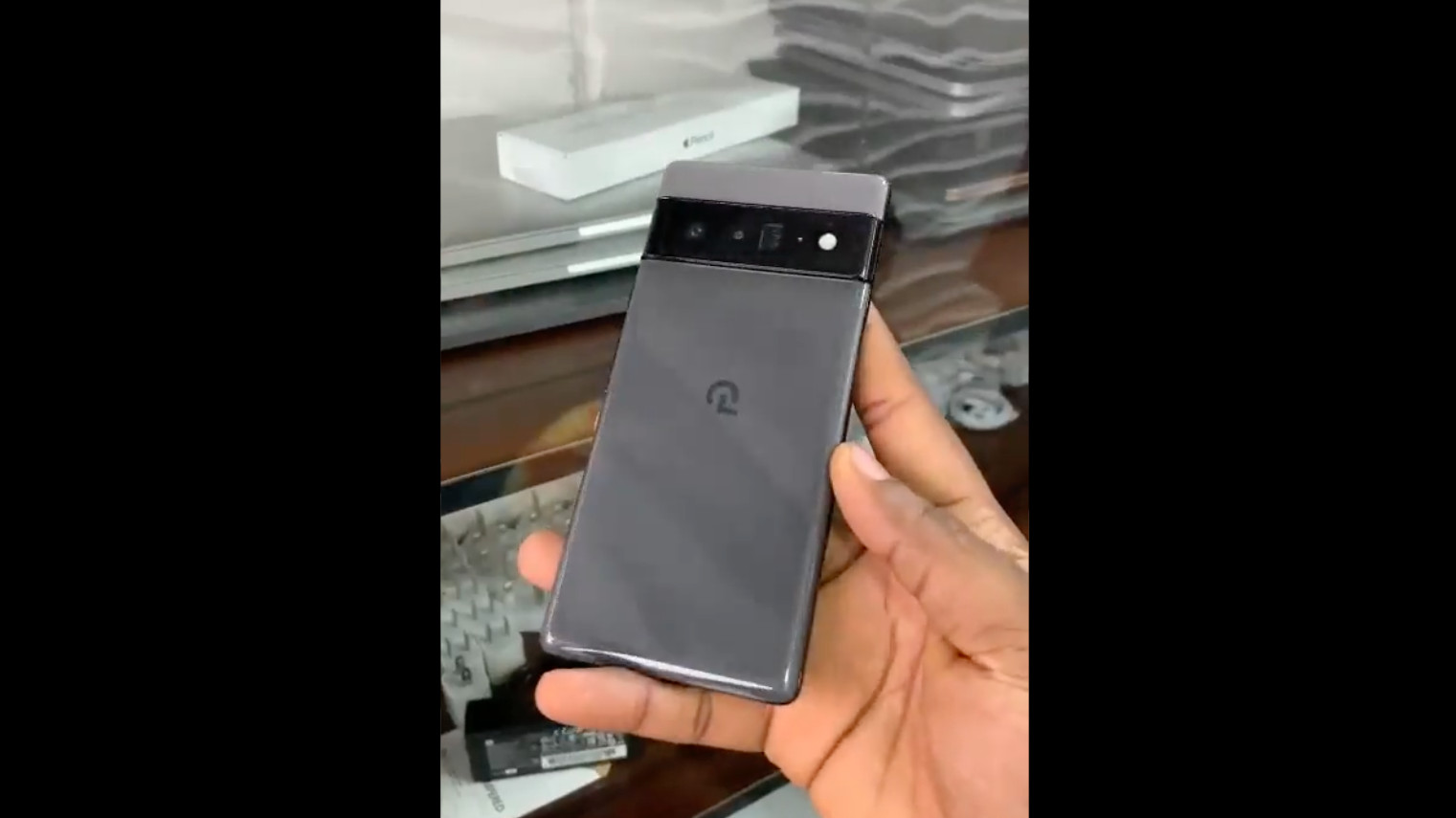 Image 2 of 2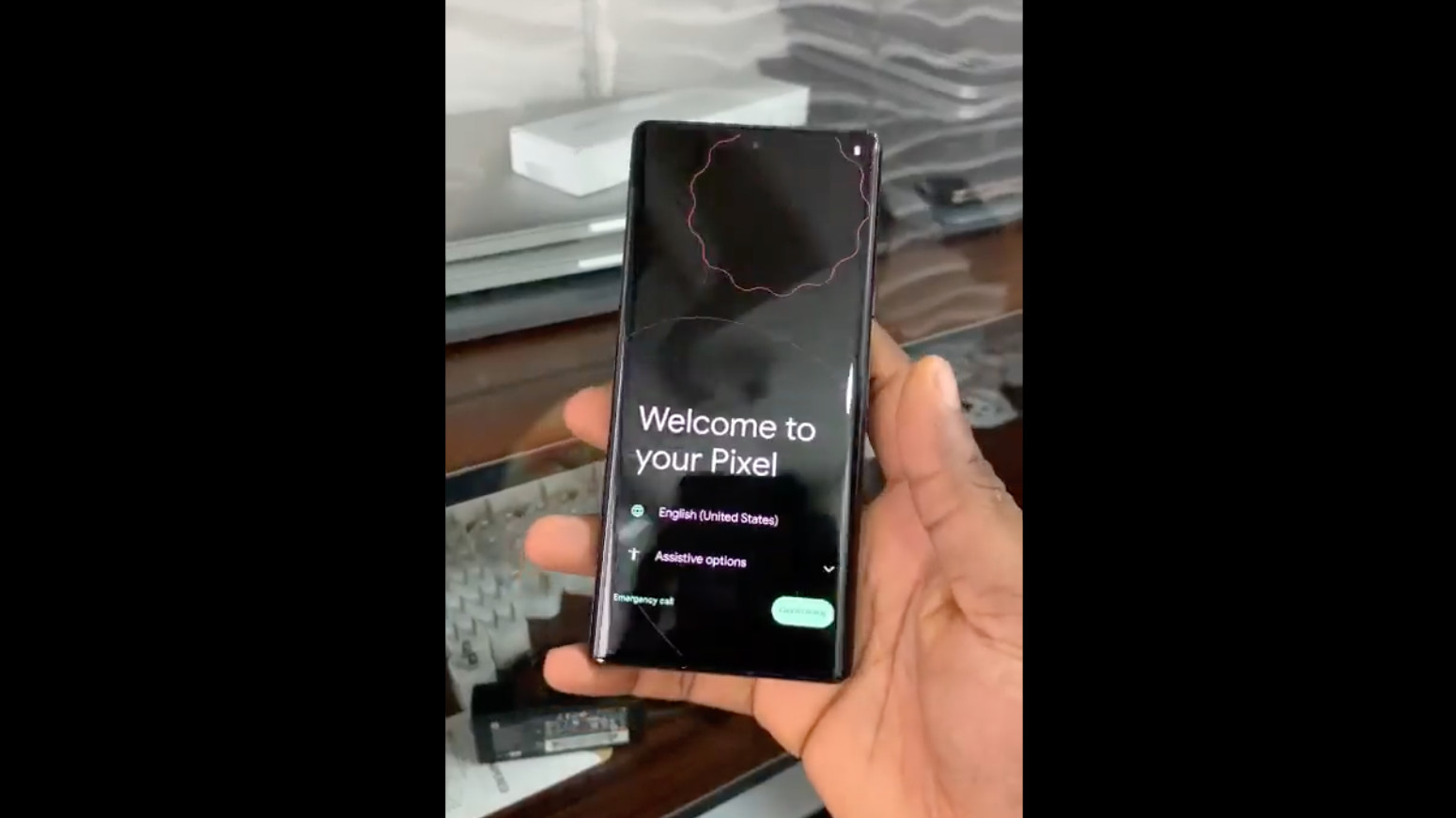 And so far it's looking like a rather attractive phone, seemingly treading the line between a practical utilitarian aesthetic and an interesting camera strip and color accents. The Pixel 6 Pro is currently on display at Google's store in New York, and the photos confirm what we know so far.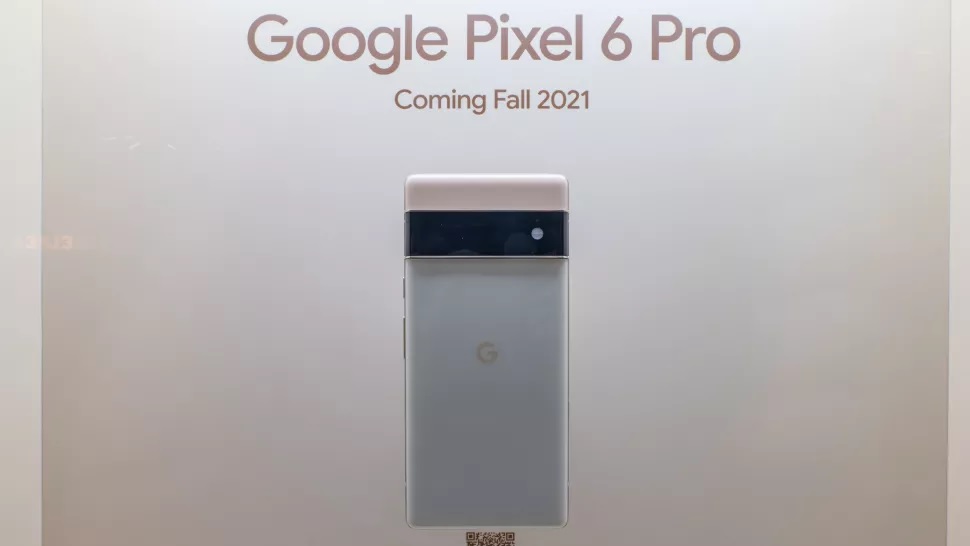 We just hope the phones Google releases this fall feel nice to use. Fortunately, previous Pixels have managed to do that quite well, so we probably don't need to worry. 
Google Pixel 6 display
The Google Pixel 6 will feature a 6.4-inch full HD+ display with a 90Hz refresh rate. Google's larger Pixel 6 Pro sports a 6.7-inch panel with a 120Hz refresh rate. We would have liked to see a 120Hz panel on the smaller Pixel 6, but it makes sense that Google would want to differentiate the two handsets. 
An XDA Developers report claims that the Pixel 6 Pro will be able to run at 120Hz while at full QHD resolution, and that the refresh rate can scale down to 10Hz to save battery life. That suggests an adaptive display similar to the one introduced on Apple's iPhone 13 Pro models.
Google Pixel 6 software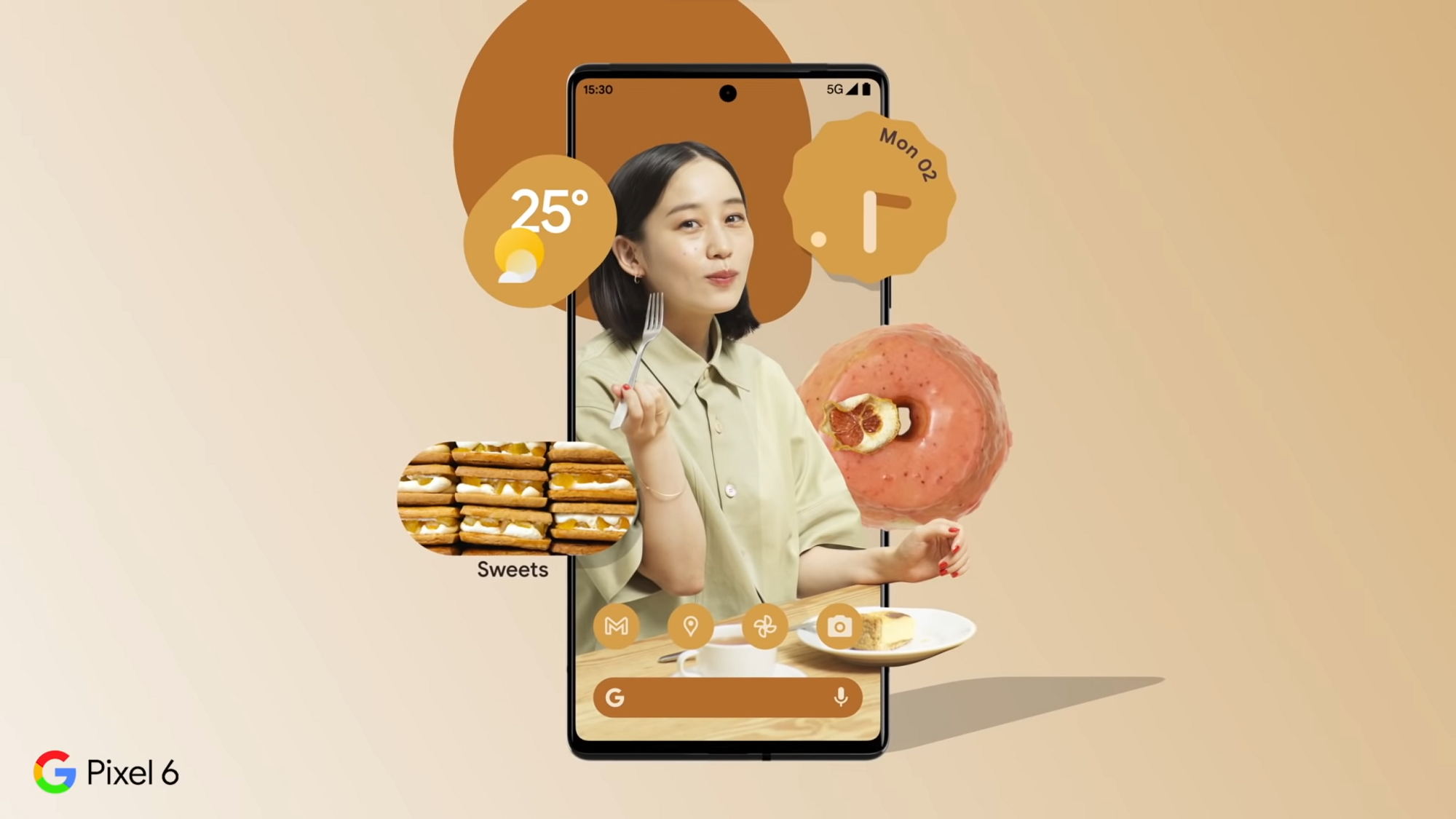 The Google Pixel 6 will almost certainly come running Android 12, as all previous Pixel phones have made their debut with a fresh version of Android. As mentioned earlier we're expecting AI to play a big part in the Pixel 6's integration of Android 12, with the Pixel Launcher skin on top offering a suite of smart features. 
But it also looks like widgets will play a major part, at least going by a new Pixel 6 advert from Japan. The widgets shown off in this advert, such as the clock and weather all have a more rounded design that seem to have an almost painterly quality. And it looks like the widgets will adjust their appearance depending on the theme the user has, taking on colors and hues to suit the wallpaper on the home screen and so on. 
Google Pixel 6 fingerprint reader
We're happy to report that Google seems to be ditching the rear-mounted fingerprint sensor on the Pixel 6 in favor of an under-display fingerprint scanner. This should make it easier to unlock both the Pixel 6 and Pixel 6 Pro. However, we don't yet know if the sensor uses ultrasonic tech or is an optical scanner. 
Google Pixel 6 battery
Previous Pixels have struggled in the battery life department. With a 4,000 mAh battery, the Pixel 5 ran for 9 hours and 29 minutes on its default 90Hz mode in our battery test, which is below average for a smartphone. With the Pixel 6, Google is only promising "all day" endurance, which is vague. 
Google could go with a bigger battery for the Pixel 6. Recent rumors suggest that the Pixel 6 Pro will have a nice, big 5,000 mAh battery to power its large display. Jon Prosser expects that to happen, adding that the Pixel 6 will feature a 4,614 mAh battery — a big improvement over the Pixel 5.
Another rumor has the Google Pixel 6 tipped to get faster wireless charging thanks to a new Pixel Stand that's reportedly being developed. The updated Pixel Stand could deliver faster charging thanks to fans in the stand to keep the pad and phone cool.
Google Pixel 6: Will there be a charger?
Google could take a page from the iPhone 12's and Samsung Galaxy S21's book and drop the charging brick that has been bundled in previous Pixel phone boxes. That would mean it would just come with a USB-C charging cable, supposedly to cut down on e-waste. Some may find that potential move to be annoying, as it means buying an extra thing on top of the flagship phone. 
According to a recent report, the Pixel 6 Pro could come with 33W fast charging, which would not only beat the 18W charging of the previous Pixel, but also the wattage of the likes of the iPhone 13 Pro and Samsung Galaxy S21. As such, the Pixel 6 Pro could be the fastest charging Pixel phone ever, though it's not going to worry the likes of some Chinese Android phones with their 65W plus charging. 
Furthermore, a new rumor has claimed that the Google Pixel 6 could have boosted wireless charging, seeing a jump from 10W to 23W. That would be faster than the aforementioned Apple and Samsung phones. 
Google Pixel 6: What we want
By the time the Pixel 6 launches, we'll not only be awash in current phones like the Galaxy S21, but Apple will likely have launched the iPhone 13. (That's not even addressing other recent phone launches lik the Galaxy Z Fold 3.) Given that level of competition, Google has its work cut out for it to make the Pixel 6 stand out from the crowd.
Here's how we think Google can pull that off.
Three camera setup
Offering three cameras is quickly becoming something of an industry-standard (at least in flagship models), so Google's Pixel phones are an outlier with just two rear lenses. The Pixel 6 Pro sounds like it's going to follow this pattern, with a trio of cameras — a main shooter, telephoto and ultrawide camera combination. Plus, it'll keep the Pixel's reputation as one of the best camera phones very much intact.
120Hz display
The Pixel 5's 90Hz refresh rate is nice, but a 120Hz would be even better and we'd love to see that featured on the Pixel 6. Especially with services such as Microsoft's Xbox Cloud Gaming (formerly known as xCloud) bringing big-budget game streaming to phones, that higher refresh rate will really take games up a notch.
HDMI support
We appreciate that Google wants to encourage people to buy a Chromecast, but there is no excuse for the Pixel 6 not to support HDMI video out via a USB-C to HDMI connector. Being able to hook your phone up to a TV in this way is super convenient, especially when traveling. Having to use a Chromecast (not to mention having to buy one in the first place) to get content from your phone to a TV feels so archaic, so this is something that Google could easily fix.