Refresh
Blue Origin's next space tourist flight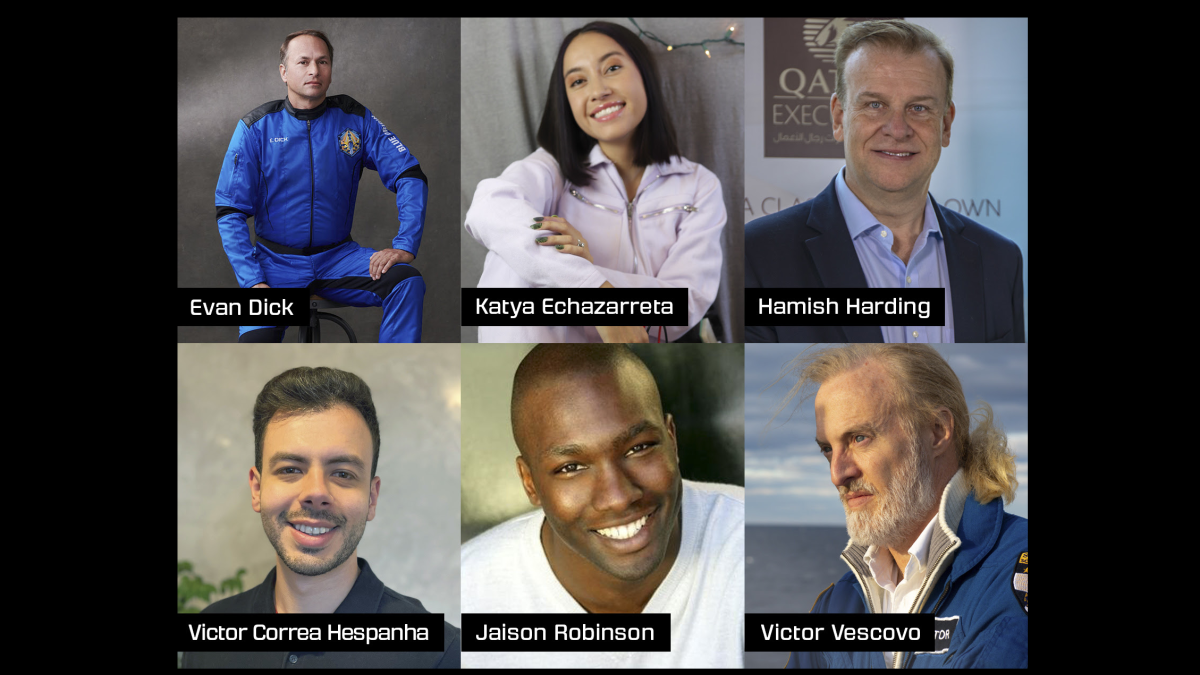 Blue Origin is counting down to the launch of its NS-21 space tourist mission on June 4 from the company's West Texas-based Launch Site One near Van Horn. Liftoff is set for 9 a.m. EDT (1300 GMT), with a webcast beginning one hour before launch time at 8 a.m. EDT (1200 GMT).
The mission has been delayed since May 20, when technical issues and the need for more booster checks on its New Shepard rocket prompted the company to stand down from the mission. 
NS-21 will launch six passengers on a short suborbital spaceflight, with the New Shepard booster returning to Earth for a vertical landing and the crew capsule parachuting to the surface shortly afterward. 
The crew of Blue Origin's NS-21 mission includes: 
Evan Dick
Evan Dick will be the first person to fly aboard a New Shepard spacecraft twice, having been a participant in the NS-19 mission of Dec. 11, 2021. He is a pilot, engineer, investor and managing member of Dick Holdings, LLC. Previously, he was senior vice president of D.E. Shaw and managing director of Highbridge Capital Management. He supports the Darwin Foundation, Population Relief International Corp. and Starfighters Aerospace either through charity or as a volunteer, according to Blue Origin's NS-21 mission announcement.
Katya Echazarreta
Katya Echazarreta, born in Guadalajara, will become the first Mexican-born individual to visit space. She is the co-host of the YouTube series "Netflix IRL" and "Electric Kat" on the CBS show "Mission Unstoppable." She spent nearly four years at NSAA's Jet Propulsion Laboratory in Southern California, working on space missions including the Perseverance Mars rover and Europa Clipper, which will launch toward the Jupiter moon Europa in 2024. She is pursuing a masters degree in electrical and computer engineering at Johns Hopkins University and aims to "provide representation for women and minorities" for those interested in science, technology, engineering and mathematics (STEM), according to Blue Origin. Her seat was sponsored by the nonprofit Space for Humanity.
Hamish Harding
Hamish Harding is chair of the business jet brokerage company Action Aviation, as well as a business jet pilot. He holds several aviation world records, including a 2019 milestone with retired NASA astronaut Terry Virts for breaking a round-the-world record for aircraft flying over the north and south poles. Harding has also visited the South Pole twice and dove to 36,000 feet (nearly 10,100 meters) in a submarine in 2021.
Victor Correa Hespanha 
Victor Correa Hespanha, 28, is a civil production engineer from the Brazilian state of Minas Gerais. His seat was sponsored by the Crypto Space Agency, and he is identifying himself as the world's first cryptonaut. He is also the second Brazilian to fly in space, according to Blue Origin.
Jaison Robinson 
Jaison Robinson founded the commercial real estate company JJM Investments and co-founded Dream Variations Ventures with his wife, Jamie. Robinson lists himself as an avid scuba diver and skydiver with a variety of adventurous activities under his belt, such as breaking the sound barrier in a Mig-29 jet, making Eagle Scout, playing water polo at Stanford University and becoming a finalist in "Survivor: Samoa" in 2009.
Victor Vescovo 
Victor Vescovo is a co-founder of the private equity investment firm Insight Equity. He completed an "Explorer's Grand Slam," which is an adventurer community term for skiing to the North and South Poles and climbing the highest mountains on the world's seven continents, including Everest. He is a commercially rated multi-engine jet and helicopter pilot, as well as a certified submersible test pilot, and he has visited the Challenger Deep (the deepest point in the ocean) 12 times, according to Blue Origin. He also served 20 years in the U.S. Navy Reserve as an intelligence officer, retiring as a commander.
Hear from Blue Origin passengers
Passengers on today's Blue Origin suborbital launch shared their comments about the flight after exiting the capsule. "That is an eternal black," Jim Kitchen said of his view of space. "It's just breathtaking."
"The most beautiful thing I've ever seen"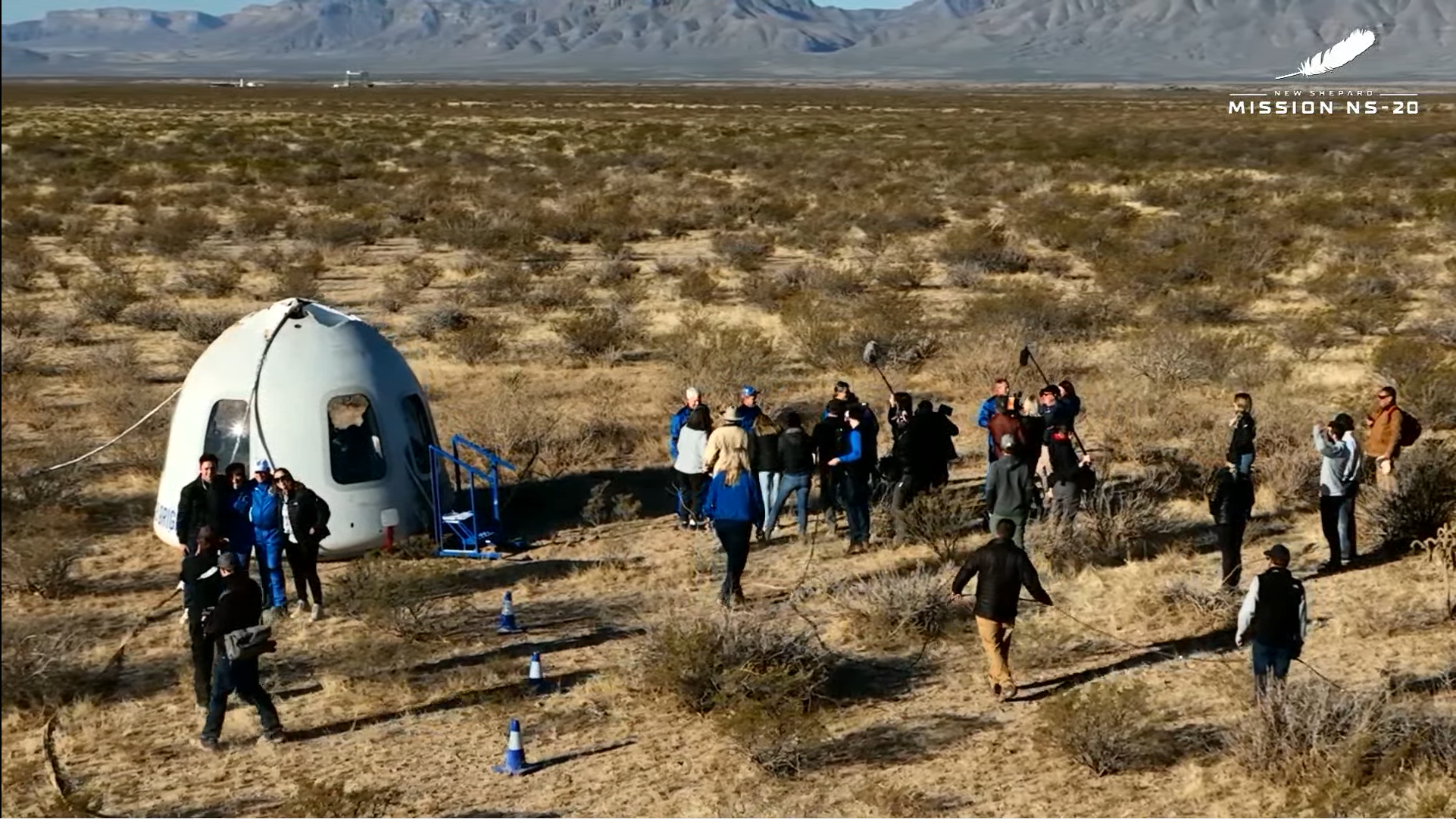 All six passengers have exited the New Shepard capsule and reunited with friends and family who were on hand to greet them. They will now receive astronaut wings from Blue Origin's Audrey Powers, who herself flew on a mission in October.
Stepping out
Blue Origin personnel are on scene at the landing site and are preparing to assist the six crewmembers out of the New Shepard capsule.
Safe landing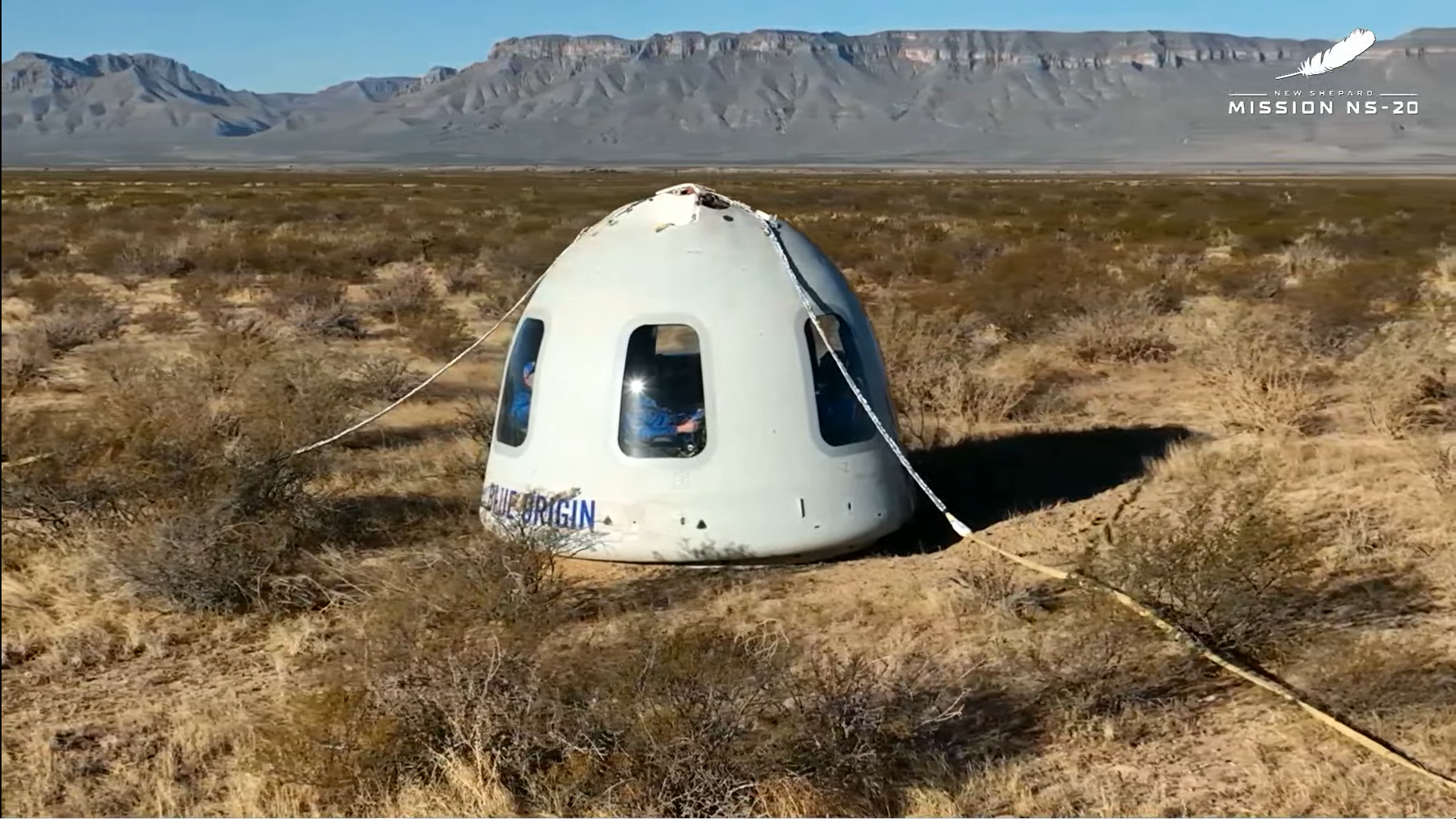 Blue Origin personnel have spoken with all six crewmembers inside the landed capsule and are approaching the touchdown site to retrieve the passengers.
Back to Earth
Both booster and capsule have touched down in the West Texas desert at the end of about 10 minutes of flight for six passengers.
Unofficial numbers suggest that Blue Origin's NS-20 mission reached an apogee of about 351,000 feet (107,000 meters).
Stage separation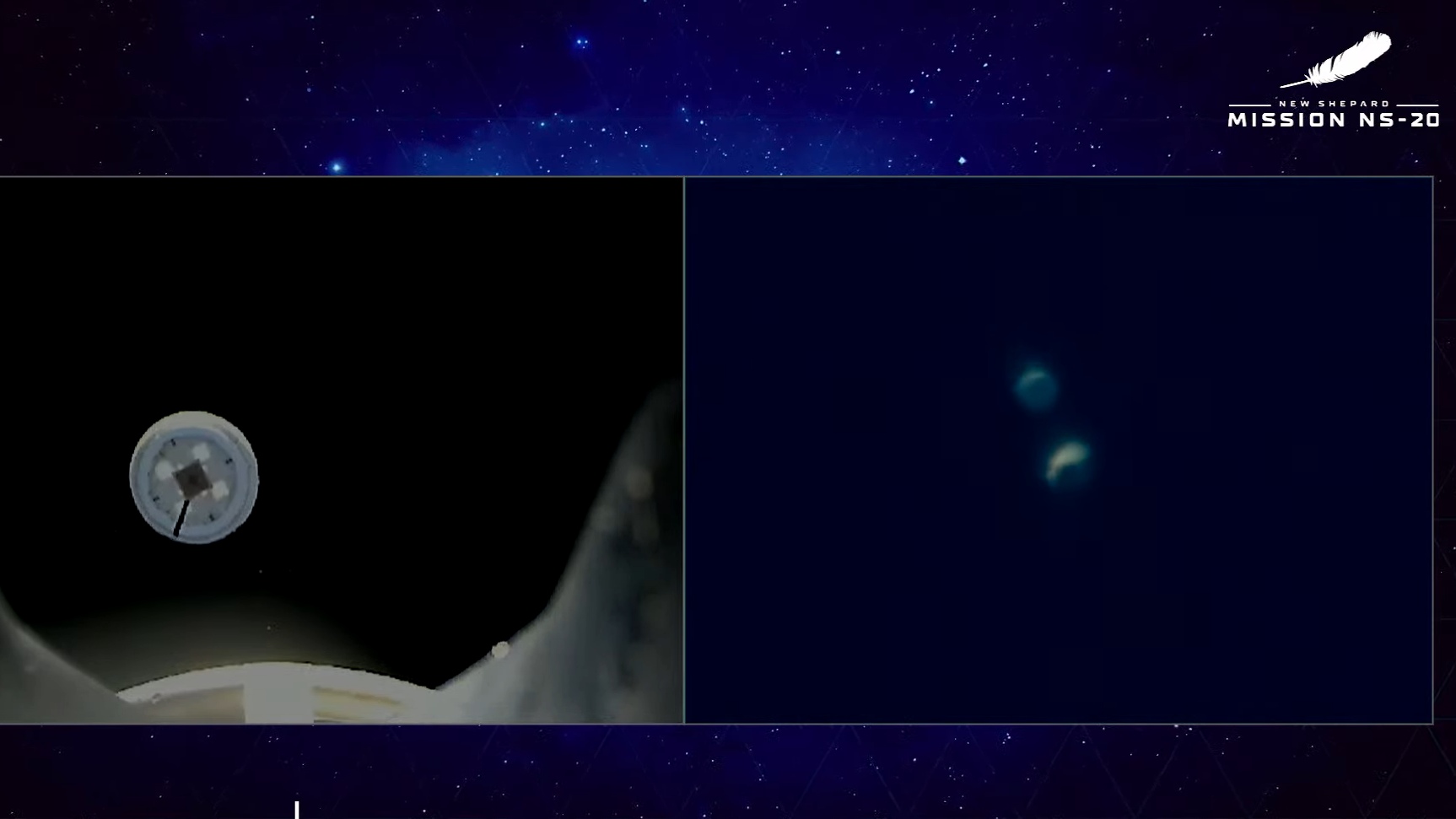 New Shepard's booster and capsule seen shortly after separation on March 31, 2022.
Lift-off!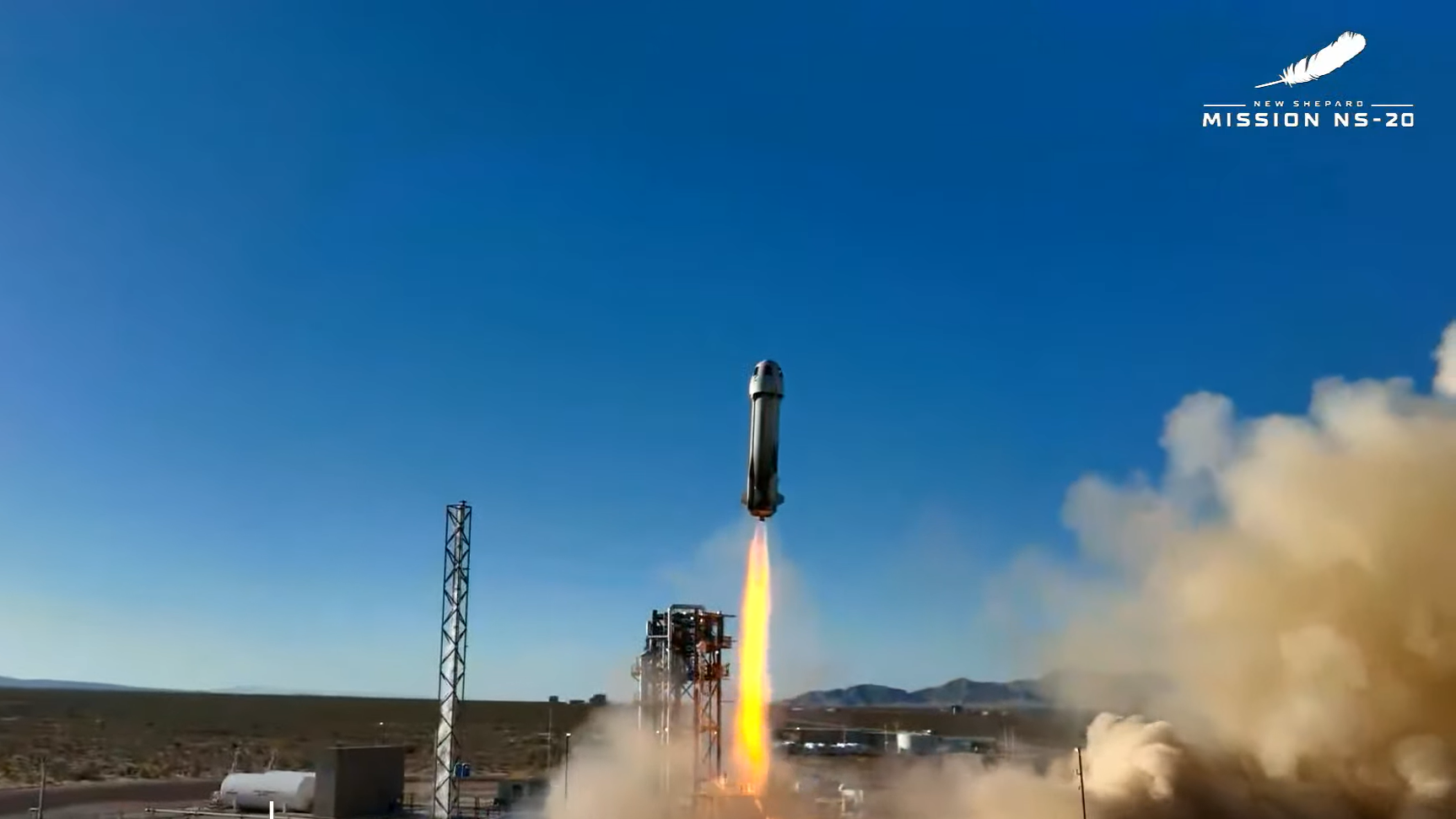 Final minutes to launch
Launch of Blue Origin's NS-20 crewed mission is less than 3 minutes away, with final checks underway.
Countdown resumes!
Blue Origin has resumed counting down to launch today; launch will now occur just a few minutes before 10 a.m. EDT (1400 GMT).
New Shepard remains in a hold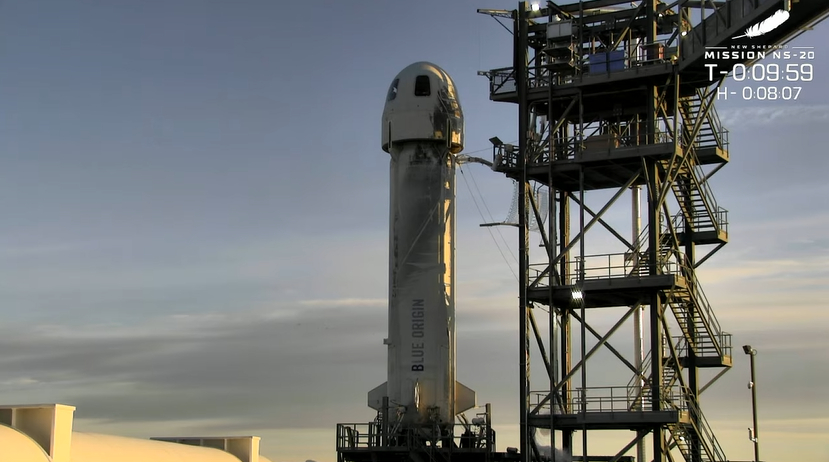 Blue Origin's New Shepard vehicle remains in a hold at T-9:59 as the delay nears half an hour. The company has not offered any details about the cause of the hold. Astronauts remain strapped into their seats in the capsule.
Gantry pulls away from New Shepard rocket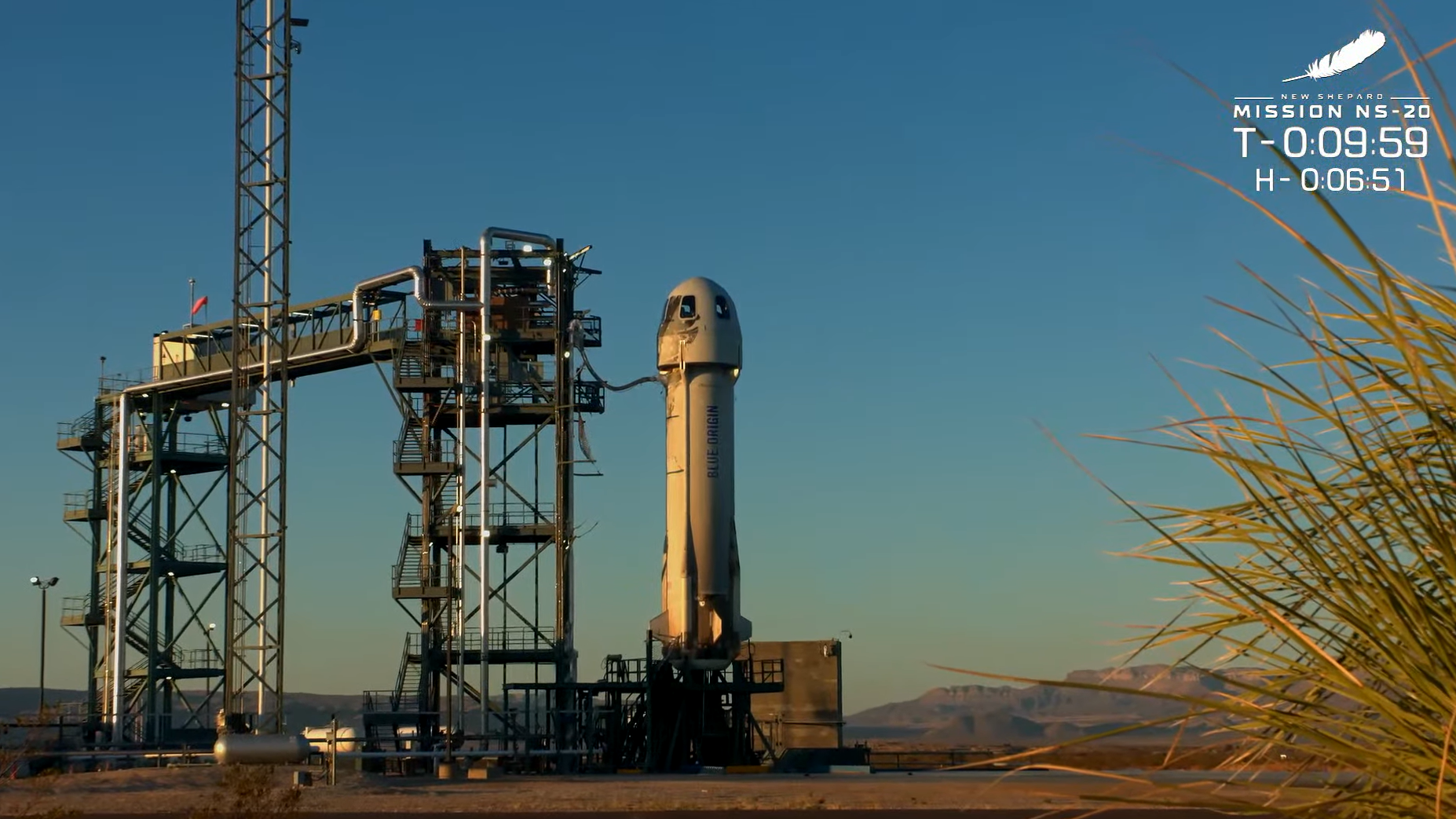 The gantry of Blue Origin's Launch Site One has pulled away from the New Shepard rocket as the NS-20 crew awaits launch. 
Blue Origin is still at T-9 minutes, 59 seconds and holding as flight controllers check the rocket's systems and weather conditions for today's launch.
Blue Origin holds countdown for NS-20 launch
Blue Origin has stopped its launch countdown at T-10 minutes from launch. 
The company has not stated the reason for the hold yet. 
The NS-20 passengers are buckled in for launch and just received a message from Blue Origin's NS-19 crew, the first six-person crew. One message from Michael Strahan was particularly cheering: "This is the best ride ever have, but it's way too short," he wrote. 
Blue Origin passenger carrying Ukrainian flag to space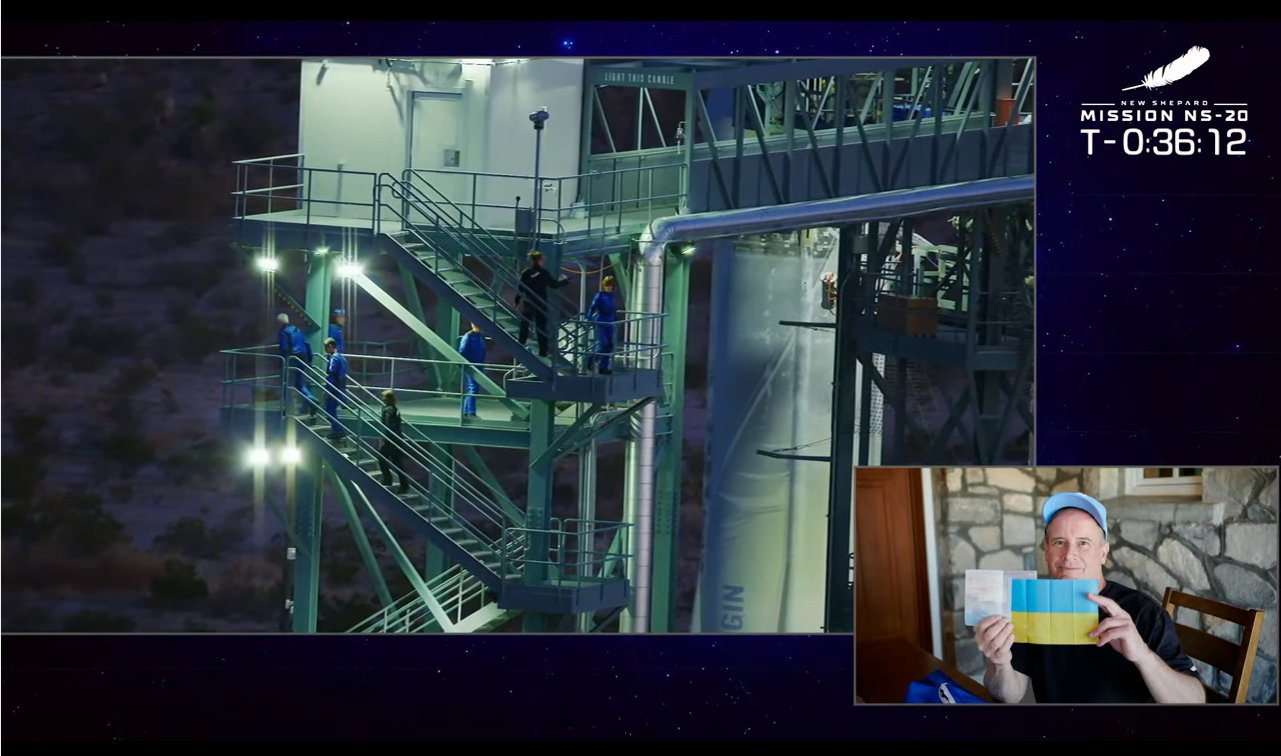 Blue Origin NS-20 passenger Jim Kitchen will take a small Ukrainian flag to space on New Shepard's launch, along with the passport he used to visit the country, which will be in the flight suit pocket over his heart for today's launch, Blue Origin reports. 
The NS-20 crew has arrived at their New Shepard capsule and are now ingressing the spacecraft. Earlier, they crossed a gantry and rang a ceremonial ships bell before reaching the capsule.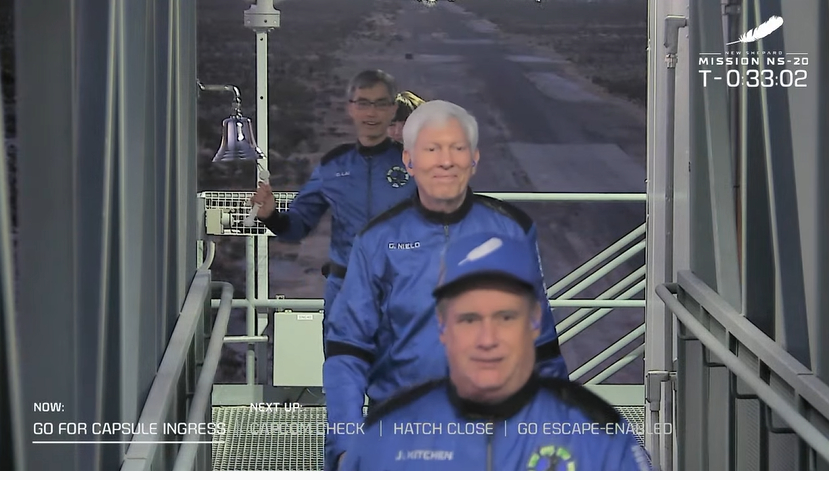 Blue Origin NS-20 crew arrives at launch pad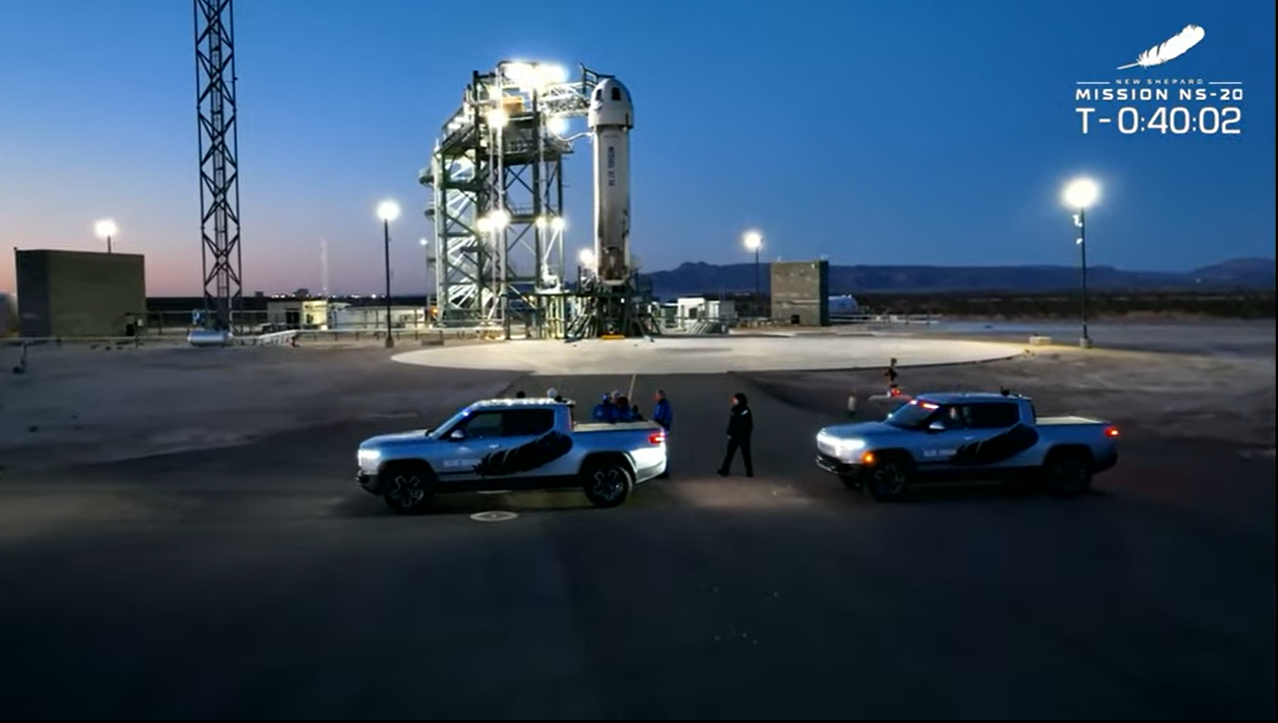 Blue Origin's NS-20 crew has arrived at Launch Site One to prepare to board their New Shepard spacecraft. As they arrived, dawn broke over their West Texas launch site. 
The private astronauts are now climbing the seven-story gantry to reach the boarding level for New Shepard. 
Blue Origin gives go for NS-20 crew departure.
Blue Origin has cleared its NS-20 space tourist passengers to head to the launch pad and board their New Shepard spacecraft. 
The passengers will head over in electric Riven trucks. Once at the Launch Site One pad, they'll climb seven flights of stairs and cross a gantry to board New Shepard. 
It's currently dark at Blue Origin's launch site as the sun has yet to rise. 
Blue Origin NS-20 launch webcast live
Blue Origin's launch webcast for the NS-20 mission is live about 20 minutes ahead of schedule. Blue Origin appears to now be targeting 9:10 a.m. EDT (1310 GMT) for its launch today. 
Blue Origin reports it is running ahead of its timeline for today's planned launch. Here's a look at the launch timeline from Blue Origin.
We're running ahead of schedule; live webcast will begin at 7:10 am CDT / 12:10 UTC on https://t.co/7Y4TherpLr. Here are the key moments during today's countdown to launch to look for on the webcast:March 31, 2022
See more
#NewShepard is on the pad for its 20th mission. Flight controllers are working through nominal check-outs in advance of today's launch. Before liftoff, meet the #NS20 crew as they prepare for their journey to space. pic.twitter.com/O999O1Zdw1March 31, 2022
See more
It's launch day for Blue Origin's NS-20 space tourists
Blue Origin is counting down to launch its next space tourist mission, NS-20, from its Launch Site One in West Texas today. The mission will launch at 9:30 a.m. EDT (1330 GMT) and you'll be able to watch it live on Space.com beginning at 8:30 a.m. EDT (1230 GMT). 
Today's mission will mark Blue Origin's first crewed flight of 2022 and the company's fourth crewed flight overall since it began launching passengers to space in July 2021. That first Blue Origin carried the company's founder Jeff Bezos, among others. Bezos will likely be on hand for today's launch as he has driven past crews to the launch pad himself.
This mission will carry six passengers. They include: 
Gary Lai, the chief architect of the New Shepard system, a reusable rocket-capsule combo. He joined Blue Origin in 2004 and was one of its first 20 employees;
Sharon Hagle, the founder of SpaceKids Global, a nonprofit that was established in 2015 to encourage students, especially girls, to push forward their STEAM (science, technology, education, art and math) education and pursue careers in space. SpaceKids is also a participant in "Postcards to Space," a program run by Blue Origin's nonprofit organization Club for the Future. 
Marc Hagle, husband of Sharon, is president and CEO of the property development corporation Tricor International.
Marty Allen, a past CEO and a current angel investor and mentor. He was the former CEO of the California Closet Company, which provides custom home storage ideas, along with Party America, which is now a nationwide retailer.
Jim Kitchen, a faculty member of the University of North Carolina's Kenan-Flagler Business School, and an entrepreneur.
George Nield, president of Commercial Space Technologies, LLC, which seeks to broaden commercial space activities, and the former associate administrator for the Federal Aviation Administration's Office of Commercial Space Transportation.
Gary Lai and George Nield are flying on this mission as guests of Blue Origin, while the other crewmembers are paying passengers. Blue Origin has not disclosed what each of the paying passengers have paid for a flight on New Shepard, or what a single seat costs. 
The NS-20 crew has spent the last two days training for today's flight. Here are some photos from the training.