Last November, before Thanksgiving, Christmas, New Year's, and Groundhog Day,
we showed you how the Android 14 predictive back gesture is going to work
. Google had allowed Android 13 users to test the feature on certain apps. But with the recent release of the Android 14 Developer Preview 1, predictive back gesture is available although it requires users to enable Developer Options and activate a developer flag. Once we get down the trail to Android 14 beta releases, and certainly for the stable version, this will be available by default.
The predictive back gesture is designed to give users a preview of where they will end up if they use the back gesture. There are one of three pages they can be sent to including a previous page in the same app, a previous app, or the home screen. In Android 13, the only thing that this gesture could show users is whether using the back gesture would take them to the home screen.
Testing the feature in Android 13 also requires users to enable Developer Options and change a toggle switch in settings. Since the Android 13 test version is a limited test for only certain apps, we would recommend that you hold out for the Android 14 beta program or the stable version of Android 14.
Like a stern teacher,
Google
is dead serious about implementing this on Android apps. According to
XDA
, the company is warning developers that navigating back will be broken on their apps if they don't support the predictive back gesture when Google starts to enforce it.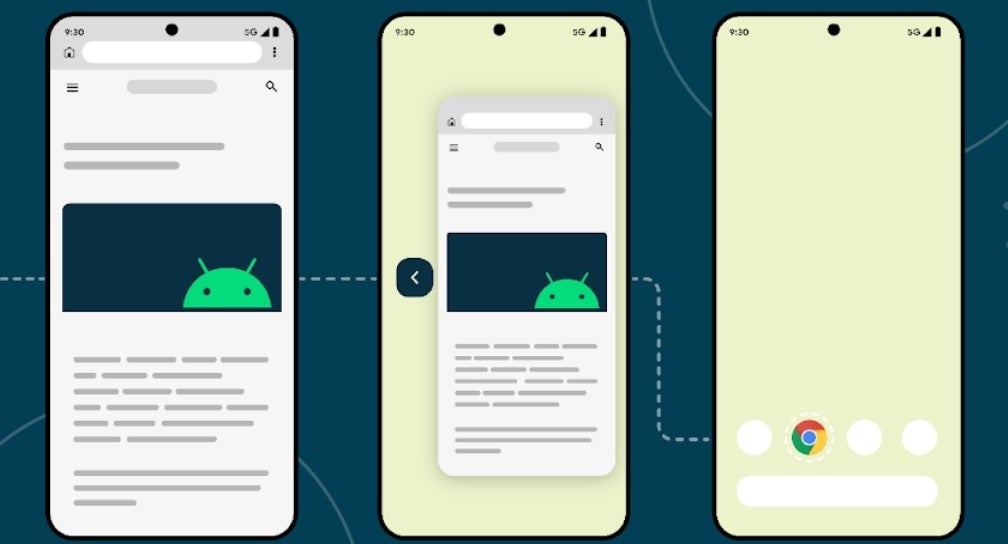 Google's example of predictive back gesture
When the back gesture is made slowly from the left or right edge of the screen, the page you're currently viewing starts to shrink revealing what is behind it. By knowing where you are going when the back gesture is made, you can prevent yourself from backing out of an app and closing it accidentally. This was screwing around with the metrics tracked by some Android developers.

The path to Android 14 as published by Google
Next month we should see Google release Android 14 Developer Preview 2. Starting in April and running through July, the Android 14 beta program will be underway culminating with the release of the stable version of Android 14 sometime in August.