Looks like a bad day to be at at Marvel Studios, as Ant-Man and the Wasp: Quantumania is a swing and a miss with critics. We've seen it (and don't hate it), but the critical mass has not added up in the favor of Paul Rudd's third solo outing as Scott Lang, aka Ant-Man.
While our Ant-Man and the Wasp: Quantumania review is more positive than negative, the film's current Rotten Tomatoes score (a mere day and change since the embargoes for first reviews broke) is a lowly 53% (opens in new tab). And while it feels like it's still early in the film's life (its first public screenings are tomorrow night), that score comes from a total of 155 reviews. 
That 53% isn't just a failing score in most classrooms, it's the second-worst MCU movie score of all time, a mere 6 percentage points ahead of the abysmal and aptly-named epic Eternals.
This may not stop fans from going to see the movie, as hype for its villain Kang the Conqueror (Jonathan Majors) has building since the actor made his MCU debut in the Loki season 1 finale. Kang's even in the title of one of the biggest upcoming Marvel movies, Avengers: The Kang Dynasty.
Ant-Man and the Wasp: Quantumania reviews: What the critics say
Let's break down the negatives (and rare positive) delivered by reviewers since Ant-Man and the Wasp: Quantumania's review embargo lifted yesterday (Tuesday, Feb. 14). For starters, Olly Richards of Time Out (opens in new tab) minces no words, saying "Marvel's mini-hero is back in a movie that's all scale, no fun." 
Adam Graham of The Detroit News (opens in new tab) gave it a C-, and wrote that the MCU gets its "most CGI-heavy and most artificial-feeling movie yet" and drubbed the film by calling it "a sloppy piece of world-building that takes everything that was once refreshing about Ant-Man and his place in the MCU and drowns it in garish green screen nonsense."
Mick LaSalle of The San Francisco Chronicle (opens in new tab) declared that the film offers only "15 minutes of pleasure scattered over a 125-minute wasteland."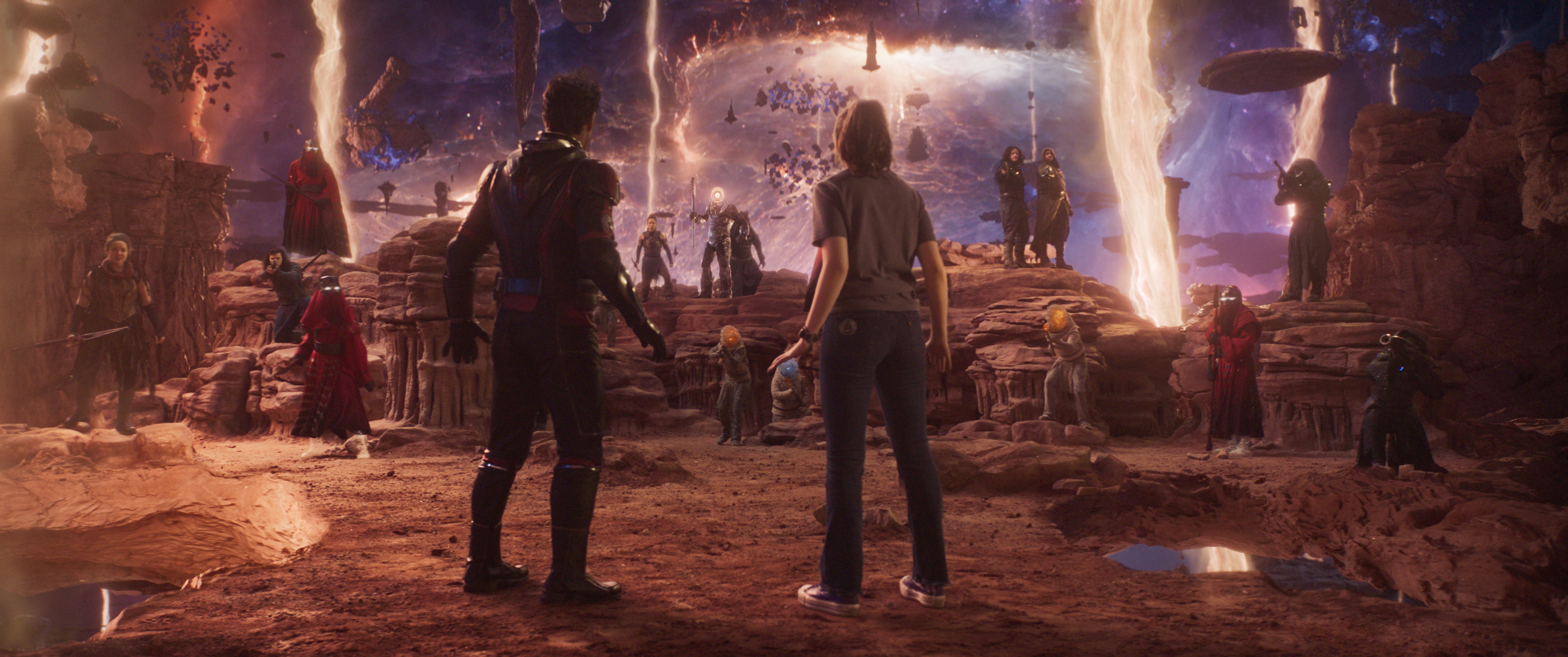 What did we like about it? In my Ant-Man and the Wasp: Quantumania review, I praised Majors for elevating his moments, writing "Emotive and charismatic, even when he's delivering dialogue that needs to be decoded, Kang captivates on a high level." 
Rudd also earned his pay day, as I wrote "Rudd's natural charm makes Scott's silly dad moments elicit a smile or chuckle. Yet, he can also deliver on more serious scenes; even a mere book reading, for Scott's memoir, feels emotional."
Outlook: We'll find out if the MCU is truly critic-proof
This all makes you wonder if Ant-Man and the Wasp: Quantumania will underperform at the box office, or if bad reviews are too late when they hit a mere two days before the first night of screenings.
Eternals, Marvel Studios' lowest-rated movie on Rotten Tomatoes, still went onto make $402 million USD worldwide. The bigger issue is that it could contribute and exacerbate the overall sense of 'Marvel fatigue' you hear so much about.
Repeatedly lackluster outings — Thor: Love and Thunder and Doctor Strange in the Multiverse of Madness have two of Marvel's lowest RT scores — could erode fan trust. That is, of course, if the populous agrees with the critical consensus.