HMD, the company that holds the license allowing it to manufacture and sell
Nokia
branded phones, is aiming one of its latest handsets at consumers who prefer to self-repair their devices. The Nokia G22 was designed to allow users to quickly repair the most common problems found on a smartphone. This includes fixing a cracked screen or charging port, and swapping out a powerless battery for a new one.
HMD inked a partnership with repair firm iFixit to provide Nokia G22 users with parts, tools, and instructions. A DIY screen repair will take about 20 minutes (or roughly the time of a weekly sitcom minus the ads). Replacing the phone's battery is even quicker as it should take someone all of five minutes to complete the job. Not only did Adam Ferguson, HMD's head of product, replace the battery himself during a press briefing, but he also said that on other models such a procedure could eat up as much as 90 minutes.
The Nokia G22 is designed for those who like to make their own smartphone repairs

Prices for the replacement parts obtainable from iFixit start at £18.99 (approximately $23) for a new charging port to £44.99 (roughly $54) for a new display. The phone itself, the Nokia G22, will be released on March 8th in the U.K. priced at £149.99 (€179/$180). While the phone will be available in Europe, it will not be offered in the U.S. Ferguson notes that the cost to a G22 owner to repair his own device will be 30% less than the amount that would have to be shelled out to buy a brand new unit.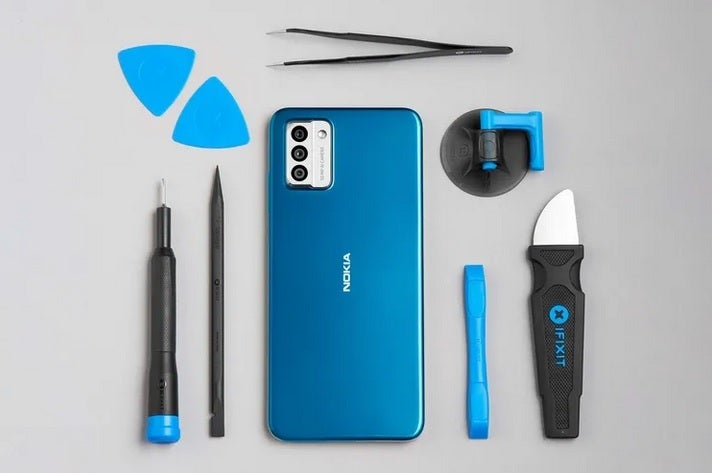 Nokia G22 and the tools available from iFixit for self-repairs
Samsung
and
Google
have teamed up with iFixit to sell replacement parts and
Apple
has launched its own self-repair program. But all of this is for naught if the phone itself isn't easy to repair and that is what the Nokia G22 is all about. But that doesn't mean that improvements aren't needed.
To replace the 5,050mAh battery that powers the device, special tools are required. Using a removable battery would have been easier but also would have forced Nokia to use a smaller capacity battery, offer slower charging speeds (which is 20W by the way), or build a thicker phone.
Even though the plan is to offer Nokia G22 replacement parts for five years, which would allow the phone to remain active over a longer period of time, software support is limited to two years of Android updates and three years of security updates. HMD's Ferguson says that for the price of the G22, buyers are getting a good deal. "I know there are larger numbers that fly around in the super premium tier," Ferguson said. "Yes, it would absolutely be fantastic to be able to do that, but all of these things come with a cost."
The Nokia G22 is one of three new budget-priced Nokia handsets announced by HMD

The Nokia G22 is equipped with a 6.52-inch display sporting a 720p HD+ resolution, and a 90Hz refresh rate. Under the hood is a Unisoc T606 processor with 4GB of RAM and 64GB of storage. The triple camera setup on the back includes a 50MP primary, a 2MP macro camera for extreme close-ups, and a 2MP depth sensor. There is a teardrop notch that hosts the phone's 8MP front-facing camera for selfies and video chats.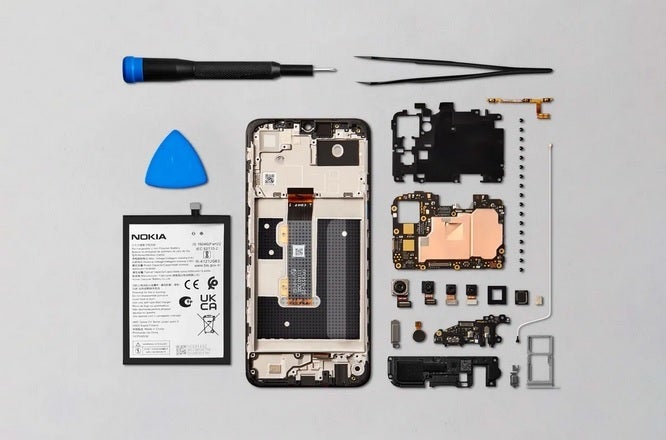 The Nokia G22's internal parts
The handset carries a side-mounted fingerprint scanner and the device has an IP52 rating for dust and water resistance. That means the Nokia G22 provides limited dust protection. It also protects the handset from water sprays that are less than 15 degrees from vertical. In other words, to play it safe, keep the phone away from water.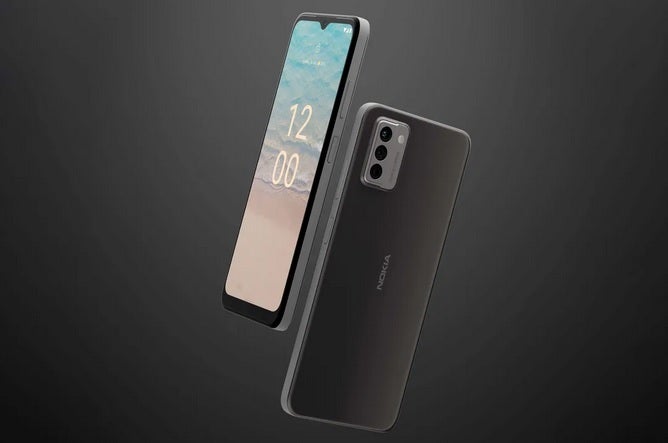 The Nokia G22 in gray
Besides the Nokia G22, HMD also unveiled a couple of low-price C-series models including the Nokia C22 and the Nokia C32 priced at approximately $115 and $137 respectively. The former ships with Android 13 Go, which is the version of Android developed for low-powered phones. The Nokia C32 is equipped with Android 13. HMD says that both phones have 5000mAh batteries that can deliver power for up to three days between charges. These models also aren't expected to be made available in the states.