What you need to know
Microsoft's new AI-powered Bing search engine is currently in preview. 
Today, Microsoft showed how this new tool will be able to provide better answers to video game questions such as how to defeat a boss or how to get specific game recommendations that are tailored to your preferrences. 
This new version of Bing will also ask follow up questions to your own questions to better narrow in on the most useful answers. 
In order to gain access, users must first sign up on the waitlist.
---
Microsoft's new Bing Chat AI has been getting a lot of attention recently as the software company has been showing off its abilities and practical uses. These new features have obviously impressed many people as Microsoft Bing recently crossed 100 million daily active users for the first time ever. 
Now this morning, the company released a Gamer's Guide (opens in new tab) explaining how to use the new AI-powered Bing to get more accurate and detailed answers to video game questions in a way we've never seen before. 
The new AI-powered @Bing is now in preview, and it can be a powerful resource for Xbox and PC players. Check out these five queries to help you get started: https://t.co/AYchVMjou5March 10, 2023
See more
Microsoft gave some examples of the kinds of video game questions users could ask. Bing can even give users specific game recommendations based on their unique tastes. For example, you could ask which of the best Xbox Game Pass games you'd enjoy most. Additional example questions ranged from getting specific help with a video game, finding other video game recommendations, and even getting tangential information like "How do I make a cake like the one that appears in Portal?" 
Some additional questions were: 
"Tell me about the best cyberpunk-style role-playing games on Xbox."
"Tell me about the best action games that are 10 hours or less to play."
"Tell me about the best games with a female protagonist on Xbox."
"What loadout should I use in Warzone 2.0 multiplayer?"
"What is the best Overwatch character for me?
"What are the best perks to use in Cyberpunk 2077?"
"What Xbox Game Pass games might I enjoy?"
"Where can I find the blue alien lady in Mass Effect 3?"
"Where can I find a list of Fallout 3 quests that begin with the letter J?
"How do I make a toy sword based on a design found in Skyrim?"
"How do I prepare a meal based on the ramen recipes found in Yakuza: Like a Dragon?"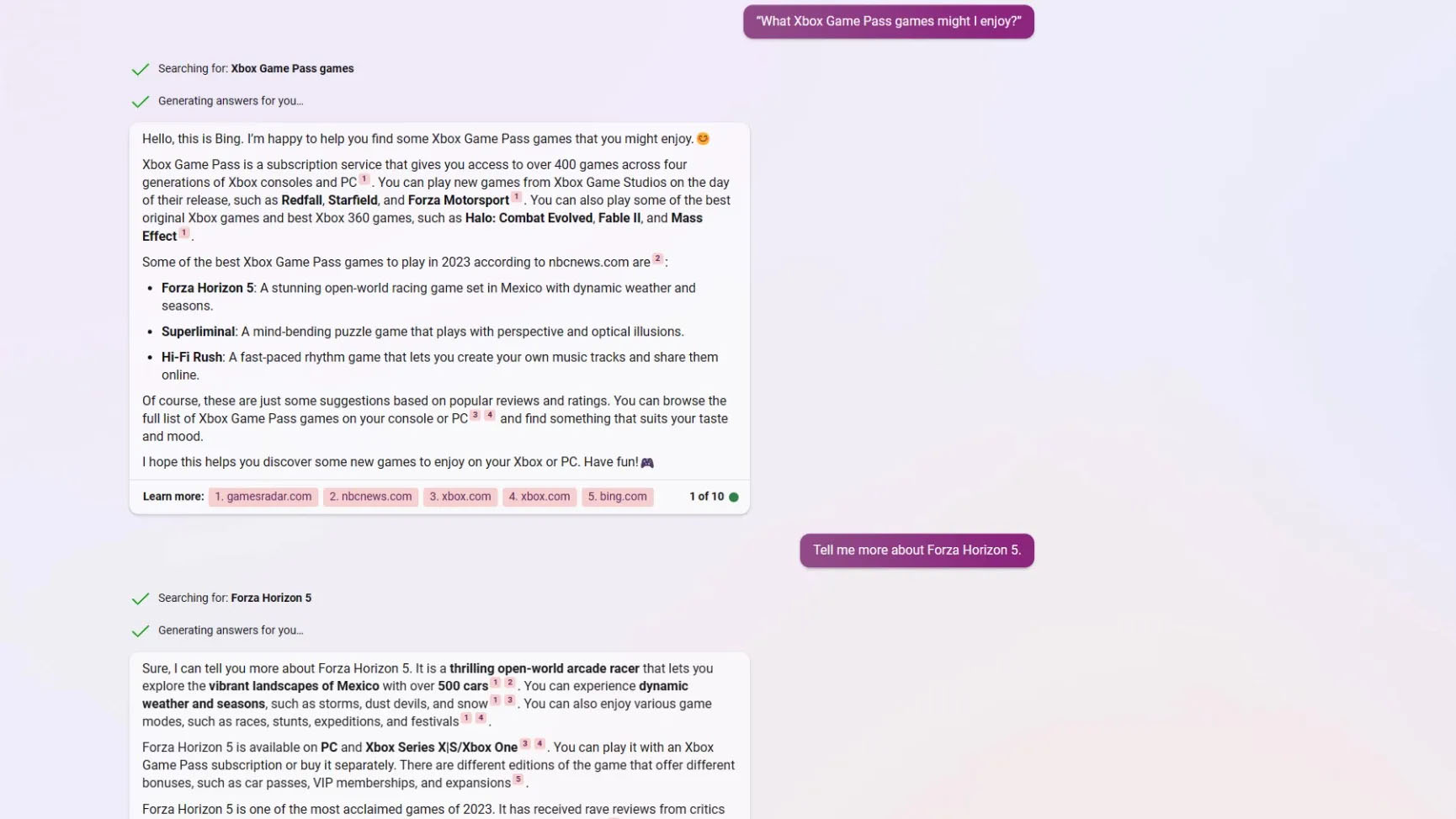 In the images provided, Bing was able to answer back with detailed information about the specific queries posed to it. Users can also ask for more details about Bing's responses and the AI should be able to provide additional information on those topics. Perhaps most importantly, Bing should be able to ask clarifying questions to help you narrow down your inquiry. Microsoft listed this question as an example:
"Where can I find that one quest where there's that guy who did that one thing with the fire sword that one time?," and then went on to state, "(your follow up responses will be crucial on something like this!)." 
As far as accountability goes, Microsoft states that the new Bing always displays where it has pulled information from. This is done by placing siting indicators within Bing's chat responses that correspond to a list of sources at the bottom of the interaction (similar to what's seen in professional essays and Wikipedia articles). Theoretically, this should always allow users to click on those sources so they can go to the cited website to get more details about the games they've asked about. 
Windows Central's take
What's most impressive about all of this is how vague you can sometimes be with your initial question. We've all had times where we attempt to look something up but find ourselves at a loss for the exact wording, have a hazy memory of the thing we want to learn about, or we find the thing that we want information on is hard to describe. Having an intelligent search engine that can ask the right questions in order to steer us to a better overall question will be a major step forward. 
On the flip side, AI-powered Bing could have far-reaching negative effects like reducing the need for jobs that many people who contribute to websites currently have (game guide writers come to mind). Granted, this sort of thing is typically what always happens whenever there are major advances in technology. However, it's also possible that Bing could end up being its own worst enemy. 
It's important that users keep Microsoft accountable for accurately showing Bing's sources so those websites can continue to get traffic for the information they've provided. Lower traffic to a website tends to lead to fewer writers on that website — and if fewer sites are providing correct information, then Bing will have less of a database to pull from and could thus be less helpful. 
The new AI-powered Bing is currently in preview and only those that make it on the waitlist (opens in new tab) have a chance of interacting with it at this point. If you're curious about checking it out then make sure you sign up.