Samsung Foundry manufactured the 4nm Qualcomm Snapdragon 8 Gen 1 chipset and the foundry was expected to build the Snapdragon 8+ Gen 1 SoC. But Samsung was having a problem at the time
with its yields which were only 35%
. That means that only 35% of the chips produced by Samsung Foundry from each silicon wafer made it through quality control. TSMC's yield for its 4nm process node was 70% at the time.
So not only did Qualcomm switch from
Samsung
to TSMC for the Snapdragon 8+ Gen 1, it stuck with the world's largest foundry for its current top-of-the-line Snapdragon 8 Gen 2 Application Processor (AP). And TSMC is rumored to be the foundry
that will build the Snapdragon 8 Gen 3 chipset
.
Even though Qualcomm is headquartered in San Diego, it
posted the date of its next new product unveiling
on China's Weibo social media site. That date is March 17th, 2023 which is known as St. Patrick's Day. Per
SamMobile
, at least one of the new chips to be introduced will be the Snapdragon 7+ Gen 1 which is the sequel to last year's premium mid-range Snapdragon 7 Gen 1 SoC.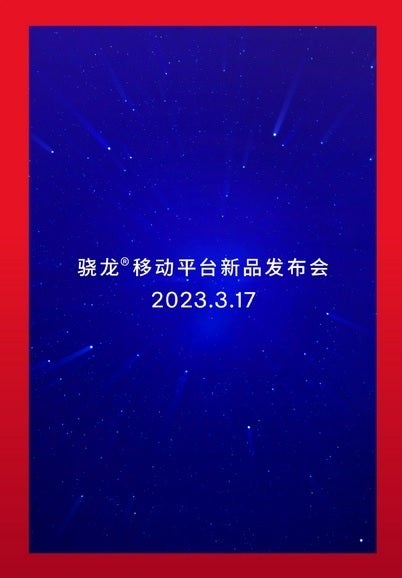 Qualcomm will hold its next new product event on March 17th
While the Snapdragon 7 Gen 1 was built by Samsung Foundry using its 4nm process node, the Snapdragon 7+ Gen 1 is going to be rolling off of the assembly line at TSMC and will use its 4nm node. Over the years Qualcomm has alternated between using TSMC and Samsung Foundry and the pendulum has moved over to TSMC as the latter's chips have been more energy efficient. And of course, TSMC has had higher yields.
The Snapdragon 7+ Gen 1 is rumored to be equipped with a Cortex-X2 high-performance CPU core running at 2.92GHz, three Cortex-A710 performance CPU cores clocked at 2.5GHz, and four Cortex-A510 efficiency CPU cores running at a clock speed of 1.8GHz. A leaked benchmark test for the chip on Geekbench produced a single-core score of 1,232 and a multi-core score of 4,095 which means that premium mid-range smartphones soon are going to be pretty fast.