Apple announced a new mechanism to bolster device security at WWDC last year. Called Rapid Security Responses, these automatic, small security patches maintain security between big, numbered updates. The first
iPhone Rapid Security Response update
is now rolling out but some users are unable to install it.
Software updates can be quite heavy and take a while to install. That's why, some users delay installing them. Rapid Security Responses can be downloaded and installed independently of a complete OS upgrade. They can also be issued more frequently than major software updates.
They can deliver improvements to individual apps like Safari and can be used to quickly patch vulnerabilities that pose a threat to users.
Apple has been testing the mechanism since last year but so far it was only available to beta testers. Today, the company publicly rolled out Rapid Security Response updates for the first time. 
The company says that they will only be delivered to devices running the latest version of iOS, iPadOS, and macOS. That means your iPhone should be running iOS 16.4.1, iPads should be on iPadOS 16.4.1, and Macs should have macOS 13.3.1.
Initially, a
good many
iPhone users
were unable to install
the
update
. They got an error message that said that the device was 'unable to verify security response' because it was not connected to the internet, even though that wasn't the case.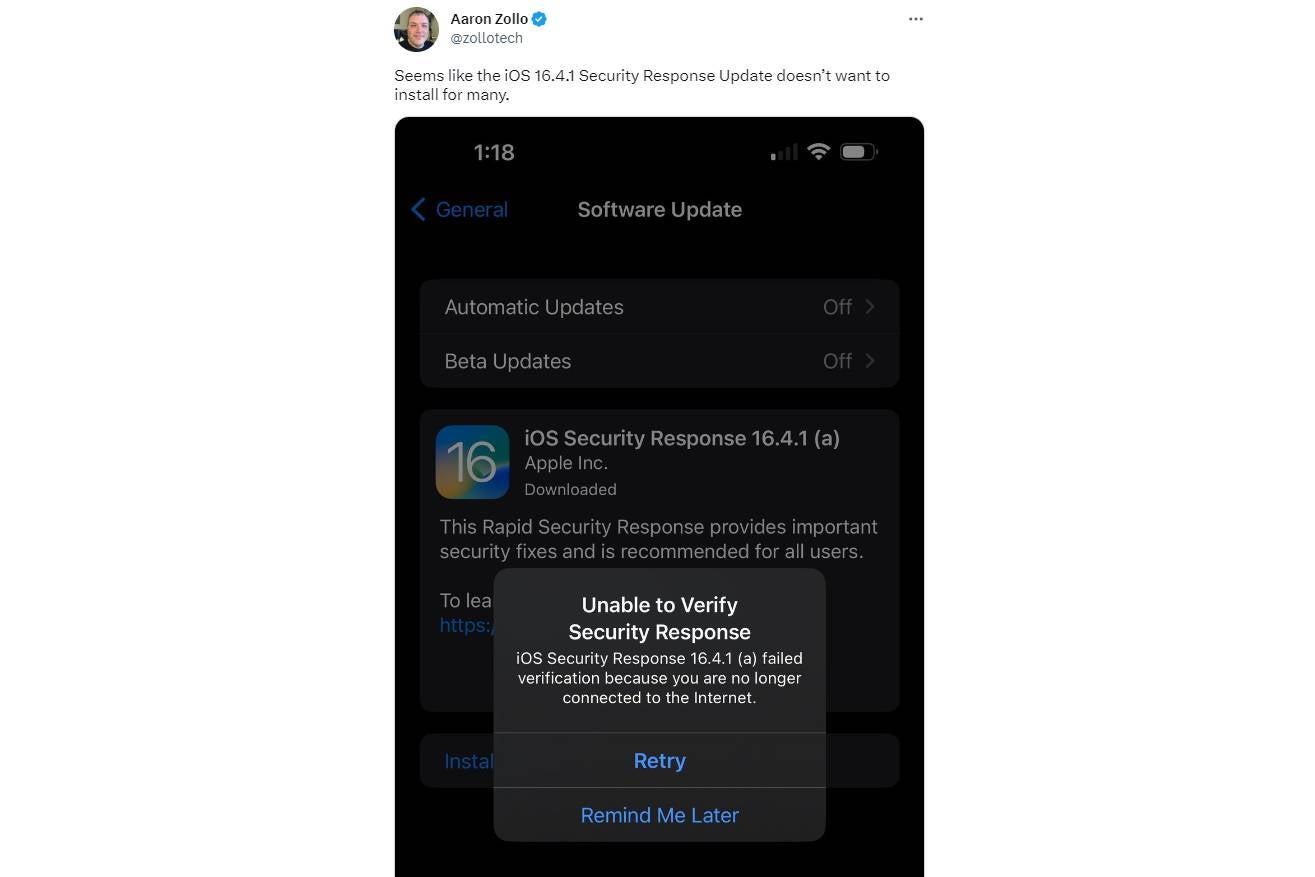 The update is 85MB in size and should only take some minutes to download. The rollout is staggered, per Twitter user Aaron @aaronp613. So if you still haven't received it or are still having trouble installing it, the issue will likely be resolved in the next 48 hours.
The Rapid Security Responses are installed automatically by default, but can be disabled. Some of these updates won't even need you to restart your device.