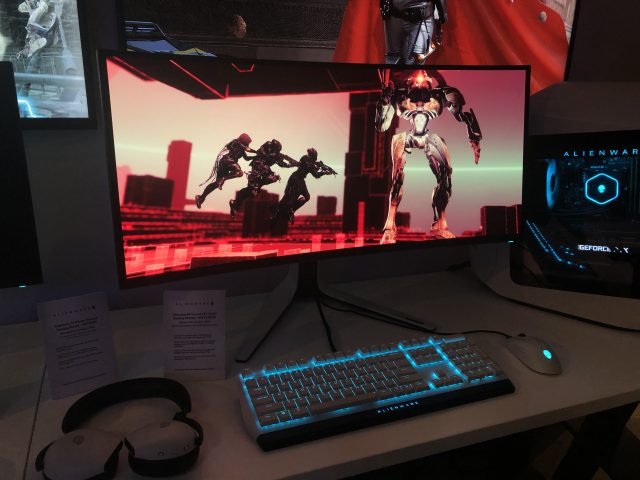 At the turn of the millennium, it was easy to define what a PC game was: a game programmed to run on a machine with x86 hardware, booting (in most cases) a DOS or Windows operating system, and controlled by a keyboard and mouse. The answer is less clear today, though. Most console games are ported to the PC. Many PC games are ported to console. And the most popular new PC gaming device of 2022, the Steam Deck, doesn't even have a (physical) keyboard.
I'm all for more choice in how gamers choose to play, but something is lost when a PC game is forced to fit within the design constraints of console hardware and gamepad input. Fortunately, some titles (and franchises) still take a PC-first approach.
In the wake of a series of high-profile bad ports from consoles, a years-long GPU shortage, and other challenges for PC gaming, I took a dive back into my Steam library to identify recommendations for anyone who remembers the golden age of PC gaming fondly and wants to recapture some of that magic. Of course, some games are part of classic franchises, but others are fresh takes on the genres that characterized that lost era.
Here's my list.
Ars Technica may earn compensation for sales from links on this post through affiliate programs.
Civilization VI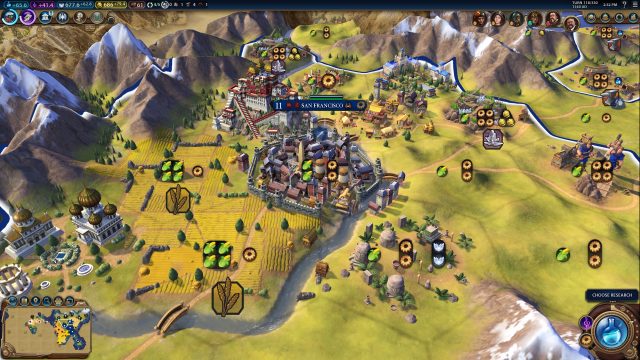 Sid Meier's Civilization arguably laid the foundation for the "4X" genre, and that foundation remains strong 32 years later. The latest release, Civilization VI, received lukewarm reviews on its release in 2016, due mainly to a lack of features found in prior titles. This caused some veterans (myself included!) to shun the game as a backward step from Civilization V, but savvy expansions have unlocked the title's full potential.
The result is a game that's difficult to master yet forgiving to approach. Newcomers can leap in, start a game on low difficulty, and have an enjoyable time. Fall down the rabbit hole, however, and you'll spend half an hour puzzling out the best location for a new city.
The expansions add must-have systems such as a Dark Age and Golden Age mechanic (which came in the first expansion, Rise and Fall) and the climate mechanic (which came in Gathering Storm). The Frontier Pass and Leader Pass are good value, adding tons of new civilizations and leaders, though they're not essential.
Civilization VI's only flaw is familiar to 4X strategy fans: The late game can drag. Fortunately, the community has stepped in. Many gameplay quirks can be fixed with user mods. Experienced players who feel the late game is too easy, on the other hand, can try one of many weird challenges dreamed up by the game's YouTube community.
The good
Deftly balances approachability with strategic depth
The bad
Yes, the late game can still drag
Age of Empires II: Definitive Edition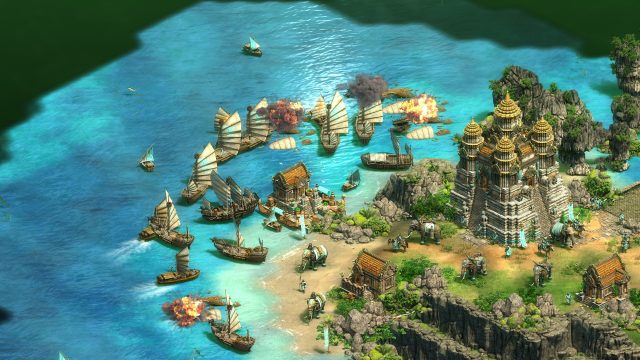 Age of Empires II: Definitive Edition
Age of Empires II: Definitive Edition is the primary example of how to faithfully remaster an old game for a new era. The work began with the 2013 release of Age of Empires II: HD Edition by Hidden Path Entertainment and transformed into the Definitive Edition, a game that's not just playable but beautiful on modern PCs.
Between this and Diablo II: Resurrected, which also beautifully updates an older game's isometric 2.5D visuals, I think it's time for even all-new PC games to reconsider this approach. The latest, full-3D entry in the franchise, Age of Empires IV, is a nice-looking game, but it doesn't hold a candle to its older sibling.
Age of Empires II, like most real-time strategy titles, is mentally and physically taxing to play at a high level but remains enjoyable at the leisurely pace my aging wrists require. You can play like you're on the path to pro with endless waves or horse archers (and, in fact, the game has a healthy tournament scene), but I usually kick back and see how many layers of walls I can build between myself and the enemy.
Gamers who've had their fill of Age of Empires II should try other games in the series. Microsoft released Age of Empires IV in October 2021 and gave both the initial Age of Empires and Age of Empires III the Definitive Edition treatment.
The good
Relentlessly playable, yet quick to pick up
The bad
High-level play requires a quick mouse hand
Cities: Skylines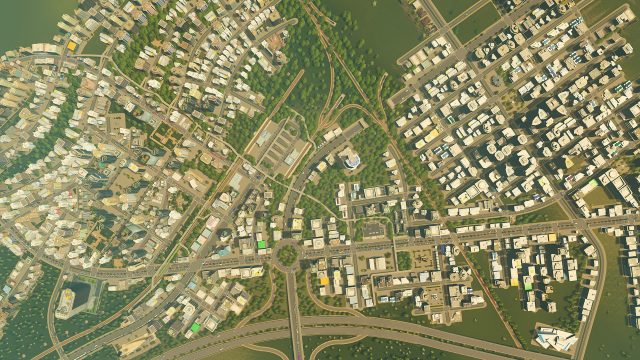 The bungled 2013 release of SimCity broke my heart. The game's oversimplified gameplay seemed to torpedo my hopes of seeing a modern update to the city-building genre. Fortunately, I was wrong. City: Skylines hit Steam two years later and kicked off a new golden age.
There's a ton of depth in the game's modeling of traffic, pollution, and city demographics, but players can brush that aside and build a beautiful city. The alluring 3D presentation makes it possible to follow individual citizens' daily lives.
The developer, Colossal Order, offers a confusing list of DLC. I recommend picking up After Dark, which adds tourism, and Mass Transit, which adds transit options like streetcars. Alternatively, you can turn to the game's active mod scene for thousands of custom buildings, parks, and landmarks. Some players build entire cities from custom assets and spend hours perfecting the aesthetics of a roundabout or highway on-ramp.
It's a good time to get into Skylines, too, as the game's hugely anticipated sequel is scheduled for release on October 24, 2023. Colossal Order says the sequel won't have a population limit and will be optimized for multi-core systems, giving desktop PCs with 20 or 30 cores a chance to shine.
The good
Compelling, attractive city-builder with massive mod community
The bad
Buggy despite many patches and DLC updates
Crusader Kings 3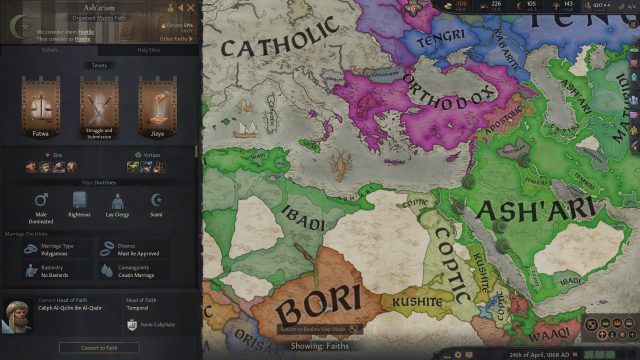 Crusader Kings 3 is a sandbox simulation of medieval politics. While many players stick with one family bloodline and try to conquer a world, you can switch characters anytime.
This flexibility is core to the appeal. Although best known as a grand strategy game, I think Crusader Kings 3 is a blast to play as a roleplaying title. Want to try and conquer the British Isles as Ireland? Want to roleplay a king fixated on the Crusades? Want to throw aside your responsibilities and march around until your character meets a painful death? It's all possible—and if your character's story ends, or they fall into a life of boring stability, you can move on.
Admittedly, the game's breadth is a double-edged sword. The vast menus can prove intimidating. Still, Paradox has improved the game's presentation over prior versions, and it's now a title players can begin to understand within a few hours instead of a few days. I suggest finding a Crusader Kings 3 influencer and watching their tutorials—they'll help you make sense of the chaos.
Crusader Kings 3 has a truly epic mod community with numerous total conversion mods that change the period, the geographical setting, or dive into popular fantasy worlds like The Lord of the Rings. Paradox also offers DLC expansions of varying depth. None are essential for newcomers, but The Royal Court, which adds a customizable throne room, is good fun.
The good
An awesome opportunity to play medieval "what if" scenarios
The bad
Dense interface will take a few hours to learn
Microsoft Flight Simulator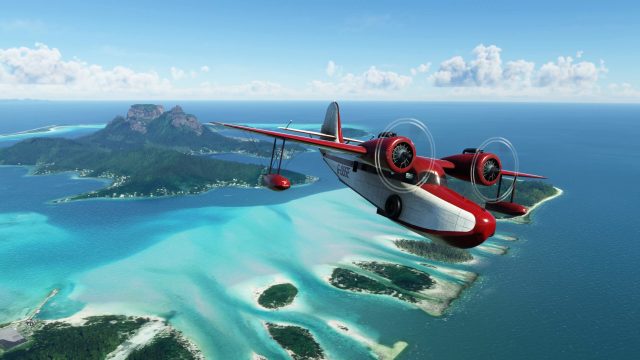 Microsoft Flight Simulator
2020's Microsoft Flight Simulator, the first new entry to the franchise since 2006's Flight Simulator X, ranks among the best ways to stress a new gaming PC. The game's exhaustively complete re-creation of the world at true 1:1 scale is a treat to experience on a powerful gaming rig. It's so detailed, in fact, that no modern computer can store the game's petabytes of texture data. Although playable offline, it's best enjoyed with an Internet connection, which streams high-resolution textures to the game as needed.
Looks aside, the newest Flight Simulator is the most complete yet. You might be surprised to hear the game has modeled the entire planet since Flight Simulator 2000, a feat Bill Gates incredulously called "the stupidest fucking thing I've ever heard" before experiencing it first-hand, but Flight Simulator uses AI to reconstruct terrain and buildings with scale and detail impossible to achieve two decades ago.
It also serves up numerous activities, such as landing challenges and tours of scenic locations, though the gameplay can feel dull if you don't bring your own goals. Fortunately, Microsoft plans to fix this in the next release, Microsoft Flight Simulator 2024. I'm eager to try my hand at fighting forest fires and backwoods helicopter rescues.
Admittedly, this game doesn't play well with a keyboard and mouse. It's not great on a gamepad, either. I recommend picking up a decent mid-range flight stick and throttle. Rudder pedals are handy, though I've managed to get by without them.
The good
Beautifully captures the world from 10,000 feet
The bad
There's not much "game" in this game
Euro Truck Simulator 2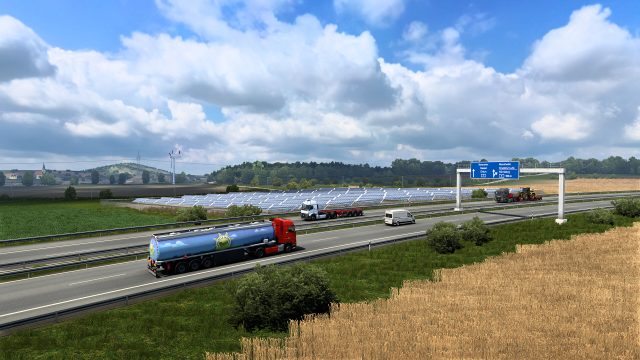 SCS Software's Euro Truck Simulator 2 puts you in the cabin of a semi-truck on an adventure across Europe. But unlike Flight Simulator, which leans into simulation, Euro Truck Simulator 2 pairs a gamified campaign with a scaled-down landscape that virtual truckers can cross in a few hours.
This choice might feel off-putting to simulation purists, but I think it's a smart move. I've forced myself to put in several real-time, cross-country flights in Microsoft Flight Simulator. Personally, I don't find it much fun, and I wouldn't want to do the same in Truck Simulator.
Shortening the length of each journey also provides a gripping sense of progression. Delivers earn experience and money to buy new trucks and customize them with paint jobs, wheels, air dams, light accessories, and other extras. The game's customization is enhanced by an active mod community bursting with thousands of custom accessories, textures, and new trucks. I suggest a graphics mod like Project Next-Gen, if your PC can handle it, as the game's visuals show their age.
Euro Truck Simulator 2 is developed in tandem with American Truck Simulator, which is focused on North America (specifically, the United States) but feels similar. Both games provide a few regions from their respective continents in the base game with additional regions sold as DLC. The DLC is nice to have but not essential for newcomers.
A simulation wheel is highly recommended, but the game is enjoyable on a gamepad (with a bit of effort customizing the controls) and passable on a keyboard and mouse.
The good
Arguably the most relaxing way to tour Europe
The bad
Aging game engine can sour the scenery
Path of Exile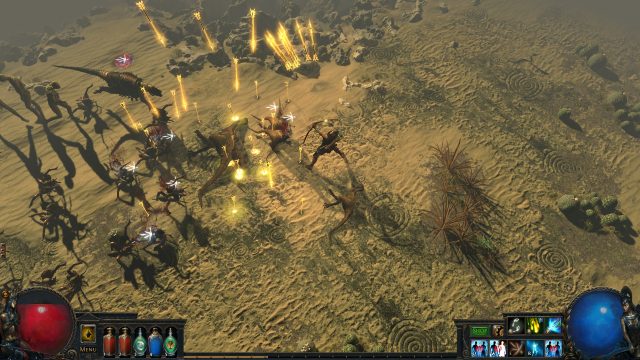 Grinding Gear Games launched Path of Exile as a crowdfunded alternative to Diablo III, which for many action-RPG purists, felt oversimplified. Path of Exile, by contrast, is a relentlessly complex game that asks players to swan-dive into its elaborate systems.
The reward for overcoming these challenges is absurd power. An end-game Path of Exile character is a sight to behold, exploding through enemies at breakneck speed. Seriously: just visit Twitch or YouTube if you suspect I'm exaggerating. The incredible pace might be a turnoff for some, but I love watching my character blast through screens of monsters as if they're made of tissue paper.
It's also a game that rewards research and systems mastery, two traits I strongly associate with PC gaming. The game's skill tree set a new standard for complexity that most action RPGs now try to match. Figuring out a build is more than half the game. I usually turn to guides from top influencers, but theory crafters will adore the game's depth.
Although nearly 10 years old, Grinding Gear Games keeps Path of Exile on an update schedule that most PC games envy. New seasons add gameplay mechanics every few months. A sequel, Path of Exile 2, is in development, with a beta planned for late 2023.
The good
Incredible pace of new content and fun character builds
The bad
Your characters look grungy until you pay up in the cash shop
Valheim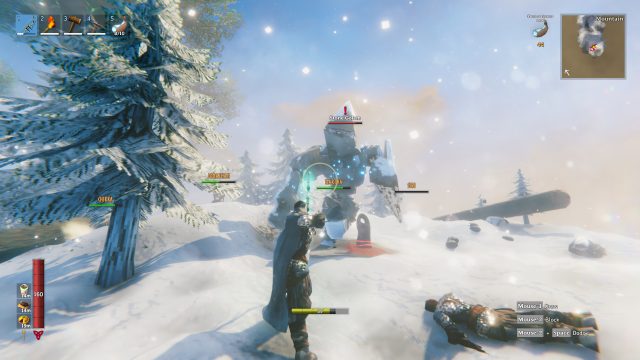 It's ironic that Valheim is the newest game on this list. Released in February 2021, it embraces a retro style that riffs on the blocky art of late-1990s 3D games. Muddy textures and chunky character models are paired with modern lighting and water effects. It doesn't sound like it should work—but it does.
A survival game at its core, the threats in Valheim's worlds are deadly, and the key to defeating them is always found in the wilderness, where you'll forage for materials to heal yourself, craft items, and build a base.
It might sound a bit like Minecraft, but the block-based builder's survival mode never provided the level of danger and excitement I hoped (without mods, at least). Valheim, conversely, is packed with deadly foes and biome bosses that prove extremely difficult to defeat without crafting the proper equipment. You'll also fend off raids that can overwhelm an ill-prepared homestead, forcing you back into the wilderness.
Valheim's developer, Iron Gate Studio, has released a free update, Mistlands, which adds a biome filled with previously unseen foes, events, items, and a new biome boss. Additional updates are incoming. The game has a strong mod community that's essential for players looking to improve the look and function of their homestead or add new challenges.
The good
Endless exploration through beautiful lo-fi worlds
The bad
Difficulty spikes cause frustration
Final Fantasy XIV Online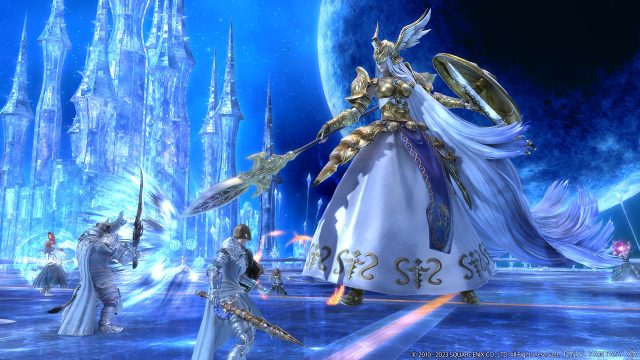 Final Fantasy XIV Online is best known for its narrative, which after four expansion packs, packs roughly 200 hours of cut scenes, plot twists, and beloved characters. That's a lot, and players drifting in from World of Warcraft may feel the urge to rush through it to dive into the "end game" content.
Please, I'm begging you. Take it easy. While the game has a competitive raiding scene, it also provides crafting, player housing, fashion competitions, mini-games, side quests, player-versus-player combat, collectibles, and achievement hunting. At the risk of angering MMORPG purists, I think it's fair to call FFXIV a "theme park" and "sandbox" game in one package.
FFXIV also has a massive roleplaying scene that ranges from narrative dramas to the simple joy of virtual clubbing at a rich guild's mansion. This is rare to see in modern MMORPGs and harkens back to their roots in the MUDs, many of which functioned more like social spaces than games.
Of course, this game has a popular console version, but if you've ever played the PlayStation version, you know that it's awkward to use compared to the PC version. This game is definitely most at home on PC.
Getting started is easy thanks to the game's meme-worthy free trial. It includes the base game, A Realm Reborn, and the award-winning Heavensward expansion with no restrictions on playtime. Subscribers pay $12.99 per month.
The good
Massive breadth of content and unbeatable fashion end-game
The bad
Little functional character customization
Listing image by Matthew Smith