My typical workday involves sitting at my computer for eight or more hours and typing articles between attending meetings. I've spent so much time with keyboards that I've thankfully been able to develop a relatively fast typing speed of 75 words per minute (WPM). In my experience, I've learned that it's not only my fingers that allow for fast typing; the keyboard I use must also be up to the task. Thankfully, that's where the best mechanical keyboards come into play. 
Over the last week, I've been using the Das Keyboard 6 Professional mechanical keyboard, and I've absolutely fallen in love with it. Thanks to its design and feel, it provides the best typing experience I've ever had. 
Disclaimer: This review was made possible by a review unit provided by Das Keyboard. The company did not see the contents of the review before publishing. 
Das Keyboard Professional 6: Price and availability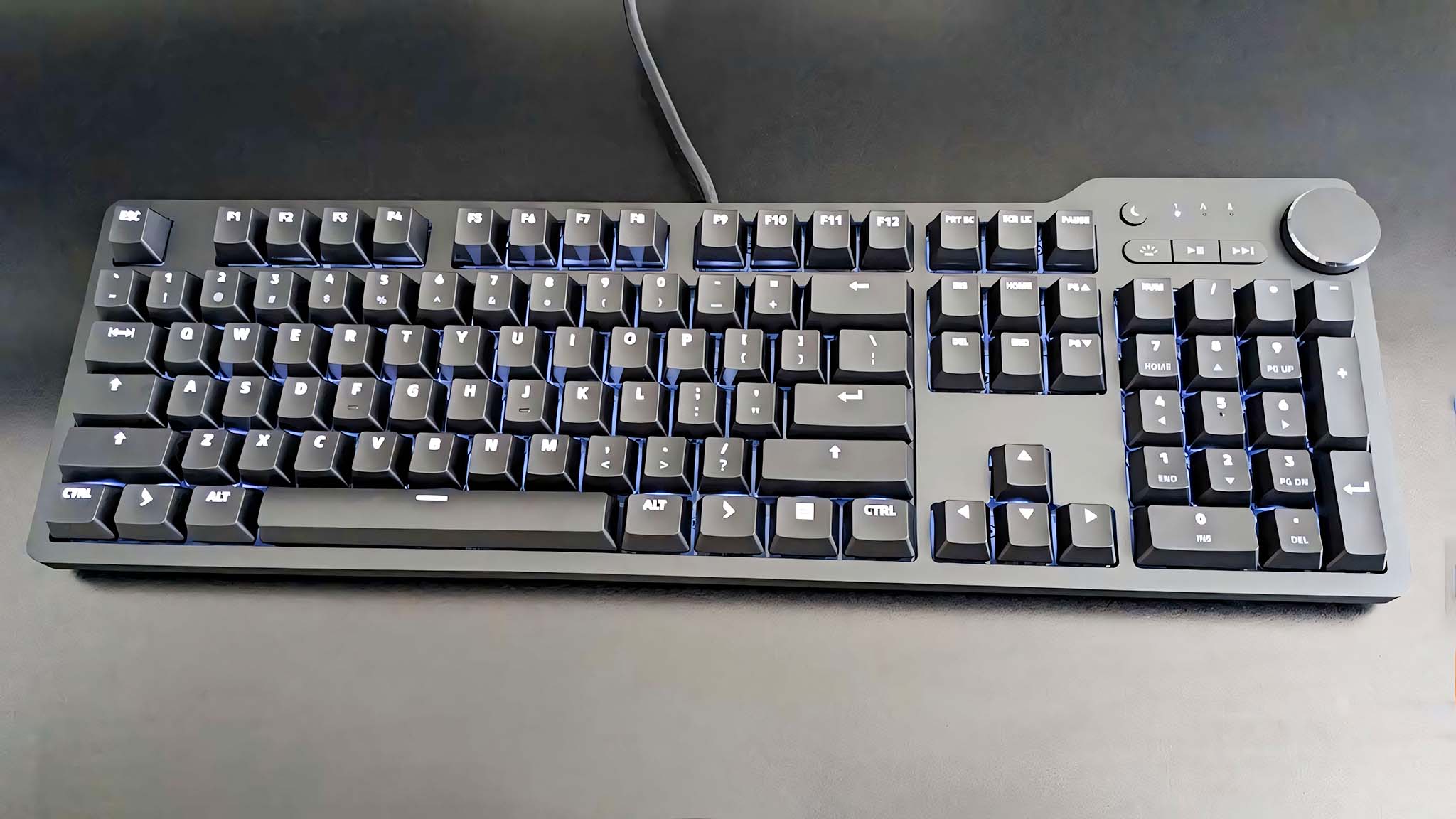 Price highlights
It costs more than some other mechanical keyboards with its $229 MSRP. 
Fortunately, it can often be found selling for $199 or cheaper.
It can be purchased at Amazon or the Das Keyboard website.
Price rating: 4/5
The Das Keyboard 6 Professional has an MSRP of $229. However, it usually sells for $199 on Amazon and the Das Keyboard website. During sales, it's even dipped down to $169 on Amazon, so you might be able to grab it at a value price. 
Typically, mechanical keyboards tend to cost more than regular membrane or chiclet keyboards due to their titular mechanical switches, which are more complex. They also tend to be made out of nicer materials. On average, they sell between $30 and $250, with the more expensive options offering better designs, full NKRO, and other conveniences. 
There are various types of switches, including Linear, Tactile, or Clicky, and each provides a slightly different feel when typing. It comes down to a matter of preference between which mechanical switch type is best. Linear switches tend to be preferred for gaming, Clicky switches tend to produce the most noise for a satisfying sensation, and Tactile switches are considered all-purpose with a good mixture of clickiness without being too loud for fast typists. The Das Keyboard 6 Professional that I reviewed features Tactile Cherry MX switches that can be either brown or blue.
Das Keyboard 6 Professional: Design and build quality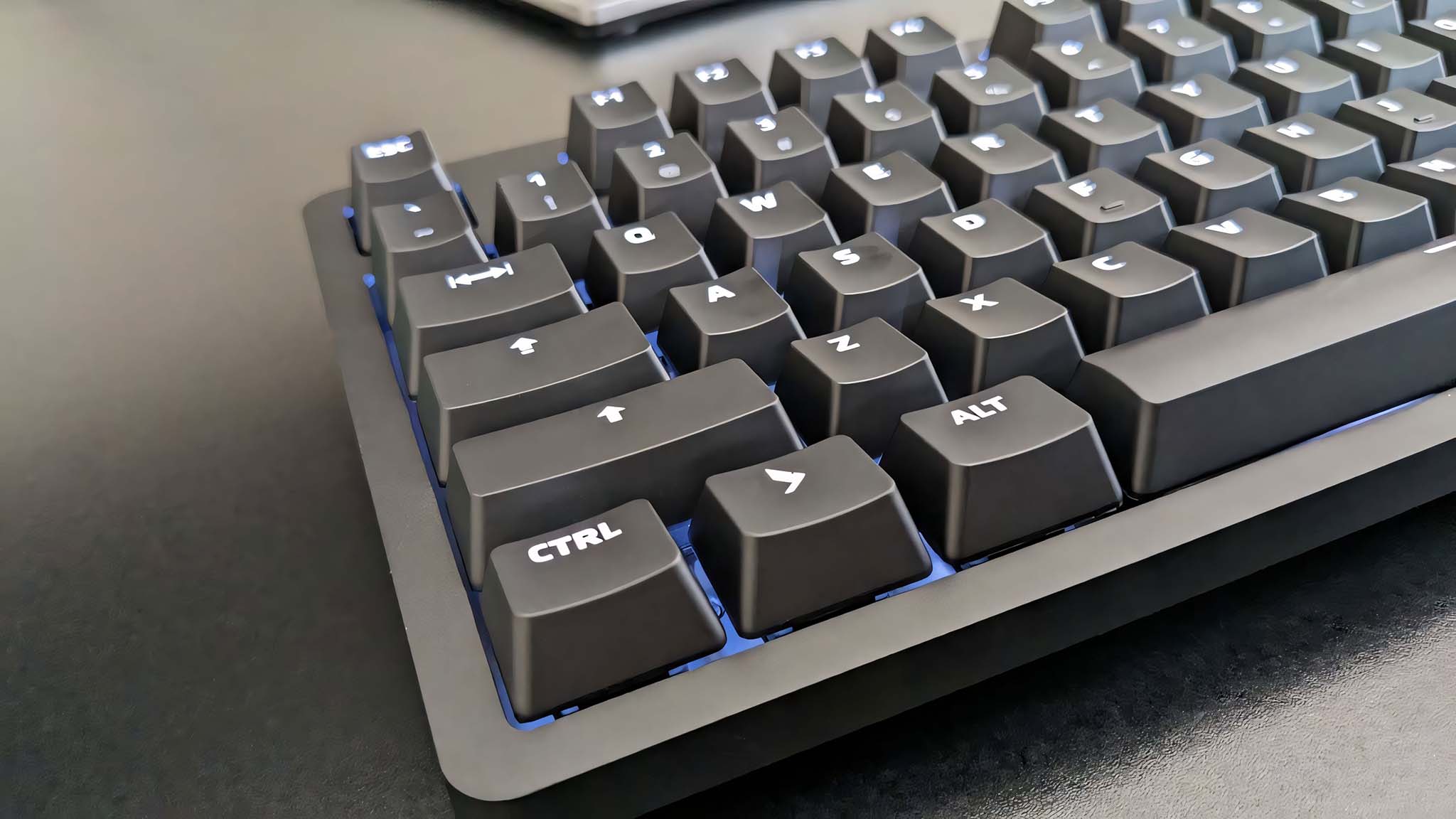 Design and build highlights
The aluminum top and laser-etched keycaps give the keyboard an elegant presence. 
There are seven backlit brightness levels and the option to turn off the lighting. 
Two USB-C ports make it easy to charge accessories right from the keyboard. 
Since it uses popular Cherry MX switches, it's very easy to swap out for third-party keycaps. 
It's wired only, but the USB-C cable is long and includes an optional USB-C to USB-A 3.0 adapter for those who need it.
Build rating: 5/5
From the moment I pulled out the Das Keyboard 6 Professional from the box, I could tell that this was a beautiful product. Every aspect, from its premium aluminum top to its laser-etched keycaps, gives it an elegant aesthetic that will look good on any desk. 
Unlike some of Das Keyboard's other products, this mechanical keyboard does not offer RGB lighting, and it doesn't really work with the Das Keyboard Q app for adding customization effects either. However, the keys themselves are all backlit with a vibrant white that looks really good in person. Additionally, when I want to make adjustments, I can tap a specific button on the right side of the keyboard (above the number pad) to toggle between seven brightness levels or else turn the lighting off entirely, which is helpful for different lighting scenarios.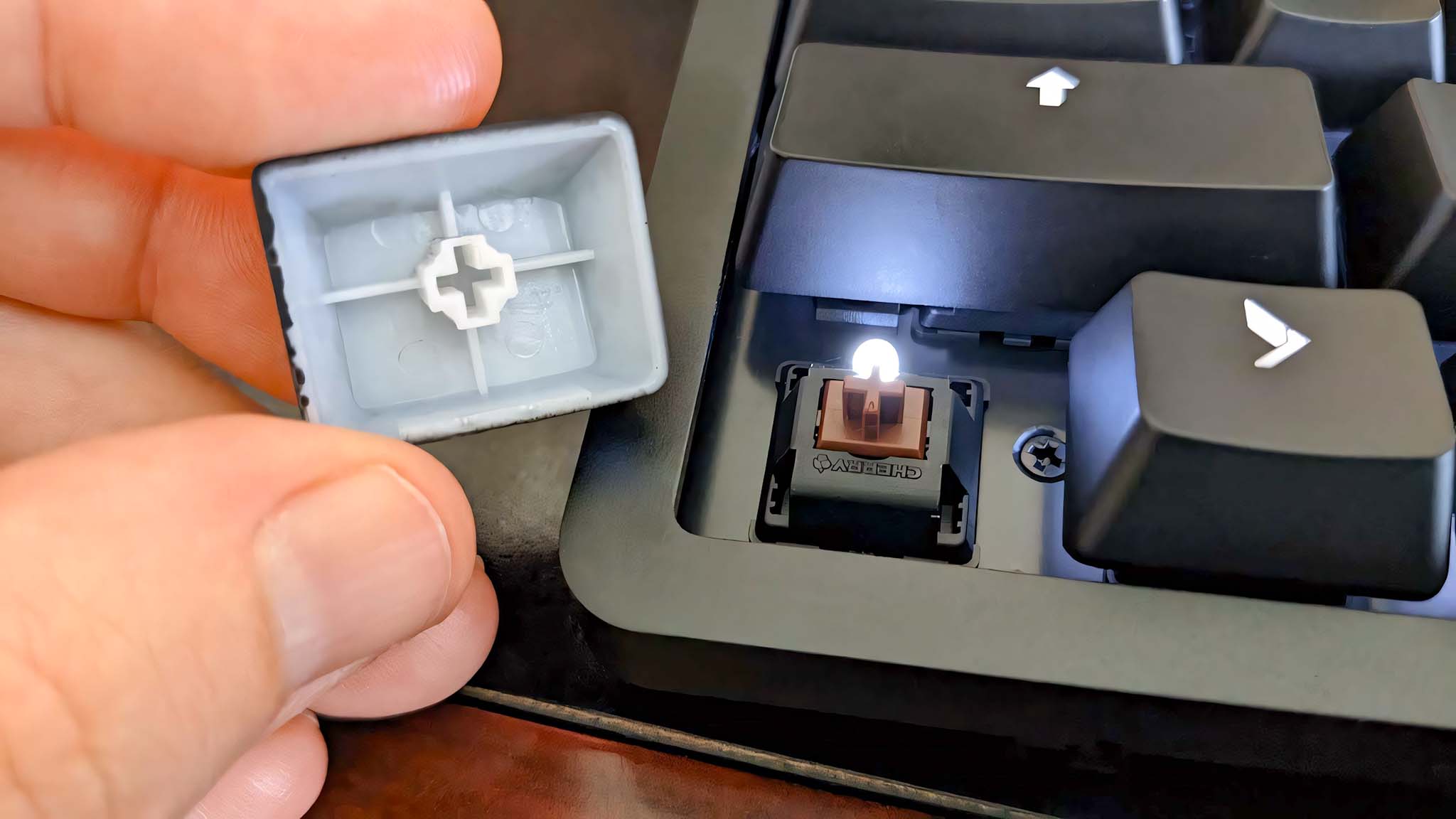 Another thing to be aware of is that the Das Keyboard 6 Professional is wired only, and there are no wireless versions of this keyboard available. This will be a downside to many people who prefer to type cordlessly for a tidier desk look. But the upside to this is that the cable is relatively long, making it easier to attach to my computer tower without feeling restricted in my keyboard placement. What's more, the cable is a USB-C cable, but a USB-C to USB-A 3.0 adapter is also included if that works better with your setup. 
Using a key puller, I was able to remove individual keys and confirm that the 6 Professional features brown Tactile Cherry MX switches. This is great news for people who like to purchase third-party keycaps to customize their keyboard, as this is the most popular switch in the world.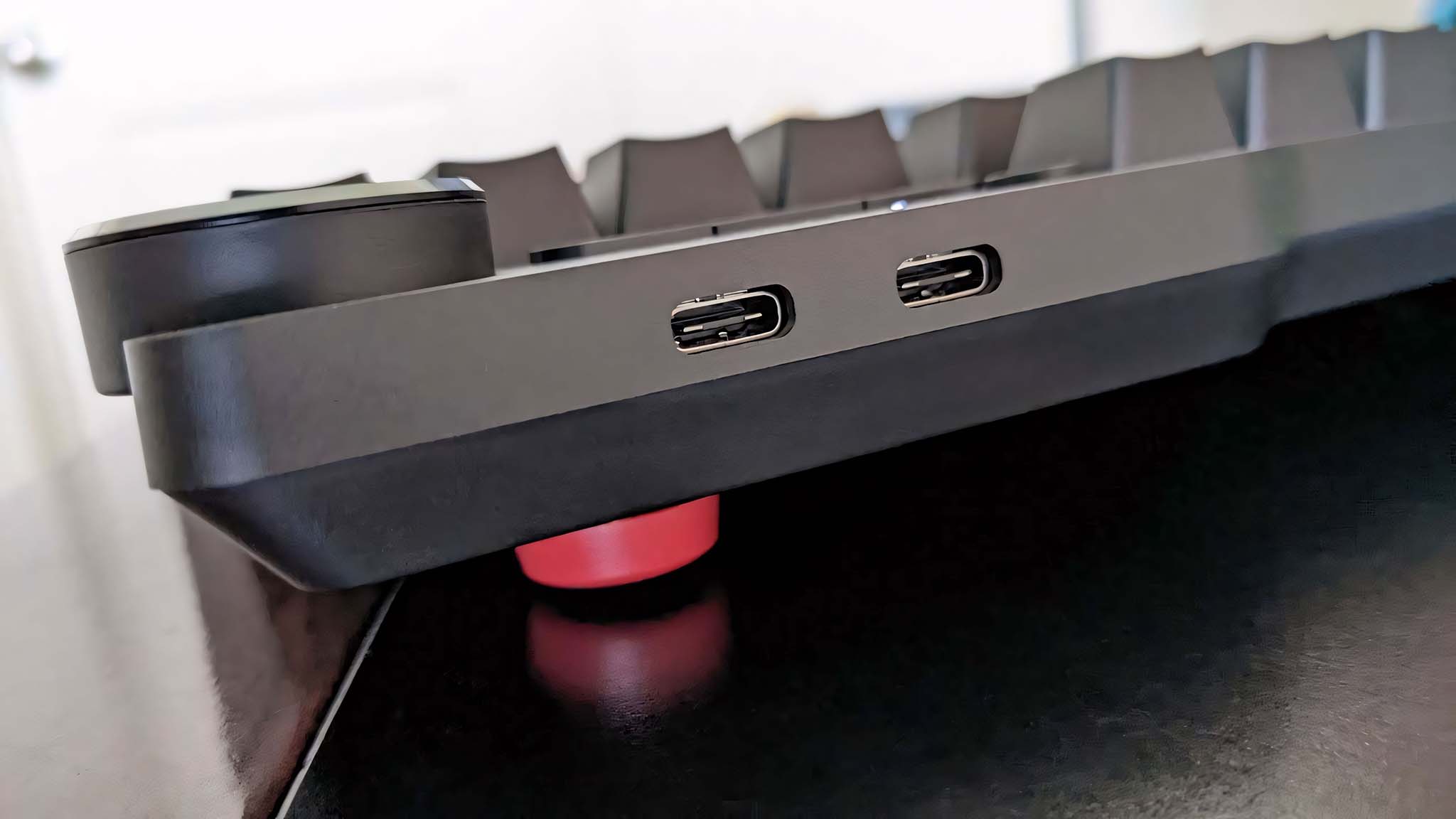 An extra perk going for the 6 Professional is the fact that there are two USB-C superspeed ports on the top near where the volume dial is. These allowed me to easily charge up my phone and laptop without having to fumble around with my tower or a charging hub. 
Das Keyboard 6 Professional: Typing experience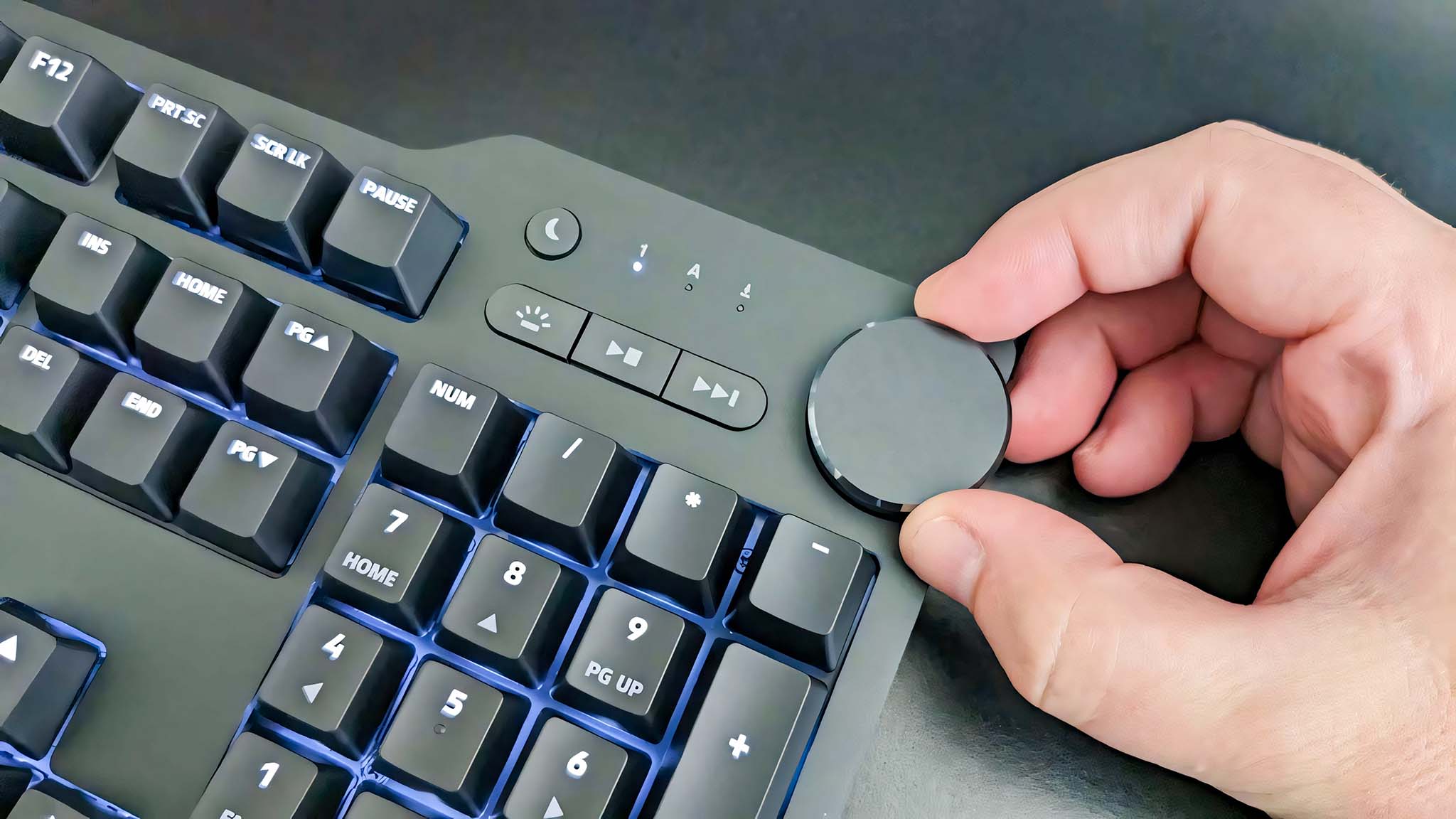 Typing experience highlights
The smooth texture of the keys combined with the tactile switches provide a very satisfying typing experience. 
Thanks to full NKRO, this keyboard can keep up with very fast typists.
Media controls make it very easy to quickly adjust listening preferences without having to open settings. 
Typing experience rating: 5/5
The Das Keyboard 6 Professional delivered on every aspect I expected from the best mechanical keyboard typing experience. I always expect there to be an adjustment period when switching over to a new keyboard, but it really didn't take long at all for my fingers to feel right at home on these beautiful keycaps. With every press, the tactile switches make a delightful clicking sound and bounce back into place fast enough to easily keep up with my fast typing. 
I wasn't surprised to discover that this mechanical keyboard features full NKRO (N-key rollover), which allows key signals to be sent regardless of how many of them are pressed down simultaneously. As such, the 6 Professional always responds to my key presses extremely quickly without muddling up any signals, so I can type like the wind without feeling impeded at all.
As soon as I plugged the keyboard into place, the media controls on the right side worked without needing any adjustments or drivers. The large volume dial easily allows me to control how loud my speakers blast, and pressing down on it rather than turning the dial allows me to mute or unmute without wasting any time. Meanwhile, the Play/Pause and Skip buttons work as I'd expect with my media player, so I don't have to reach for my mouse simply to make an adjustment to what I'm listening to. Even when watching videos on YouTube, the Play/Pause button worked, although the Skip button didn't really do anything, which isn't surprising.
While the media controls worked automatically, I couldn't get the sleep button above these media controls to work. This isn't the worst thing considering that the Windows + L (or, in this case, Das Keyboard key + L) easily locks my computer, but it is something to be aware of.
One final aspect of this mechanical keyboard's typing experience has me a bit on the fence concerning the screw-on feet. On the one hand, these offer good rubber grips that prevent the Das Keyboard from sliding around accidentally. Additionally, they allow me to have a little more control over how high the keyboard inclines based on how much I choose to tighten them. However, on the other hand, I wish they provided a little steeper incline as this would feel more comfortable to my hands.
Das Keyboard 6 Professional: Competition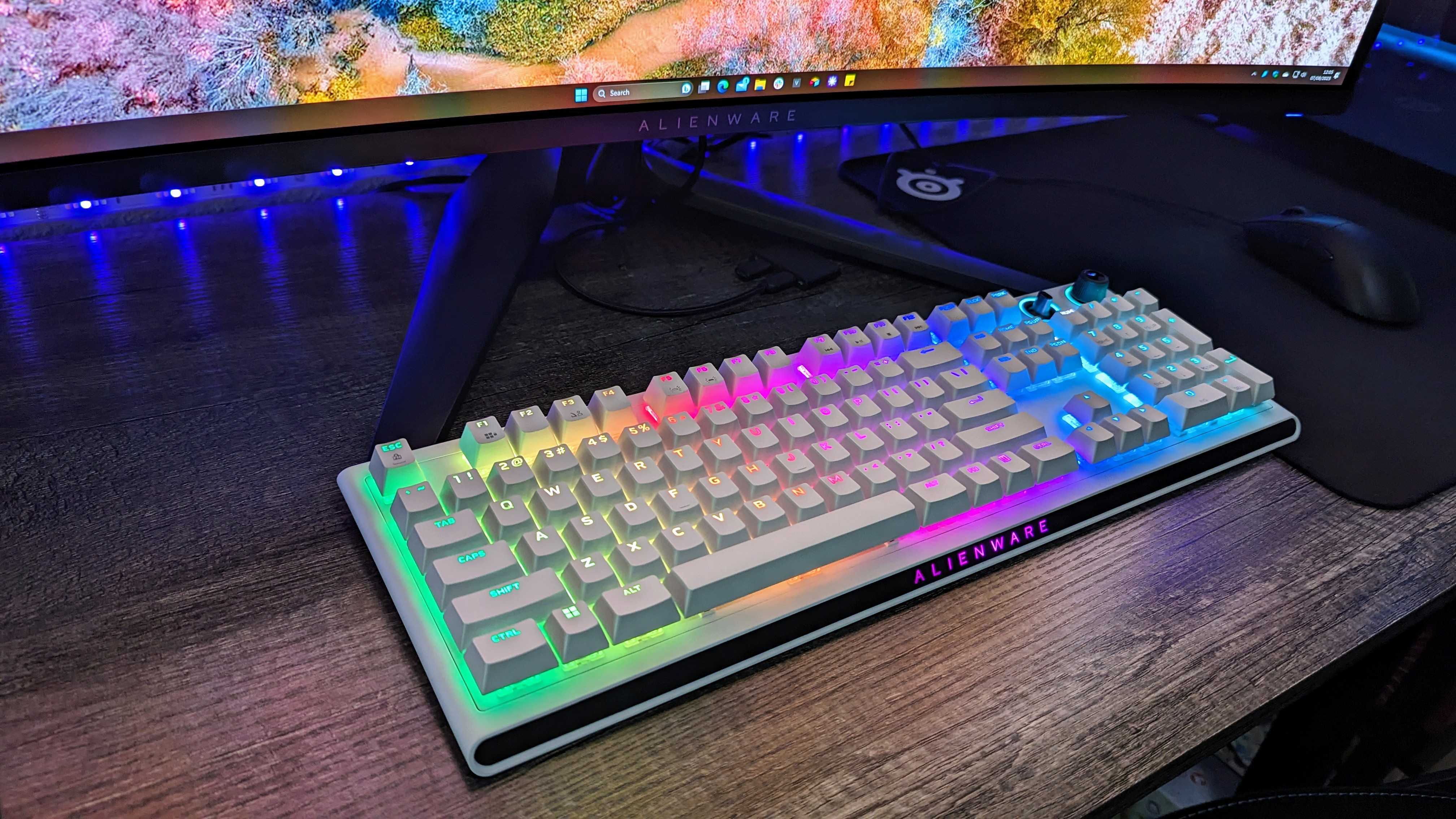 Now if you're more in mind for a mechanical gaming keyboard, Das Keyboard has you covered with its X50Q. As you can see in my Das Keyboard X50Q review, it offers beautiful RGB lighting that can easily be customized with the free Das Keyboard Q app. It is also a bit expensive, with an MSRP of $199, but it's very responsive and feels amazing to type on. 
Now, if you're more interested in a wireless mechanical keyboard, then there are plenty of options out there to choose from. As our own Zachary Boddy said in their Alienware Tri-Mode Wireless Gaming Keyboard review, this $229.99 mechanical keyboard offers beautiful RGB and a great typing experience if you're willing to spend the money on it. 
On the other hand, if you're looking for something that won't take up as much space, then there are compact wireless mechanical keyboards as well. In her Vulcan 2 Mini Air review, my colleague Jennifer Young explains how this keyboard's multi-device connectivity and stunning dual-LED lights provide an excellent experience at a $180 price tag.
Das Keyboard 6 Professional: Scorecard
Swipe to scroll horizontally
| Attribute | Notes | Rating |
| --- | --- | --- |
| Value | It's definitely not the least expensive option out there, but this keyboard is decently priced given its design and functionality. | 4/5 |
| Design | With an aluminum top and laser-etched keycaps this keyboard is convenient and looks good in any room. | 5/5 |
| Typing experience | Cherry MX tactile switches, full-NKRO, and convenient media controls make the Das Keyboard 6 Professional a very handy option. | 5/5 |
| Total score | This keyboard is practically perfect thanks to its design and satisfying typing experience, but it is costly and wired only. | 4.5/5 |
Das Keyboard 6 Professional: Should you buy it?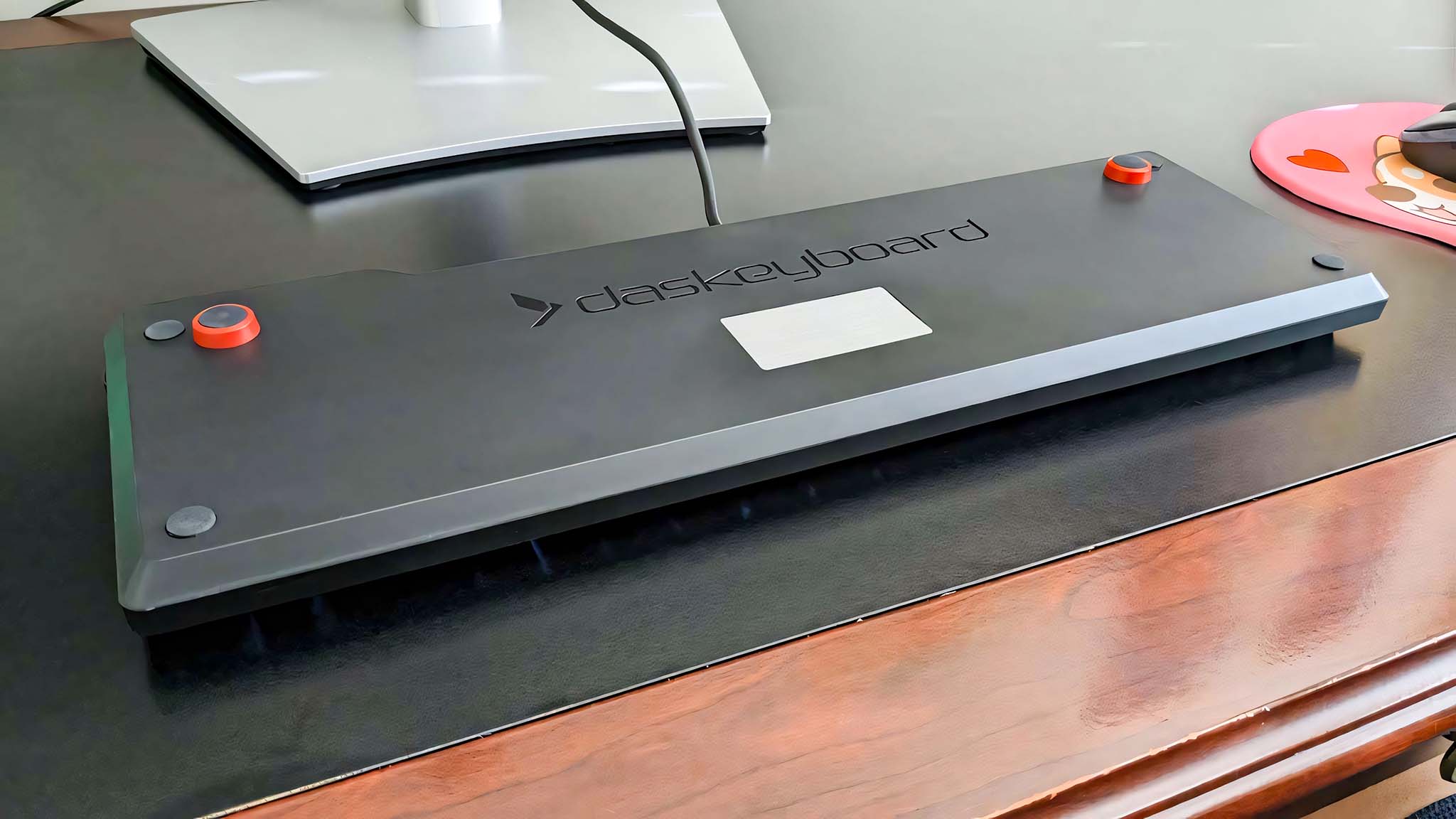 You should buy it if…
You should not buy it if…
The Das Keyboard 6 Professional has provided me with the best typing experience I've ever had, and I cannot fathom going back to my previous keyboard. It really is one of the best keyboards you can get. Each key presses in with a beautiful click but bounces back fast enough that I don't feel like my fingers are tripping over slow-rising keys. Additionally, the full-NKRO allows signals from the keyboard to be sent simultaneously to keep up with my flashing fingers. 
Whenever I listen to my music, I find the convenient placement of the large volume dial and other media controls to be especially useful, as they allow me to control my tunes without having to do anything with my mouse. It's a bit pricey, but I highly recommend this keyboard to anyone who wants something that feels amazing to use and looks absolutely elegant.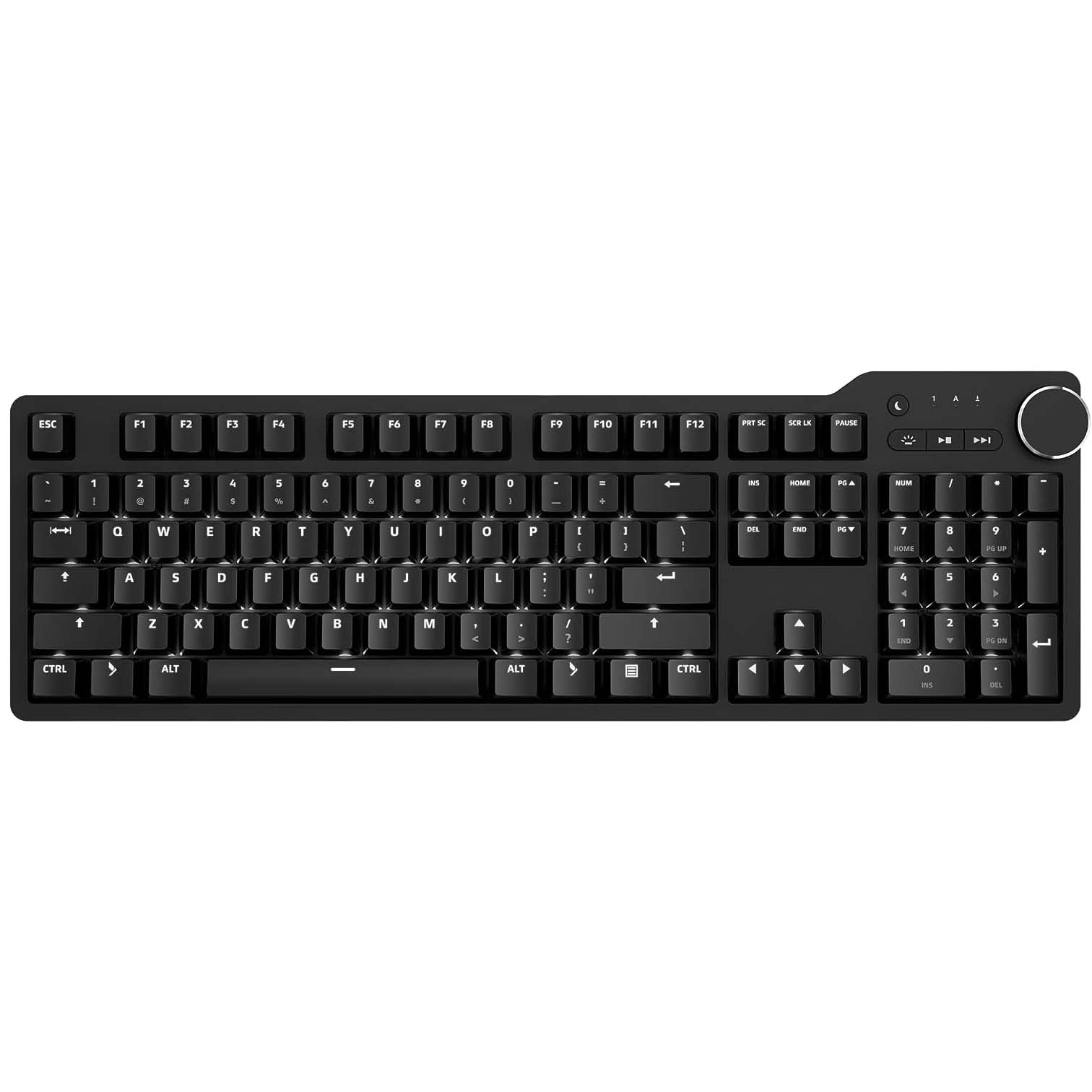 Das Keyboard 6 Professional Mechanical Keyboard
This mechanical keyboard provides a delightfully clicky sensation with its tactile Cherry MX switches and backlit keycaps. The volume dial combined with the pause, play, and skip buttons also provide a level of convenience when listening to music.