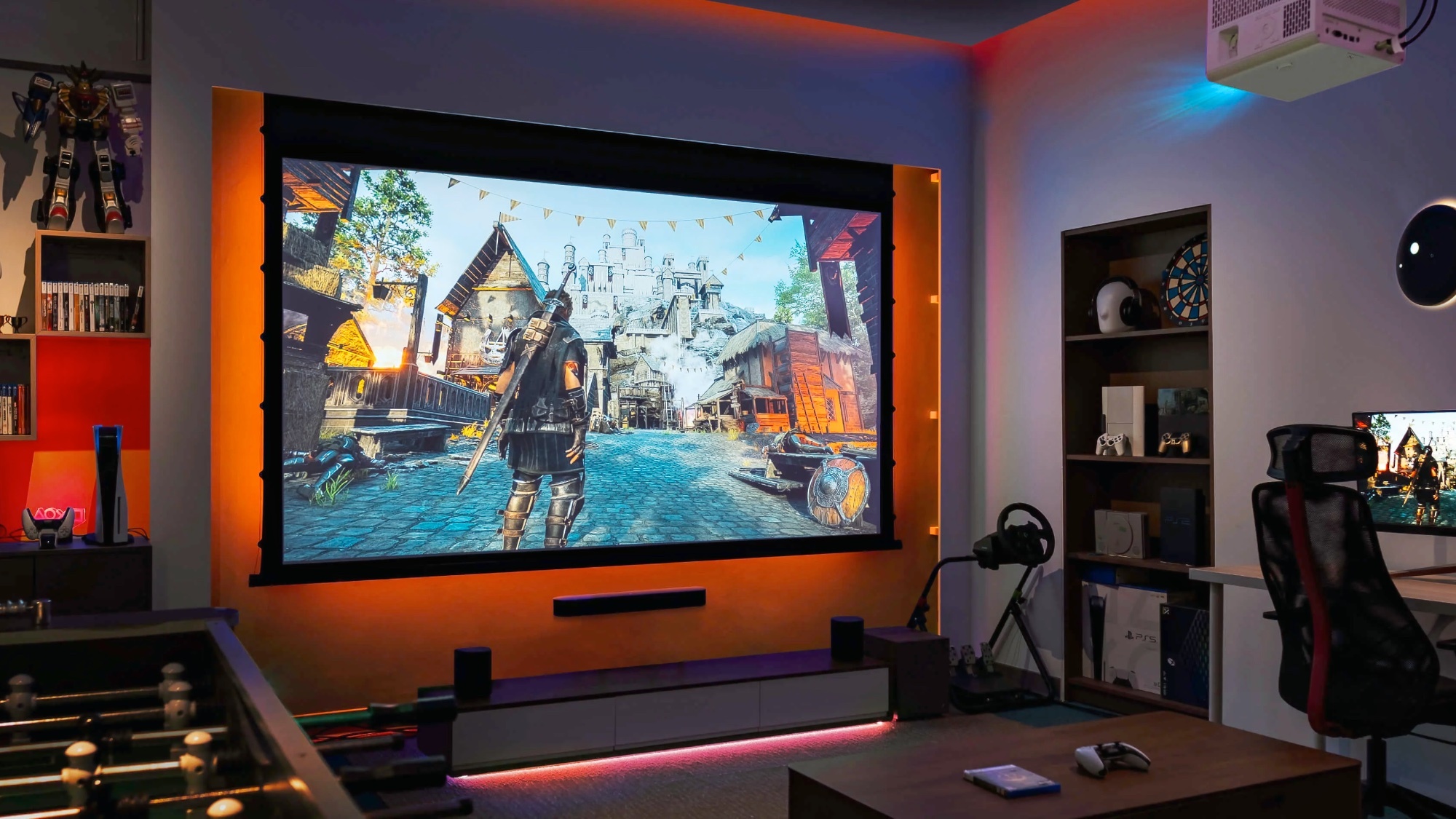 Watch out OLED TVs, BenQ's new projectors could become some of the best gaming TVs…well, projectors. Coinciding with last weekend's Tokyo Game Show event, projector maker BenQ unveiled a new series of 4K projectors that are aimed squarely at gamers. The lineup includes the new BenQ X3100i, X500i and X300G that deliver 100 inches of 4K HDR at 60Hz or 1440p@120hz with latency as low as 8.3ms. 
The projectors mainly vary by their light output — they deliver 3300 lumens, 2200 lumens and 2000 lumens, respectively — and size, though the high-end X3100i is also capable of vertical lens shift and covers 100% of the DCI-P3 color space. The X3100i is a successor to one of the best projectors of 2022, the BenQ X3000i, so it's great to see the series getting a gaming-focused upgrade for 2023.
While they're all primarily targeted at gamers, the projectors do come with a Google certificated smart platform with built-in Netflix, so it's not like you won't be able to stream your favorite shows and movies in between gaming sessions. 
As far as pricing is concerned, the X3100i comes in at $2,399; the X500i costs $1,699; while the X300G with motorized zoom can be had for $1,799.The X3100i and X500i will be available to order in November on BenQ's website with full release in December at Amazon and Best Buy, while the X300G will be available later in January.
Projectors vs OLED: Which is better?
Years ago, the answer was always OLED. OLED has, traditionally, had better contrast thanks to its pixel-perfect black levels and better overall color saturation. OLED TVs were also equipped with the best connectivity options like the latest HDMI ports at a time when projectors were squarely focused on catching up in terms of resolution.
These days, it's not so clear cut. 
In short, BenQ's projectors offer a way for gamers to get a huge screen size for around the same price as a 75-inch OLED TV. The projectors are still going to be a bit fussier in terms of setup — but their brightness and color saturation should be almost identical in both devices. 
If you plan on creating a home cinema room — or simply want to have a bigger screen than a traditional OLED or LED-LCD TV can provide — a projector is the way to go. If you plan on bouncing between apartments for the next few years, an OLED TV is a safer bet as the setup will be more or less the same in every location.
Not sure where to start when buying your next TV? Check out our guides to the best TV in 2023 and the best OLED TV — both can help you find what you're looking for.
More from Tom's Guide