Intro
Should you go with the iPhone 15 Pro or save some money and get the regular iPhone 15 model instead?
This is the BIG question especially now that the iPhone 15 has gotten an improved camera system and Dynamic Island, two features that have narrowed the gap.
The iPhone 15 Pro and iPhone 15 also share roughly the same compact-ish 6.1-inch size, with the main differences being the newer and faster A17 Pro chip on the Pro model (the regular version sticks with the older A16 chip), as well as a few advanced camera features and a slightly longer battery life on the Pro.
The 15 Pro model also has 120Hz ProMotion for buttery smooth scrolling, a feature that is not available on the vanilla 15 model.
As you can see these differ just enough to make picking the right one even more difficult than before. But let's not give up just yet and start by wrapping our heads around the…
iPhone 15

Pro vs

iPhone 15 differences

:
iPhone 15

Pro price starts at $1,000, while

iPhone 15

 starts at $800
15 Pro gets new A17 Pro chip,

iPhone 15

runs on A16
Both have 6.1″ screens, but 15 Pro has slim bezels
15 Pro has 120Hz
15 Pro has a 3X zoom camera
Pro has slightly faster charging speeds
Pro supports faster USB transfer rates
Pro has Action Button
Table of Contents:
Design and Display Quality
Slimmer screen bezels make for a more elegant look on the 15 Pro
Both the iPhone 15 Pro and iPhone 15 come with a 6.1-inch screen size, which makes these phones quite compact in comparison to the Pro Maxes and Ultra phones of the world.
But while the screen sizes are the same on the two, the actual physical size of the phones differs slightly. The 15 Pro has slimmer bezels for a more modern edge-to-edge feel and it is a tiny bit narrower.
Here are the exact sizes of these two:
| | iPhone 15 Pro | iPhone 15 |
| --- | --- | --- |
| Thickness | 8.25 mm | 7.8 mm |
| Height | 146.6 mm | 147.6 mm |
| Width | 70.6 mm | 71.6 mm |
| Weight | 187 grams | 171 grams |
As you can see, the
iPhone 15 Pro
is still a bit heavier, but nowhere nearly as much as the much heavier previous generations of the Pro series.
This is actually our favorite new feature of the Pro, just how much lighter it has gotten.
In terms of materials, the 15 Pro features the new titanium frame, a change from the stainless steel that Apple has been using on previous Pro models. This titanium finish is more damage resistant and far less prone to catch fingerprints.
The regular iPhone 15 model, on the other hand, will use the familiar aluminum frame, and that also has the benefit of lighter weight and being fingerprint-resistant, but is not quite as durable as titanium.
Interestingly, the back of the regular
iPhone 15
is no longer glossy, it features a new smooth finish very similar to the matte glass on the back of the 15 Pro models.
One feature that only the iPhone 15 Pro gets, however, is the new Action Button, while the regular iPhone 15 still uses the good old mute switch. The new Action button is programmable, so you can set it to do a number of things. It defaults as a mute key as before, but you can set it to start the camera, or even start any app or do something more complex via the Shortcuts app.
On the bottom, both phones feature a USB-C port, a change from the Lightning port that Apple has been using for years. That's good news as this is the same cable most other electronics use as well.
One detail here, however, is that the 15 Pro also uses this port for faster USB 3 transfer speeds of up to 10Gbps, while the vanilla iPhone 15 is still limited to USB 2 speeds (0.5Gbps). But even if you buy the Pro model, you will have to separately purchase a USB 3 compatible cable to benefit from the faster speeds as the cable that comes in the box does not support USB 3 transfer rates.
And finally on the design front, both phones have identical IP68 water and dust certification, just in case you were wondering.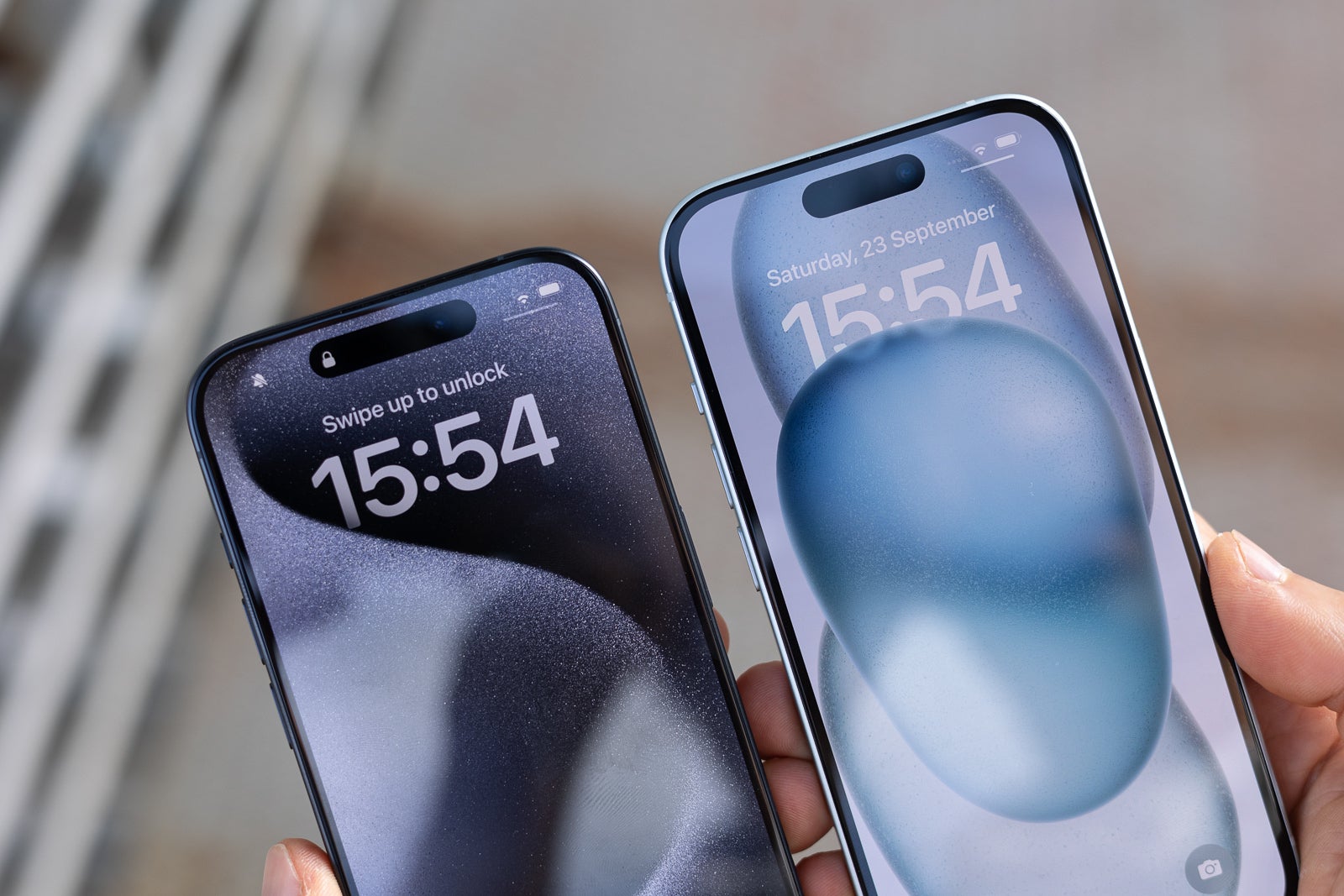 (Image Credit – PhoneArena) The Pro model has slimmer bezels
Next up, the screens. Both use a 6.1″ OLED panel and while resolution and colors are about the same on these two, one very important feature is missing on the regular iPhone 15 – 120Hz ProMotion! We wonder how long will Apple stick with a 60Hz screen on the regular models, but while we don't know the answer to that we do know that scrolling still feels a bit choppy on the iPhone 15 compared to the smoothness on the 15 Pro.
Display Measurements:
Both now hit roughtly the same peak brightness levels which makes them even easier to see outdoors and is a welcome improvement. We wish minimum brightness improved, but it hasn't and stays at around 2 nits, which is not quite as dim as other rival phones can get.
And when it comes to biometrics, there is no difference: both phones use Face ID, which works great.
Performance and Software
A17 Pro is faster, but its main advantage may be improved power efficiency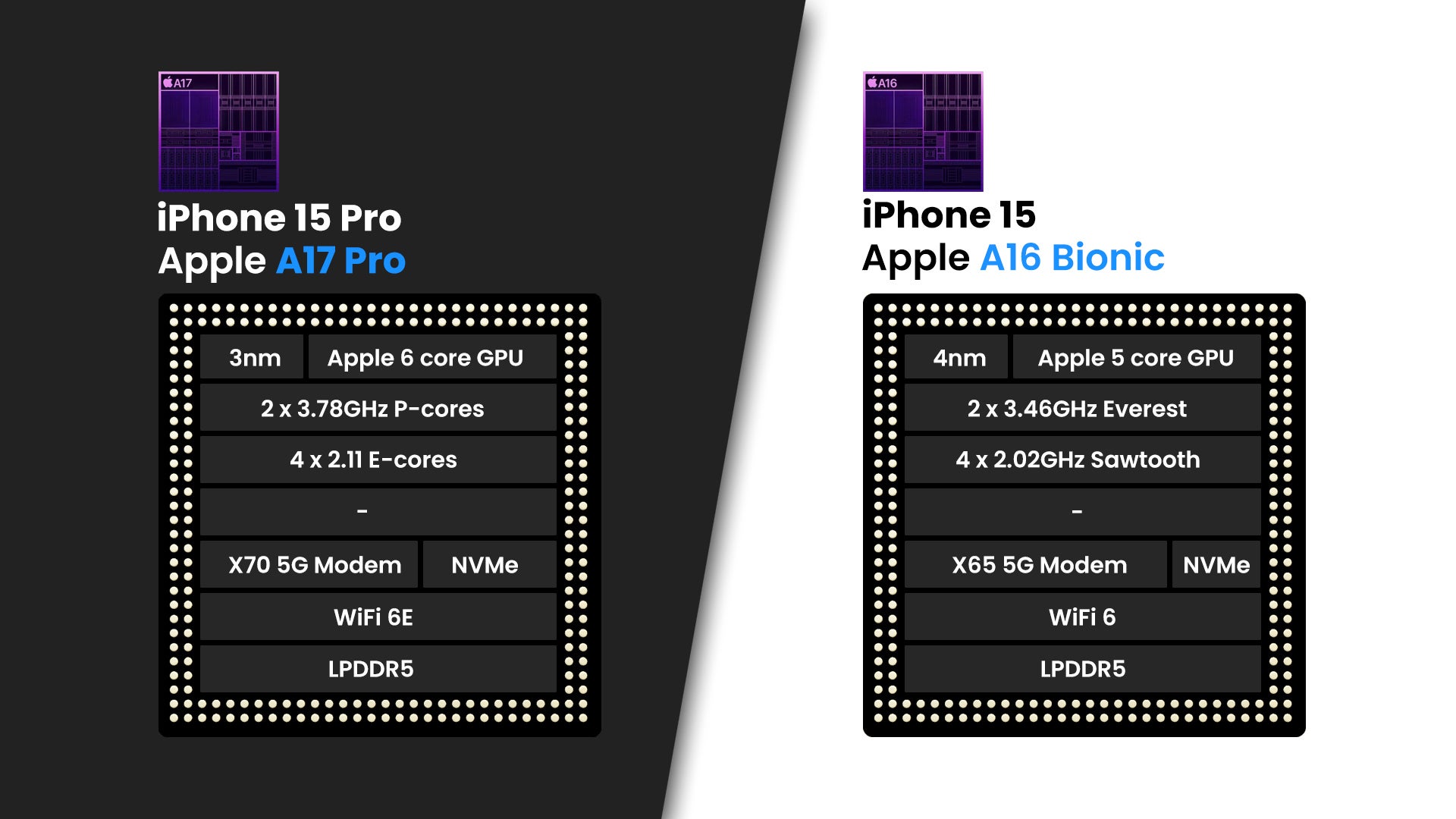 The iPhone 15 Pro has the new A17 Pro chip, while the iPhone 15 uses the previous-gen A16 Bionic.
The new A17 chip is a generational leap forward. Chips improve every year, but not every year we have a transition to a new manufacturing process and that is exactly what we have with the A17 chip. It's making the switch to 3nm manufacturing, so there are more transistors, more power and better efficiency in the same die size.
Is the new A17 Pro chip alone a reason for upgrade? Probably not as both the A17 and A16 are plenty fast, but it is a very welcome upgrade.
One group, however, will really appreciate the new chip: gamers! The new 6-core GPU in the A17 offers huge improvements not just in peak speeds, but also in sustained performance.
The 15 Pro also makes the jump to 8GB RAM, while the
iPhone 15
has 6GB. No confirmation on this just yet, as Apple does not disclose these numbers officially, though.
We will be updating this section with more details about the performance difference between these two chips soon, so stay tuned for that.
As for software, both the
iPhone 15
Pro and the vanilla
iPhone 15
model will run on the same
iOS 17
platform. What's new in this latest version are improvements to the Phone, Messages and FaceTime apps, plus a few other tweaks among which better autocorrect (finally!), as well as triggering Siri by just saying "Siri" instead of "Hey Siri".The changes to the Phone app are most visible. You can now set a Contact Poster for yourself which will be displayed full-screen on other iPhones when you call them, and similarly you will see other people's posters when they call. NameDrop is another new feature where you just bring your iPhone close to another one to exchange contacts. And in the Messages app, you have new stickers and animated stickers which you can create from your own photos.
iOS 17 also brings a new Standby Mode, turning your iPhone into a sort of a mini home hub, displaying useful information while it's charging.
Other new features include interactive widgets, mood tracking in the Health app, as well as a brand new journaling app.
Apple has the best software update policy in the industry, and both these phones are expected to be updated for the next five or even six years.
Finally, for connectivity there is no difference between these two as both support 5G bands and both have the cool new Emergency SOS via satellite feature, which might just be a lifesaver in areas with no cellular coverage.
Camera
Big camera upgrades for the regular model, but 15 Pro also has a few new tricks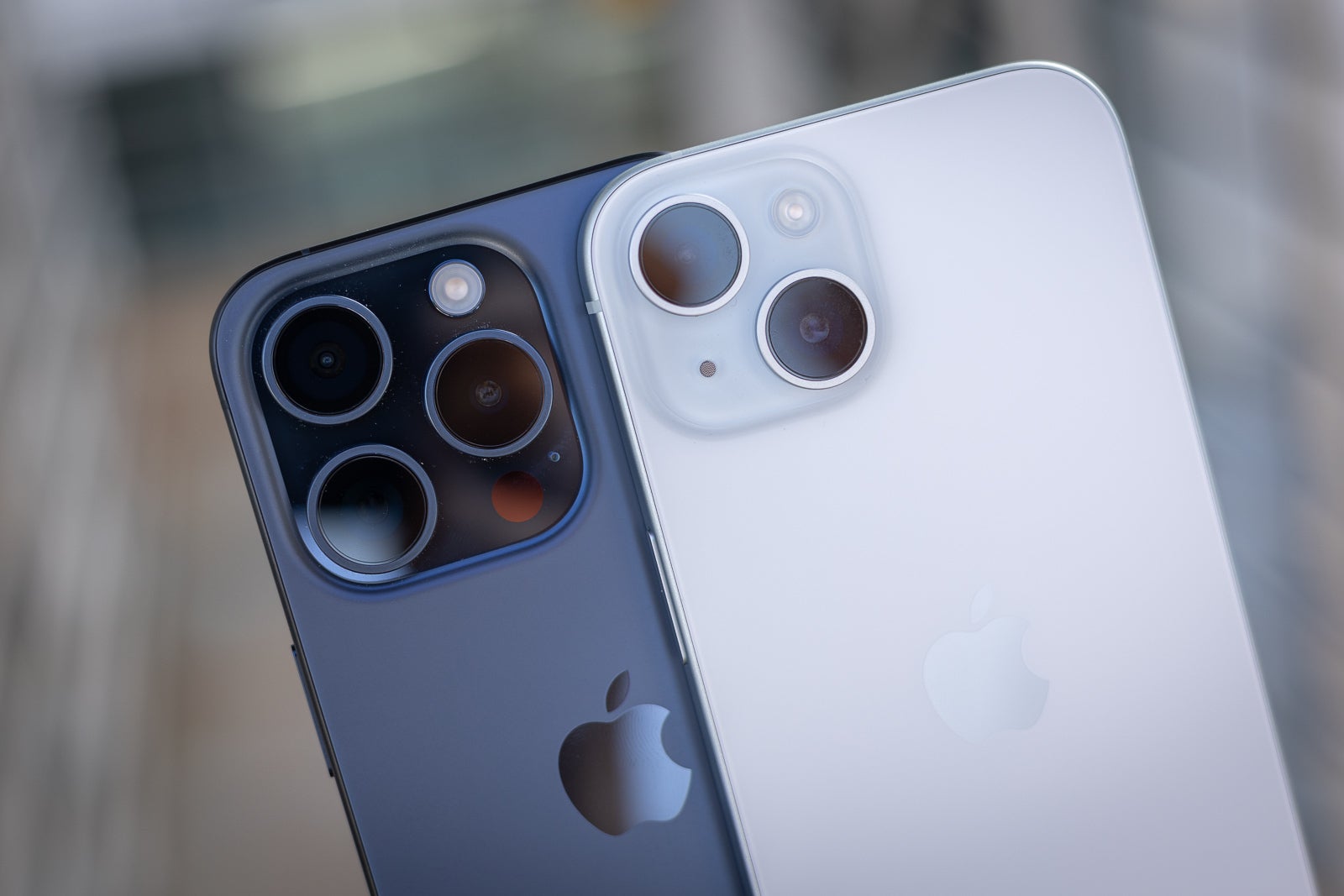 (Image Credit – PhoneArena)
Camera aficionados know that one of the bigger reasons to choose to get the 15 Pro over the vanilla 15 model is that 3X zoom camera which gives it more zoom versatility and helps with portrait mode shots.
Main Camera
The regular
iPhone 15
this year, however, is getting a big upgrade with a 48-megapixel main camera sensor, which is good news. This will not quite be the same sensor as on the
iPhone 14 Pro
, but it does support 2X optical-grade zoom and allows for 2X portraits, a very welcome feature.
As for the Pro version, it made the jump to that higher res 48-megapixel sensor last year, but this year, it uses a 25% larger 48MP sensor which comes with improvements in low light photography.
Both phones can also now shoot Super High Res photos at a 24-megapixel resolution. This is a great middle ground between low-detail 12MP shots and high-detail but very large sized 48MP pictures. Great idea, Apple!
Sensor Crop vs Digital Zoom
Not just this, you get new focal lengths only on the Pro with optical-grade quality: 1.2X (aka 28mm) and 1.5X (aka 35mm). These are great focal lengths that give you a lot more versatility, and are bigger upgrades than you may think initially.
Zoom Quality
At 2X zoom, the iPhone 15 Pro and iPhone 15 get a very similar amount of detail, but when you go to 3X zoom or further, you really start to notice the difference with cleaner detail on the Pro model.
The maximum zoom level on the
iPhone 15 Pro
is 15X, while on the regular
iPhone 15
you get up to 10X zoom.
Ultra-wide Camera
Both have a very similar ultra-wide camera, at least when it comes to daytime shots, however, in low light the one on the iPhone 15 Pro captures slightly cleaner shots, but the difference is not huge.
Low-light Photo Quality
There is not a huge difference in image quality in low light between these two, unless you want to nit-pick
The more noticeable difference is with the ultra-wide camera where you occasionally get a noisier picture on the regular model.
Video Quality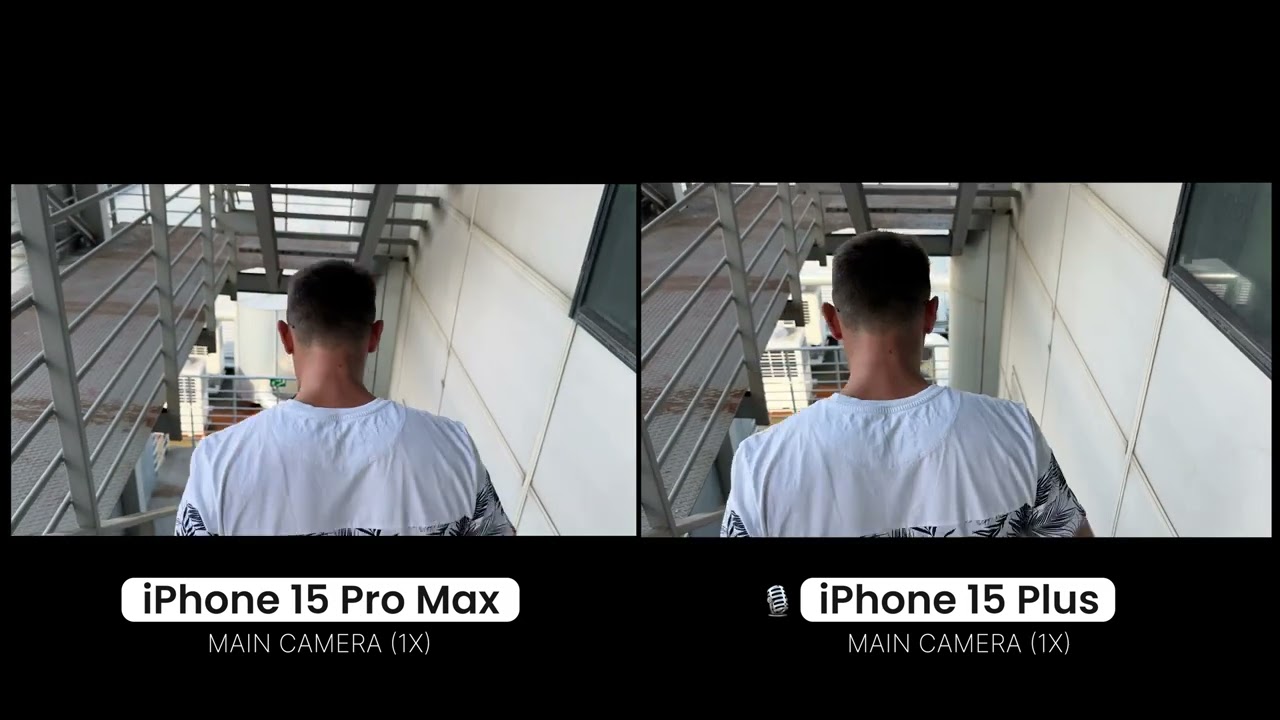 We did not see a difference in video quality: colors, stabilization, detail, everything looks practically identical on the two.
The only area where the 15 Pro has the upper hand is when zooming, and it can go up to 9X zoom compared to just 6X zoom on the regular model.
The 15 Pro can also record ProRes video. This is a feature that only few pro users will use simply because the files sizes are enormous and you need to edit the files to be able to use them, which most people won't bother doing. ProRes video can be color graded and theoretically should have slightly better dynamic range than regular video, but in our view the only real advantage of shooting ProRes is that videos don't have the added sharpening that you get with the default video option, and this alone is a big difference when you view them on a larger screen. But again, this is a niche feature and with those huge file sizes, we doubt it will be of much use to the regular user.
Audio Quality and Haptics
With a main, bottom-firing speaker and a helper speaker in the earpiece, these have a similar hardware, but the iPhone 15 Pro model sounds a bit better: the regular iPhone 15 does not have quite the same punch, highs are not as clean and the lower frequencies are a bit dumbed down compared to the 15 Pro. It's not a huge difference, but we did it notice it more while playing Avenged Sevenfold's Hail to the King.
Neither of these has a headphone jack, as expected, and let us also remind you that you can use the new USB-C port to connect
wired headphones
.
No differences in the haptics department too. Both phones come with the Taptic Engine that Apple has been using for years and it has been excellent all those years.
Battery Life and Charging
The A15 Pro has slightly longer battery life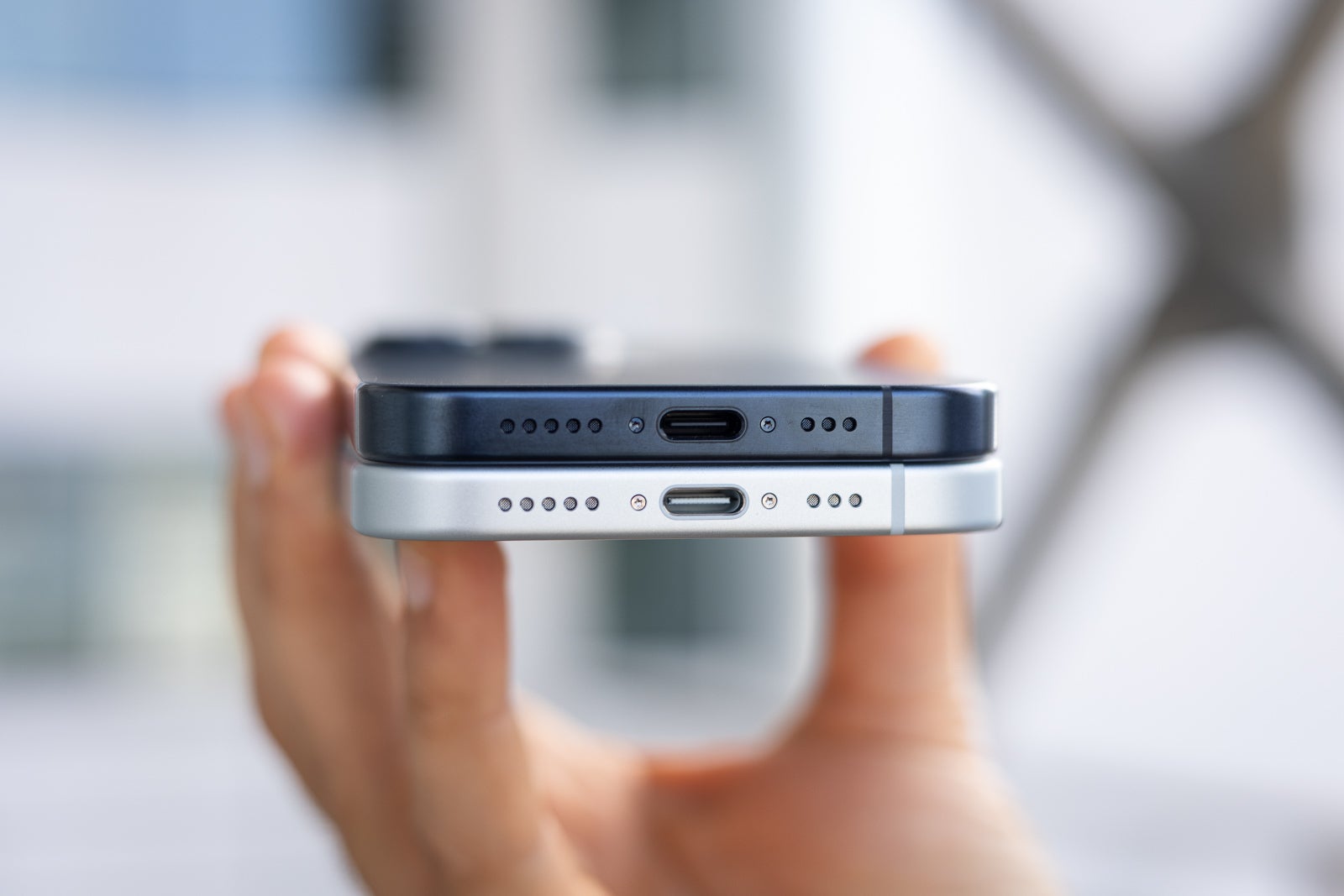 (Image Credit – PhoneArena)
The iPhone 15 Pro comes with a slightly smaller battery size than the regular iPhone 15 model. You get a 3,274 mAh battery on the iPhone 15 Pro and a 3,349 mAh battery on the iPhone 15, but despite that small difference, Apple says battery life on the iPhone 15 Pro is a bit better than the regular iPhone 15 when it comes to video streaming. The regular iPhone 15 however lasts a bit longer for audio playback.
Take a look at all the battery life numbers below:
| | iPhone 15 Pro | iPhone 15 |
| --- | --- | --- |
| Battery Size | 3,274 mAh | 3,349 mAh |
| Video Playback | 23 | 20 |
| Video Streaming | 20 | 16 |
| Audio Playback | 75 | 80 |
At the end of the day, though, both these are one-day battery phones and you need to charge overnight.
PhoneArena Battery Test Results:
As you can see, the iPhone 15 Pro scores higher on the lighter web browsing test, while the iPhone 15 outshines it in our YouTube video streaming test.
Overall, you can expect around 6 hours of screen time on an average day, and for us that is more than enough to get us through a full day.
Speaking of charging, yes, we have USB-C ports on both of these, but no, don't expect Apple to give you a charger in the box.
What you do get is a USB-C cable, and a braided one at that.
PhoneArena Charging Speed Test:
Unfortunately, charging speeds have not improved one bit, and it would still take you around 1 hour and 40 minutes to charge these iPhones from zero to full.
One thing that has improved are transfer rates, but only on the 15 Pro model which now supports USB 3 at speeds of 10Gbps. With a caveat, though! The provided cable in the box won't give you those faster speeds, you need to purchase a thicker cable for that and that will cause you extra.
Both phones do come with the same 15W MagSafe wireless charging support.
Specs Comparison
And here is an overview of the specs differences between the Pro and non-Pro models:
iPhone 15 Pro
iPhone 15
Size, weight
146.6 x 70.6 x 8.25mm
188 grams
147.6 x 71.6 x 8.25mm
171 grams
Screen
6.1″ OLED
120Hz ProMotion
6.1″ OLED
60Hz
Processor
A17 Pro
3nm
A16 Bionic
4nm
RAM, Storage
8/128GB
8/256GB
8/512GB
8/1TB

LPDDR5

6/128GB
6/256GB
6/512GB
–

LPDDR5*

Cameras
48MP main
12MP ultra
12MP 3X zoom

12MP front

48MP main
12MP ultra
–

12MP front

Battery
3274 mAh
3349 mAh
Charging
USB-C
MagSafe
USB-C
MagSafe
Summary and Final Verdict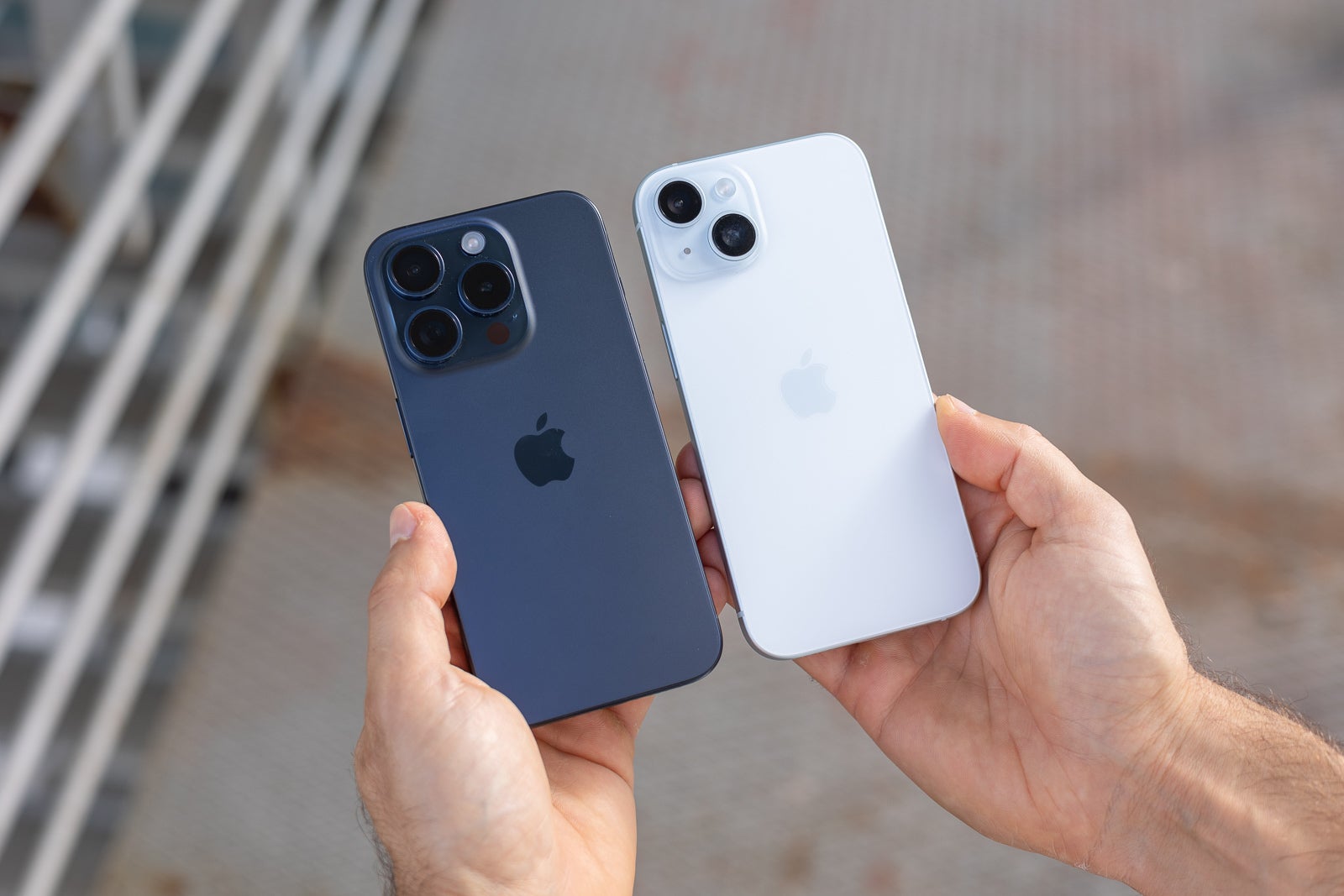 (Image Credit – PhoneArena)
At the end of the day, the iPhone 15 Pro and iPhone 15 are now extremely similar, which makes the choice between the two very tough.
As for the Pro model, we like that Apple has addressed some of the bigger issues of the Pro with the reduction in weight for once and USB-C is clearly the most loved new feature.
The iPhone 15 Pro main advantages remain the 120Hz ProMotion and smooth scrolling, as well as the 3X zoom camera, and that new Action button is a nice little convenience.
But the iPhone 15 is not only similar, it actually seems to have slightly longer battery life, it weighs a bit less, and the camera on it is now so much more capable with the new 24MP resolution and sensor crop tricks.
Honestly, we have a really hard time choosing between the two, but if there ever was a time to save $200 and get the non-Pro model, it's this year.