At this point, next Wednesday's Made By Google event is looking like nothing more than a formality as a continuous stream of rumors has revealed everything there's to know about the
Pixel 8
and Pro, from their specs to price and pre-order gift. This new one comes from
Evan Blass
and highlights the differences between the
Pixel 8
and 8 Pro.
The main differences between the outgoing
Pixel 7
and 7 Pro are the latter's bigger screen and battery, and telephoto camera. This year, there's going to be wider differentiation between the two models, despite the fact that they might be closer in price.
The
Pixel 8 Pro
will apparently have a 6.7-inch screen, bigger than the standard model's 6.2-inch display. One welcome change is that both variants are going to feature a maximum refresh rate of 120Hz, but according to an earlier leak, only the
Pixel 8 Pro
will be able to crank it down all the way to 1Hz, which should give a little boost to battery life.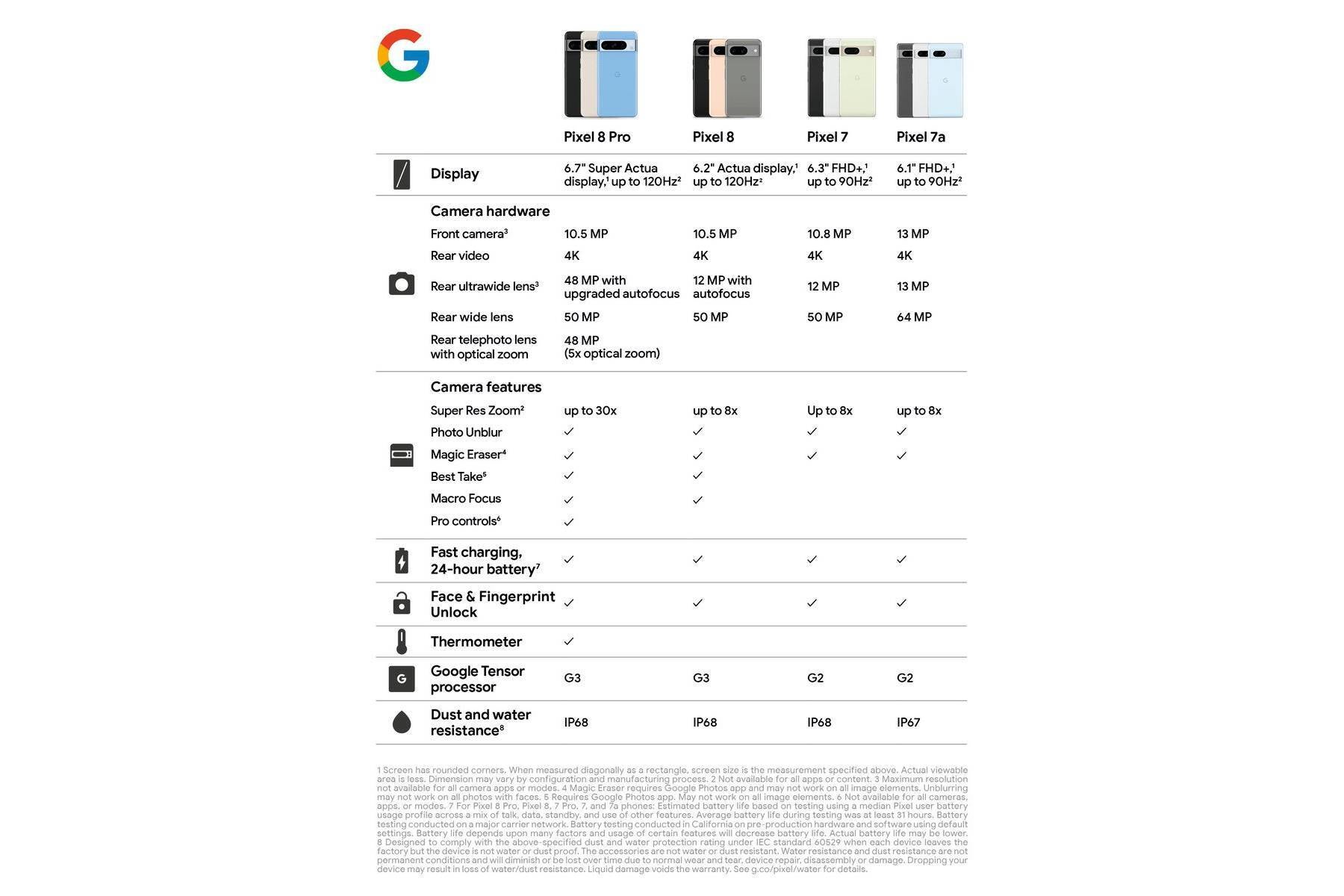 The Pro will continue to be the only model with a telephoto camera and additionally, it may get a higher-resolution 48MP ultrawide shooter with upgraded autofocus and this could help it become one of the
best camera phones of 2023
.
The differences don't stop there. As the leaked document shows, only the
Pixel 8 Pro
will have a new feature called Pro controls. According to an earlier leak, this mode will allow for greater, DSLR-like manual controls over the camera, including options such as shutter speed, ISO, and manual focus.
Lastly, the Pixel 8 Pro will also have a built-in thermometer which will presumably let you take your temperature. 
Other differences that are not mentioned in today's leak are the
Pixel 8 Pro
's bigger battery and faster 27W charging. The phone is also expected to have a
new time-of-flight (ToF) sensor
for better autofocus.
Both phones will allegedly be
supported by Google for seven years
. The
Pixel 8
is
expected to start at $699
, which would make it slightly more expensive than the $599
Pixel 7
. Despite receiving many new upgrades, the Pro model will reportedly maintain its base price of $899 for reasons known only to Google.
Early buyers will likely get the Pixel Buds Pro
as a pre-order gift
and the phones will be released on October 12. 
Pixel 8

vs 8 Pro differences at a glance:
 6.2-inch vs 6.7-inch screen
 60Hz-120Hz vs 1-120Hz refresh rate
12MP vs 48MP ultrawide camera
No telephoto vs 48MP 5x telephoto camera
Pro camera controls for

Pixel 8 Pro

only
Thermometer sensor for

Pixel 8 Pro

New time-of-flight sensor for

Pixel 8 Pro

4,485mAh rated capacity battery vs 4,950mAh
24W vs 27W charging speed
8GB vs 12GB RAM