Google Pixel Watch 2 Intro
The
Google Pixel Watch 2
is now official, and I had the chance to see it in person at the Made by Google event where the
Pixel 8
series was also unveiled. Google's latest smartwatch is here to fix the shortcomings of Google's first-gen wearable – it promises better battery life and performance improvements. It should also be a better fitness and health tracker thanks to its new and improved sensors. Starting at $349 for the non-LTE model, the
Pixel Watch 2
is not exactly cheap, but with its broad range of features, it could be an option worth considering this upcoming holiday season. 
What's new about the Google Pixel Watch 2
All-new, quad-core CPU
Aluminum case instead of stainless steel
Skin temperature sensor
Continuous electrodermal activity (cEDA) sensor
All-new heart rate sensor
Improved battery life and charging speed
Table of Contents:
Google

Pixel Watch 2

Specs
The performance gains mentioned above come thanks to the Snapdragon W5, which is a chip Qualcomm announced in 2022. It is made specifically for wearables, meaning that in addition to smooth performance, we expect to see low power consumption as well. 
Specs
Google Pixel Watch 2
Size, Weight, Materials
41mm round aluminum case, 31 grams without the band, Gorilla Glass 5
Processor, RAM, Storage
Qualcomm 5100 chip, Cortex M33 co-processor, 2GB RAM, 32GB storage
Software
WearOS 4
Battery and Charging
306mAh, 24-hour battery life with always-on display
Magnetic charger, 50% in 30 mins
Sensors
Compass
Altimeter
Red and infrared sensors for oxygen saturation (SpO2) monitoring
Multipurpose electrical sensors compatible with ECG app
Multi-path optical heart rate sensor
3-axis accelerometer
Gyroscope
Ambient light sensor
Electrical sensor to measure skin conductance (cEDA) for body response tracking
Skin temperature sensor
Barometer
Magnetometer
Google

Pixel Watch 2

Design & Sizes
Same on the outside, but with a lighter aluminum case
On the surface, the
Google

Pixel Watch 2
looks exactly like its predecessor. That, however, is not a bad thing since the
Pixel Watch
was (and still is) a good-looking watch with minimalist and elegant design. Just make sure you take care of it. Unlike other watches, the
Pixel Watch
does not have a raised bezel around the screen to protect it. 
Speaking of the screen, specs suggest that it's the same as on the first-gen
Pixel Watch
. It is a 1.2-inch OLED screen with a prominent border around it and 1000 nits of peak brightness. As mentioned above, the Corning Gorilla Glass 5 is its only layer of protection against scratches and cracks, but having used the
Pixel Watch
for many months, I can say it's surprisingly durable. 
While the 1st-gen Pixel Watch was made of stainless steel, the Watch 2 has an aluminum case. Aluminum isn't as strong, but it is lighter, and on a watch, even a few grams make a difference. The Pixel Watch 2 is 10% lighter than last year's model. 
Unfortunately, the
Pixel Watch 2
still comes in one, 41mm size only. If you wanted a bigger variant, you might have to wait until next year. You do get a small and a large band in the set, however. 
Water resistance is rated at 5ATM – a typical rating for premium smartwatches. In plain words, the Google Pixel Watch 2 can be used safely in a pool.
Google

Pixel Watch 2

 Bands
More bands to choose from than last year
Unsurprisingly, the Pixel Watch 2 sticks to the same proprietary band attachment mechanism. Some people seem to be frustrated with Google's solution, but I think once you get the hang of it, you'll find taking the bands off and putting them on again rather easy. 
Inside the
Google

Pixel Watch 2
box you'll find a small and a large wrist band made of fluoroelastomer synthetic rubber. There's a bunch of colors to pick from, including colors matching those of the
Pixel 8
and
Pixel 8 Pro
, which is neat. Google's extensive band collection also includes models made of leather, metal, and fabric. The bright, coral-colored one pictured here is the Active Sports band.
Google

Pixel Watch 2

Software & Features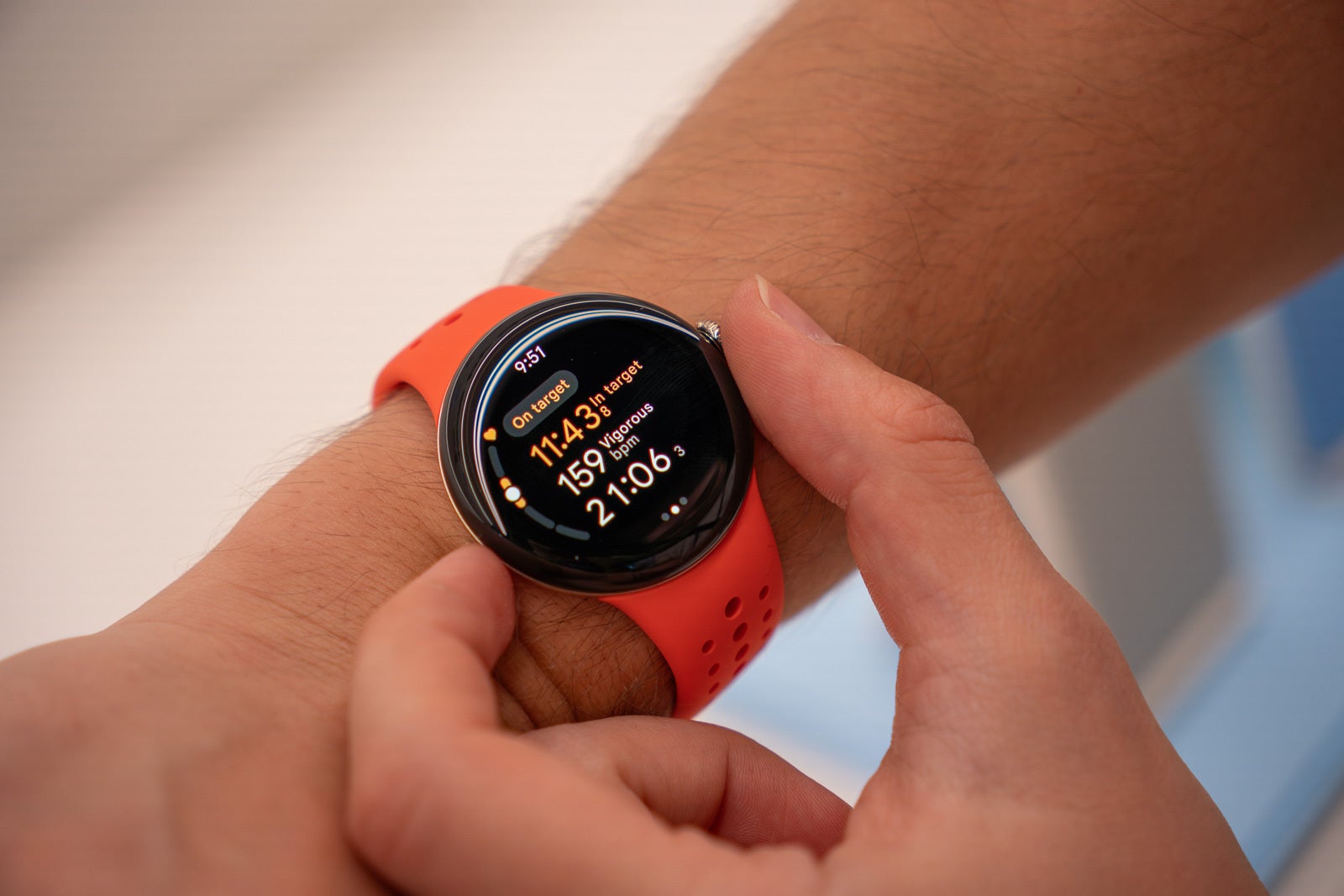 The Pixel Watch 2 is one of the very few smartwatches running the latest WearOS 4 by Google. The new OS brings along improved, more functional notifications and six new watch faces to pick from. 
But you might be a bit more excited about the Watch 2's new health and fitness tracking features. For example, the watch has Fitbit's Body Response feature which leverages a new continuous electrodermal activity (cEDA) sensor to detect stress, be it positive or negative. When stress is detected, the Watch 2 will invite you to reflect on your experiences and take a moment to unwind with a guided breathing or a mindfulness session. 
Thanks to a new skin temperature sensor, the
Pixel Watch 2
can detect potential changes in your health and warn you if you might be getting ill. Temperature readings are taken at night, however, so keep that in mind if you're used to charging your gadgets overnight.
The new Heart Rate Zone Coaching and Pace Training features are designed to help you maintain depending the right pace, depending on the type of exercise and fitness goals set. It can alert you if you're out of the optimal heart rate zone, thus letting you know if you should speed up or slow down. 
Google

Pixel Watch 2

Battery and Charging
A much-needed battery life boost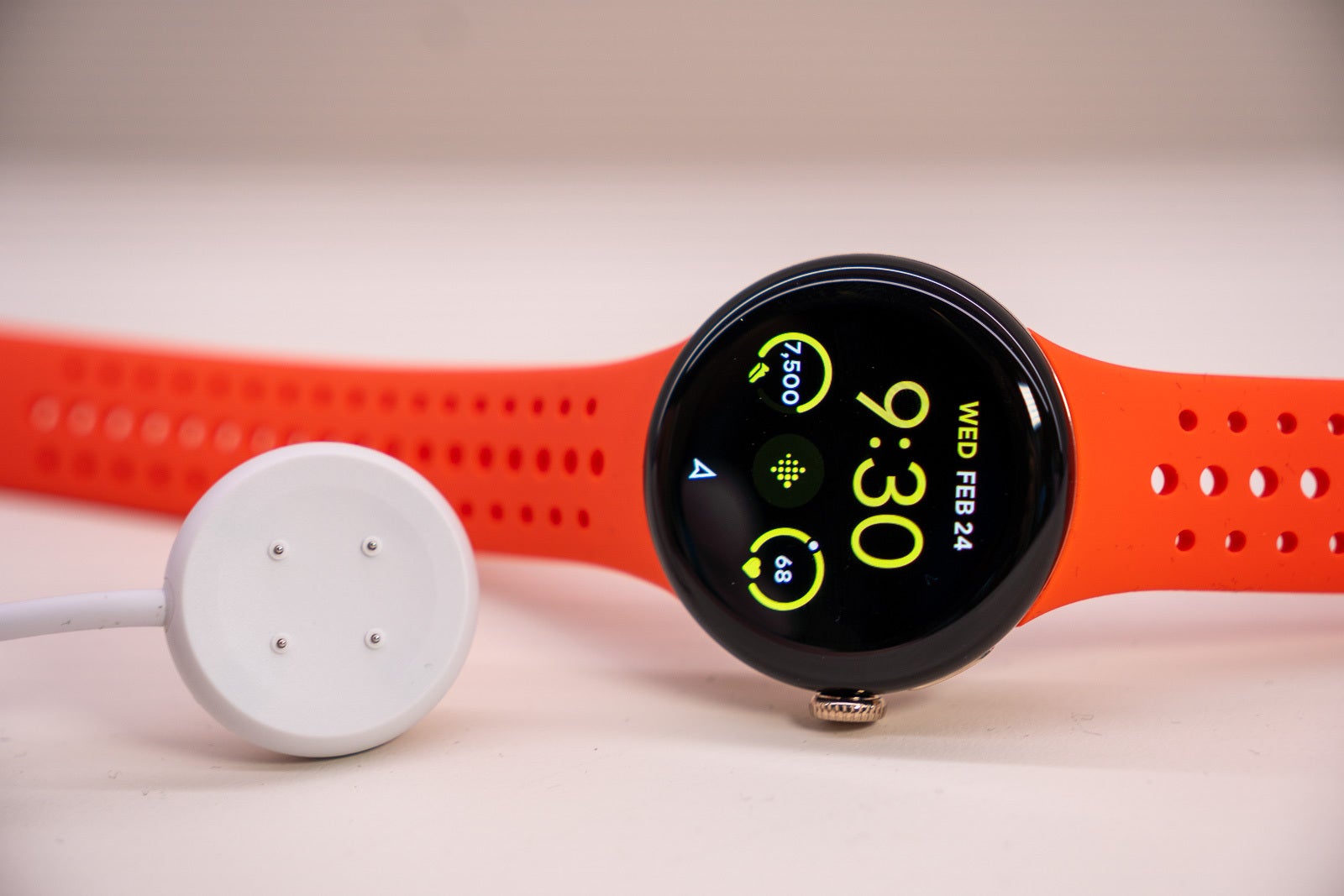 The Pixel Watch 2 and its new magnetic charging puck. Image credit – PhoneArena
Google says that the Pixel Watch 2 lasts longer between charges. With its newer processor and slightly larger, 306mAh battery, it should be able to last 24 hours per charge with always-on display enabled. That's still not an excellent endurance rating, but it's comparable to how long an Apple Watch lasts. Charging is now faster: expect getting to 50% charge in 30 minutes and 80% in 45 minutes. A full charge takes 80 minutes, according to Google.
Another welcome change is the new magnetic charging puck, which now holds the Pixel Watch 2 firmly. Last year's Pixel Watch had weaker magnets in the puck, and it was common for it to come off by accident. On the downside, I noticed that the new puck will only stick to the Watch 2 if it's rotated with the cable below the crown. 
Google

Pixel Watch 2

Models and Prices
There are two models to pick from: a base Pixel Watch 2 with Bluetooth and Wi-Fi ($349) and an LTE-capable model with eSIM ($399). While the cheaper variant lets you make calls and send texts when paired to your smartphone (the watch has built-in microphone and speaker), the LTE-enabled Watch 2 can do that on its own – for example, when you leave your bulky phone at home during a morning run. 
Google

Pixel Watch 2

Expectations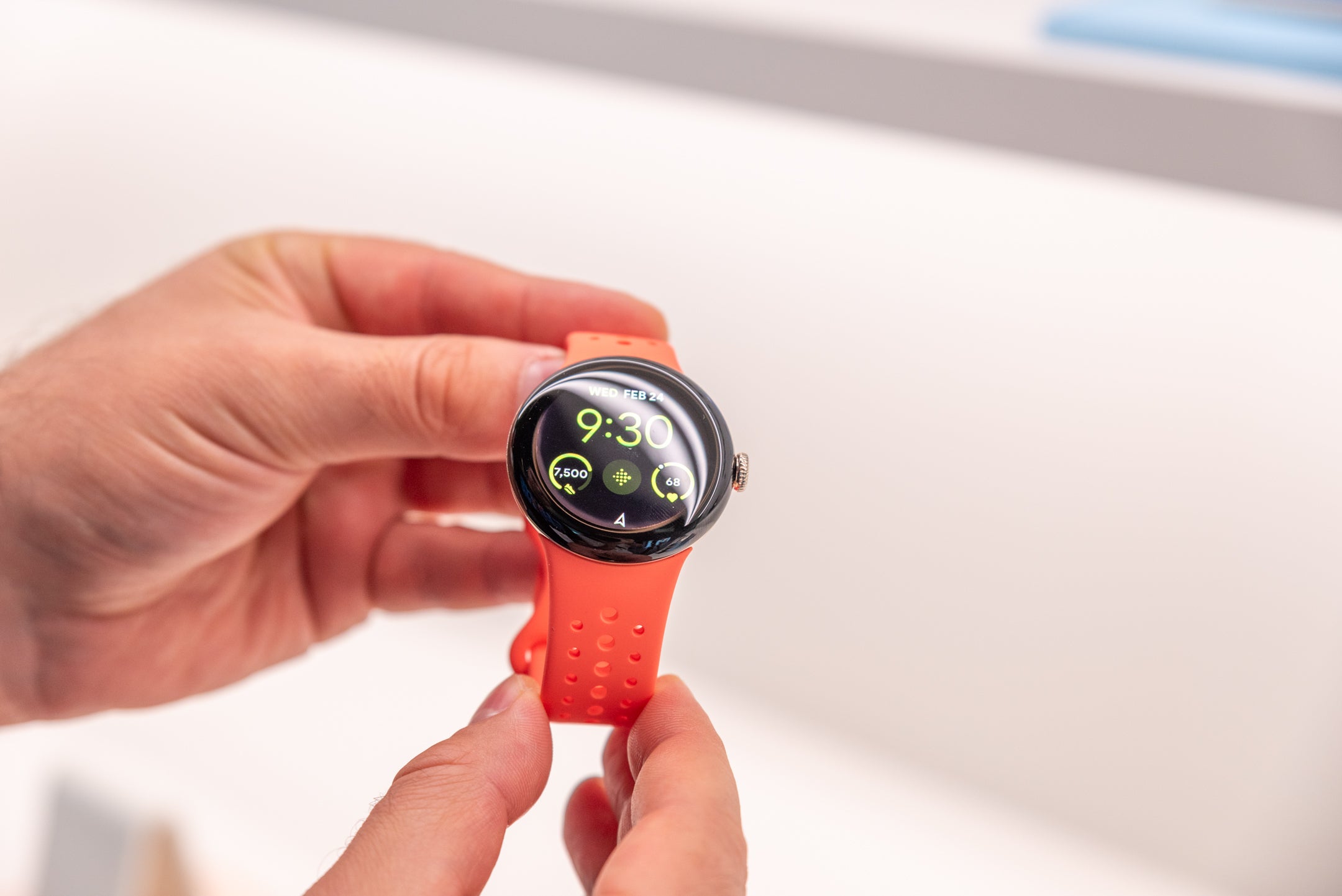 We'll be using and testing the Google Pixel Watch 2 over the coming week to give it our final verdict. For now, however, we can say that it's looking like a solid offering for Android users and an overall improvement compared to the first-gen Pixel Watch, especially if it's able to deliver on the promised battery life and performance gains.  
With a price of $349 to $399, the
Pixel Watch 2
is not the most affordable smartwatch – for example, the
Galaxy Watch 6
can be had for $299 and offers similar functionality. On the other hand, if you have your mind set on the brand new
Pixel 8 Pro
, Google will give you a Wi-Fi Watch 2 for free if you order by October 16.