Anyone who keeps track of Elon Musk knows the world's richest man has a penchant for setting aspirational schedules for his companies. SpaceX misses those ambitious timelines so often that Musk has joked the company specializes in making the impossible late.
So, if you have an opportunity to interview him, why spend time asking Musk to prognosticate when one of his companies will do something years in the future? This is especially true for things that are impossible to know, like when will SpaceX land a Starship on Mars? Predictably, Musk replied to that question Thursday by saying it was feasible for Starship to achieve a Mars landing—without people on board—in three or four years.
Landing Starship on Mars in 2026 or 2027 is probably among the least likely of all the feasible outcomes, but setting this timetable helps keep SpaceX's workforce razor-focused. Starship is a revolutionary design, with the goal of becoming a rapidly reusable rocket that could fly thousands of times per year. It's also the largest rocket ever built, with at least twice the thrust of NASA's Saturn V rocket from the Apollo program more than 50 years ago. Musk described Starship on Thursday as a "generalized transport system to anywhere in the Solar System."
Generalized is one way to describe the bulk of Musk's 50-minute discussion Thursday with Clay Mowry, the president of the International Astronautical Federation, which puts on a well-attended and often interesting annual conference called the International Astronautical Congress. This year, the IAC is in Baku, Azerbaijan.
Not when, but how?
There's just so much for SpaceX to do before Starship can get to Mars. The giant rocket first has to make it to low-Earth orbit—SpaceX has a shot to do this before the end of the year—then engineers need to solve the problem of refilling the Starship rocket with cryogenic propellants while it's in space. SpaceX needs to show it can recover the Starship vehicle, which stands 15 stories tall on top of its huge Super Heavy booster on the launch pad, after a blistering reentry back into Earth's atmosphere. Then SpaceX must do it on the red planet, tens of millions of miles away.
This is not to mention the travails of navigating through deep space, a well-trodden path for government space agencies but not for commercial companies. Keeping Starship's super-cold methane and liquid oxygen propellants thermally conditioned for the multi-month journey to Mars will also require some innovation.
The bottom line is it will be an arduous undertaking. Starship will fly hundreds—probably thousands?—of times before the rocket nails a controlled landing on Mars. SpaceX's brilliant engineers certainly have creative ideas and novel plans to get Starship to the Red Planet, so why not ask Musk about them when you have him for a rare hourlong one-on-one conversation?
It's the how that is most interesting now, not the when or why, especially for an audience interested enough to tune in at the IAC. Musk's consistent vision has been to build a self-sustaining city on Mars, and Starship, the most powerful rocket ever built, is central to that goal. He has articulated this vision in nearly every interview that touches on SpaceX.
SpaceX's main focus now is to get the Starship into orbit. Rockets, especially new ones, are finicky and prone to failure, so that's not a simple task. But the company's track record would suggest the Starship will make it to orbit, and eventually recover the rocket's first-stage booster, named the Super Heavy. So where does the program go from there?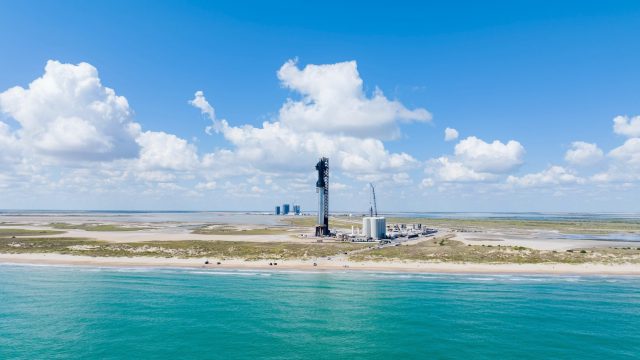 Musk's participation by video conference Thursday at the IAC in Azerbaijan came seven years after he unveiled the forerunner to Starship in a keynote address at the 2016 meeting of the IAC in Mexico.
Mowry, who posed the questions to Musk Thursday, is a longtime corporate executive who is passionate about mentoring future leaders in the space industry. I've known him for more than a decade, and he's always struck me as one of the nicest people in the industry.