I've been a PC gamer since around 1997, and over the decades, I've obviously lost count of the number of monitors I've owned. What I can tell you with utter clarity, though, is that the Alienware AW3423DWF is the best gaming monitor I've ever purchased and it just hit its lowest ever price on Prime Day 2023. 
Right now, the Alienware AW3423DWF is on sale for $799 at Dell. That's the lowest price we've ever seen this sensational QD-OLED monitor drop to, as it normally retails in the region of $1,000.
I've been using Alienware's astonishingly good 34-inch ultrawide panel for the best part of six months, and it's truly one of the best gaming monitors you can buy today.
Stats-wise, it's an absolute dream screen when it comes to high-end PC gaming. With one of the best gaming PCs at your side, Alienware's wonderful OLED monitor will transform the best Steam games, such is the caliber of picture it routinely outputs.
Connect your rig through its DisplayPort connection, and you can reach a screen resolution of (3440 x 1440) at a super responsive 165Hz refresh rate. The monitor's blazingly fast 0.1ms response time also makes it the ideal PC gaming display for first-person shooter fans.
It's essentially an exceptionally close cousin to the (also excellent) Alienware 34 QD-OLED. The only significant differences? The monitor I just mentioned supports Nvidia G-Sync, while the AW3423DWF is a FreeSync monitor. Luckily, AMD's fps-smoothing tech works across both AMD and Nvidia GPUs, and I've generally noticed almost no difference between the two OLED monitors when playing games.
Previously, I owned the Alienware 34 QD-OLED for almost a year until it developed dreaded OLED screen-burn. Thankfully, Dell was good enough to replace it with a brand new AW3423DWF (that boasts HDMI 2.1 support over its slightly older sibling), in one of the best pieces of customer service I've ever been treated to.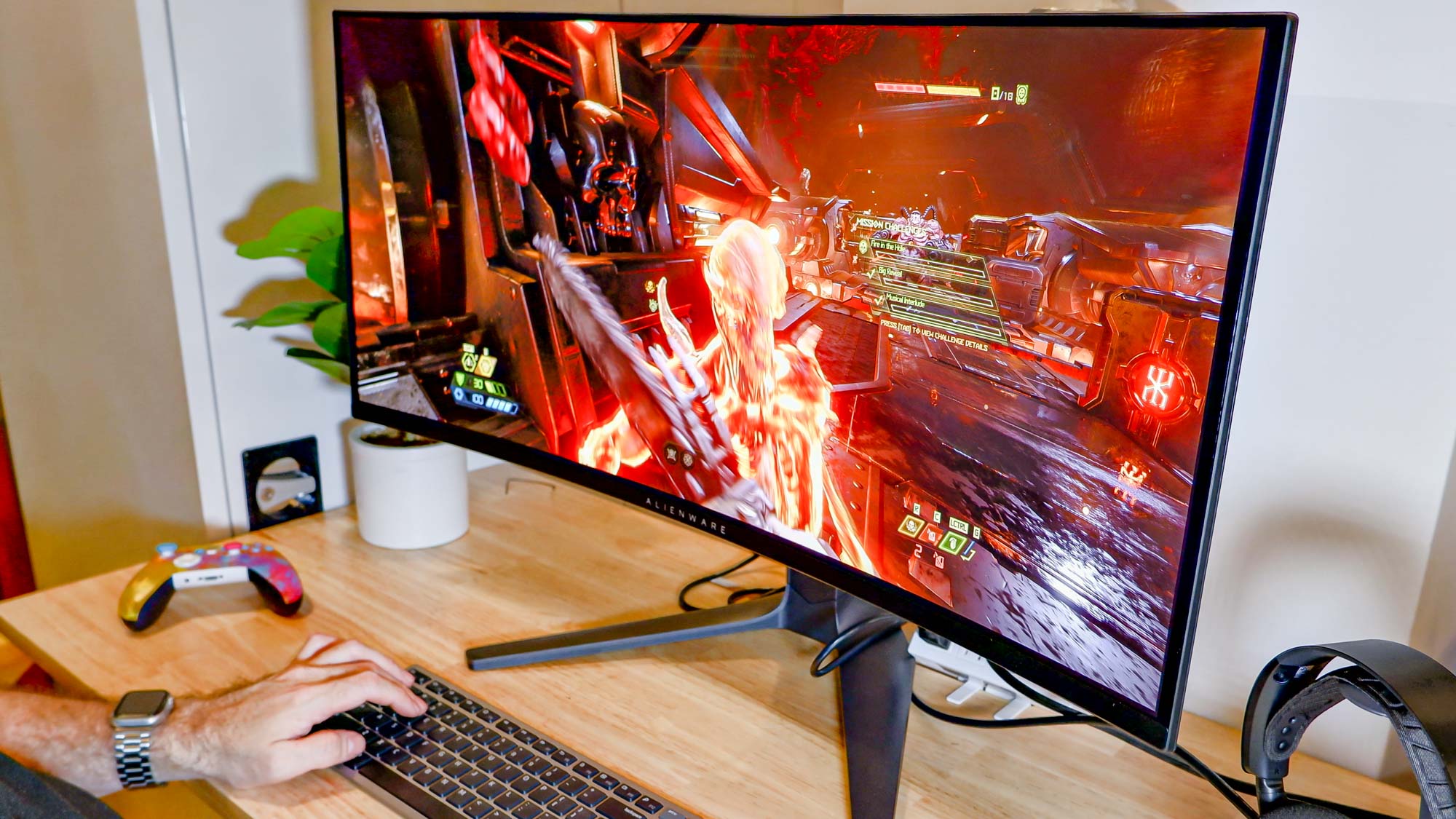 If you're worried about screen-burn cropping up on the Alienware AW3423DWF, I wouldn't overly sweat it. Not only does Dell offer a five year warranty where the company will happily replace a monitor that suffers from the screen defect, but you can easily reduce the changes of desktop icons being permanently scorched onto your screen by running regularly 'pixel-cleaning' cycles through this OLED gaming monitor's intuitive menus.
The Alienware AW3423DWF's 21:9 aspect ratio also makes it a brilliant work monitor. As much as I appreciate its impeccable screen uniformity and strong HDR performance when playing the best open-world games on Steam, that ultrawide aspect ratio makes juggling multiple browser windows and Google Doc drafts an absolute doddle.
Whether you need a new monitor for work or play, I consider the Alienware AW3423DWF to be a borderline steal at $799.