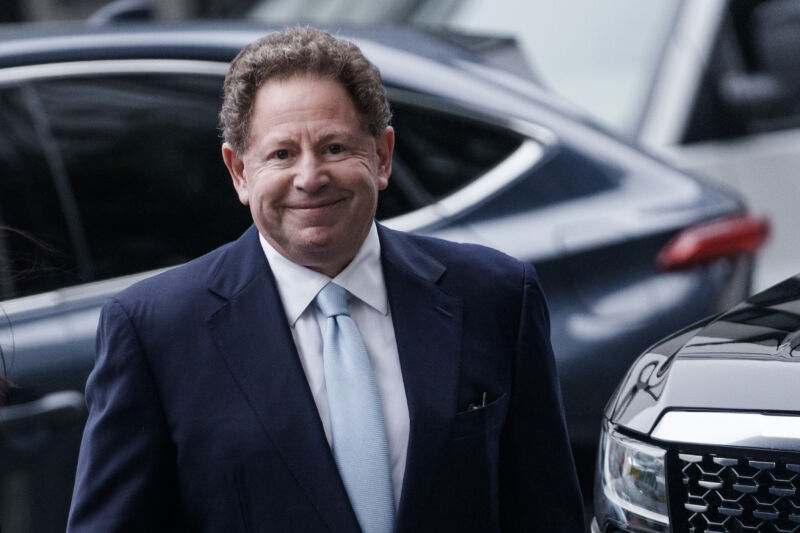 Bobby Kotick, CEO of Activision Blizzard, emailed employees after news of Microsoft's successful $69 billion acquisition to say that he was "fully committed to helping with the transition" and that he would stay on as CEO through the end of 2023.
Kotick's statement left some ambiguity about his plans for 2024, but Bloomberg's Jason Schreier reports that on January 1, Kotick will depart. It's "a massive change for the video game industry," Schreier writes, which seems almost restrained, given Kotick's longevity and recent history. Several employees Schreier spoke to are "very excited for this deal to go through," specifically to see leadership change.
Kotick, who has led Activision for more than 30 years and orchestrated its merger with Blizzard, had considered stepping down in late 2021. Following a lawsuit from the state of California alleging a "frat boy culture" rife with pay disparity and sexual harassment, a Wall Street Journal report alleged that Kotick failed to act on hundreds of abuse allegations within the company and also kept the company's board of directors in the dark. Activision was also sued by its shareholders and pressured by state treasurers over its secrecy and responses regarding the California lawsuit. All of this led to an employee walkout and calls for Kotick's resignation.
Kotick stood fast through the flurry of criticism in 2021. In early 2022, Microsoft announced its intent to buy Activision, and the timing, according to reports from Bloomberg and the Wall Street Journal, was not a coincidence. Kotick, according to Bloomberg, didn't want to sell but had little leverage with Activision's board to refuse an offer. Microsoft's purchase, at $95 per share, compared to the roughly $65 per share when the deal was announced, offered Kotick both a financial and narrative "graceful exit," according to the Journal's sources.
Kotick told VentureBeat after the Microsoft announcement that he didn't believe the harassment and mismanagement accusations hurt the company's stock. He cited delays in shipping Overwatch and Diablo titles, along with Call of Duty's sales performance.
While CEO of Activision, Kotick's termination without cause, or "Termination by employee for good reason following a change of control," guaranteed him nearly $300 million. Bloomberg reports that Kotick's windfall will likely be $375 million now that Microsoft's acquisition has gone through.