According to earlier leaks, the OnePlus 12 may sport a 6.82-inch 120Hz LTPO screen, slightly bigger than the OnePlus 11's 6.7-inch display. The device is also expected to have a
5,400mAh battery
, 400mAh bigger than its predecessor's cell.
The phone will allegedly also have a better camera setup with a 50MP main sensor, a 50MP ultra-wide snapper, and a 64MP telephoto camera with 3x optical zoom. 
While those are unquestionably commendable improvements, whether they'll help the OnePlus 12 become the
best phone of 2023
remains to be seen.
That's because if a new
leak
from X tipster Yogesh Brar is to be believed, the three key improvements – a BOE panel that passed quality control, the bigger battery, and the upgraded cameras – will make the OnePlus 12 more expensive than the OnePlus 11.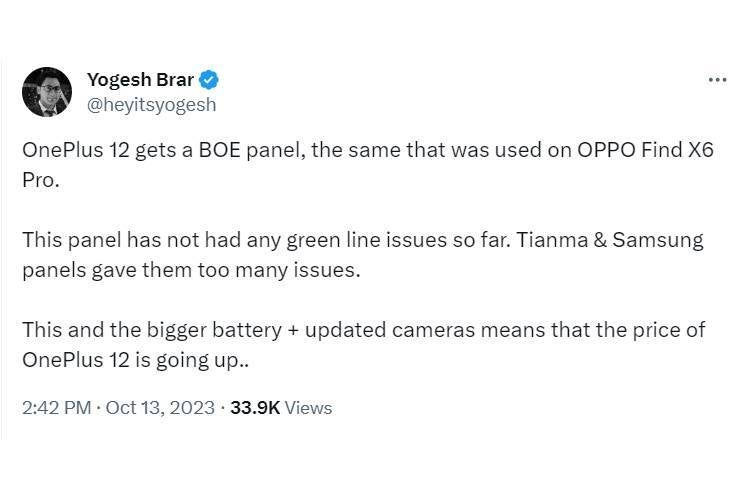 The OnePlus 12 might be more expensive than the OnePlus 11
This may make the OnePlus 12 less appealing than the OnePlus 11, which starts at $699 for the model with 8GB of RAM and 128GB of storage.
The thing is that any attempts that OnePlus has made to make a phone that's a true flagship instead of a flagship killer have not been that successful. The core OnePlus customer base tends to prefer models with high-end core features and palatable pricing.
Hiking the price would mean that OnePlus loses that advantage. That said, others like Apple and Google have also raised the prices of their recent phones, so even if OnePlus does increase the price, the price gap between its phones and Apple and Google's flagship phones would remain the same.
Another thing that may make the price more digestible is that, unlike its predecessor, the OnePlus 12 could offer 50W wireless charging. It also looks like the base model will have 16GB of RAM and 256GB of storage, up from 8GB and 128GB.