Complaints from the
Apple Community webpage
and
Reddit
indicate that some Apple Watch users are having issues with the displays on their timepieces. Judging from the posts, it would appear that the screens on the affected units are flickering when the user raises his/her wrist to fully light up the display when in Always On mode. Another issue being investigated by Apple is one where complications on certain Apple Watch models turn pink when the user's wrist is raised. 
One Reddit subscriber noted that the flickering issue occurs when a timer is running or the Modular Ultra face is being used. Other complaints sound like this one from an Apple Community subscriber who wrote, "It's not just you. Series 9 on 10.0.2 here, I'm experiencing the same issue. Split second of screen flickering when raising to wake from AOD. It only happens sometimes, but enough to the point that it bugs me."
Based on the posts, it would seem that the flickering issue and the pink complications have been spotted on the new Series 9 watches as well as the
Apple Watch Ultra 2
. The bug continues to appear even after the latest version of watchOS, 10.0.2, is installed.
Apple
is expected to release the public version of watchOS 10.1 next week and it might contain a fix that exterminates the bugs.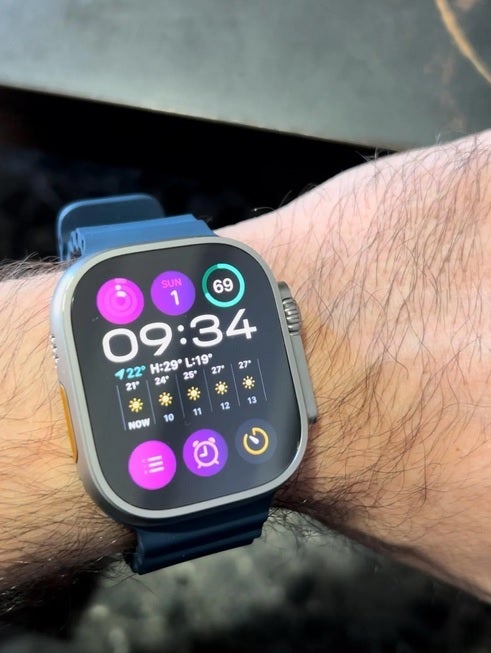 Complications turn pink on the Apple Watch Ultra 2
In fact, Apple even hinted that an update to fix the problem is on the way. In a memo, Apple told service providers not to repair impacted watches and instead, tell customers that they should keep the software on their Apple Watch up to date. That certainly sounds like Apple is expecting to release a software update soon that will fix the flickering on the Apple Watch screens as well as the color change to the complications on certain watch faces.
Apple says that users can disable the Always On display as a temporary workaround to fix the flickering. Press the Digital Crown until you see the home screen. From there, go to
Settings
>
Display & Brightness
and toggle off the Always On mode. With the Always On display enabled, the screen dims when the user's wrist is down and gets brighter when the wrist is raised. This is the point when the flickering shows up.