NEW YORK, New York — Star Trek has always involved a little comedy, but "Star Trek: Lower Decks" involves a lot of comedy. 
This animated sitcom set in the "Star Trek" universe envisions life on a Federation starship from the perspective of the everyday men and women who make it run, often with hilarious results. But finding the comedy in a serious setting such as Starfleet can be a challenge, as we learned from the show's creator.
Space.com sat down with "Lower Decks" creator Mike McMahan in a press roundtable at New York Comic Con 2023. There, we learned how he finds new territory to explore in a 50-year old series, how he incorporates new characters into a well-established crew and how he doesn't feel married to character backstory — particularly when being flexible results in a more entertaining world.
Related: 'Star Trek: Lower Decks' takes center stage at NYCC 2023
Mariner's character arc
"I still feel Lower Decks," McMahan admitted, which is perhaps why the characters on the show feel so authentic. "[Executive producer Alex] Kurtzman is my boss, you know. I'm still getting notes from the network. There are very few times you don't feel Lower Decks.
"Knowing that is a strength and a weakness. There's people you meet and things you learn about yourself when you are Lower Decks, in life, that you end up carrying more than what you learn when you're at the top of your game."
First off, McMahan was eager to discuss Beckett Mariner, the wayward daughter of the USS Cerritos Capt. Carol Freeman. This season, Mariner has struggled to embrace her new role as a Lieutenant (JG) as she begins to realize that the rest of the crew has her back, and wants her to succeed. According to McMahan, this is all part of the plan.
"Mariner, I'm not really worried about," he said. "I have a long term plan for [her], and you'll see. We haven't released the last two episodes of the season. They're pretty Mariner-focused … I love the idea of a Starfleet officer getting kicked off of multiple ships. It's the opposite of [Cmdr. William] Riker [from Star Trek: The Next Generation] turning down multiple promotions.
"What I love about Mariner is really unlocked by [her voice actress] Tawny Newsome. I wrote Mariner before I met Tawny. I've adjusted [Mariner] to embody the way Tawny loves Star Trek, the same way I do."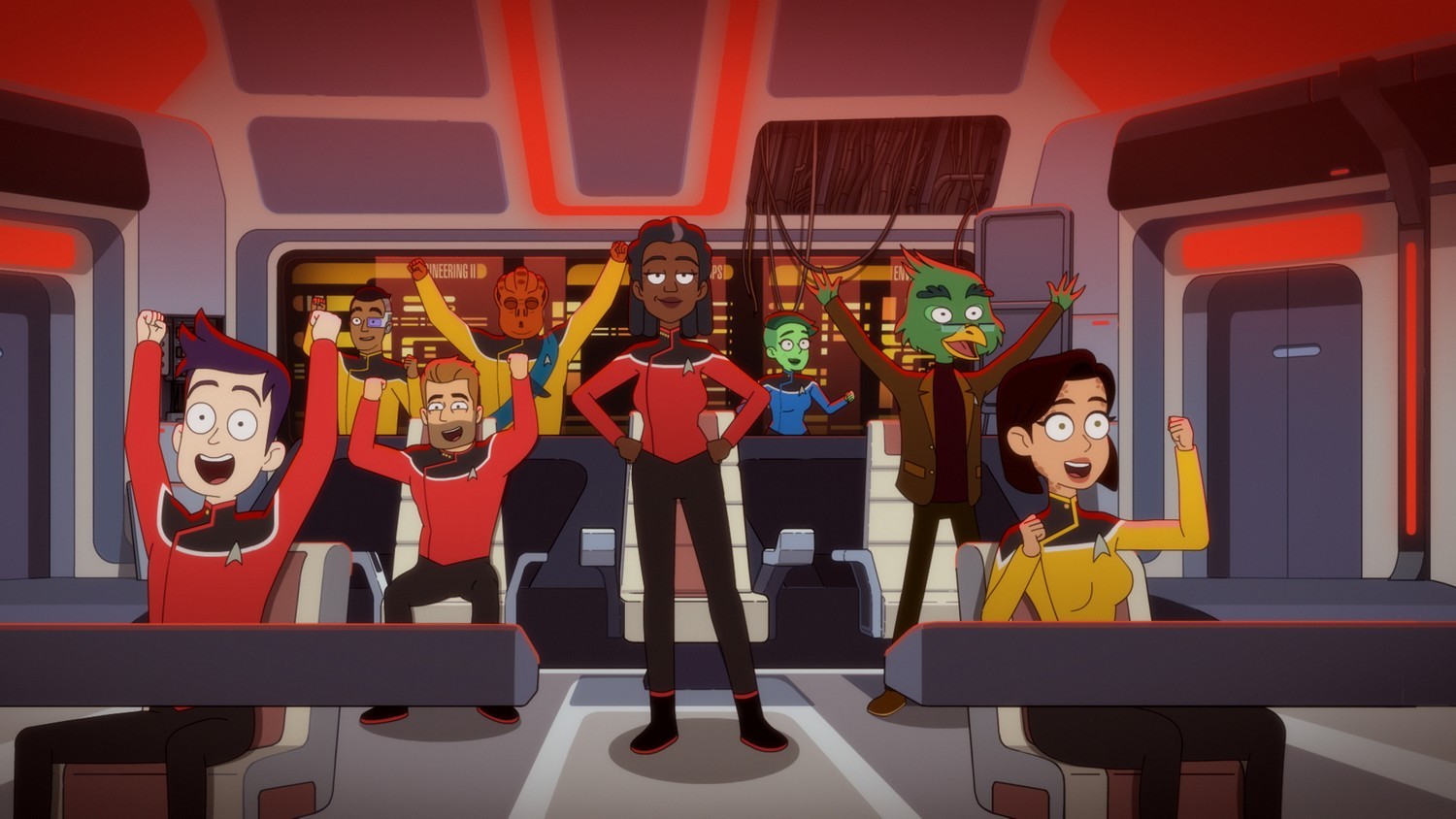 Flawed characters
Along those lines, McMahan discussed how finding comedy in Star Trek always comes from a place of love.
"It's not really making fun of Star Trek; it's having fun with Star Trek," he said. "It's having fun with your friends who love Star Trek as much as you do. If someone else made fun of it, you'd say 'shut up!'"
However, setting the right tone is only part of the problem. Comedy in TV shows often falls back on characters who are incompetent, self-serving or, at the very least, in way over their heads. Starfleet officers, on the other hand, are highly skilled military and scientific officers — even when the ship in question is not the USS Enterprise.
"The person who does the lowest level job on any Federation ship has to be the best of us," said McMahan. "There's no bad actor on any Starfleet ship. How do you get a comedically flawed person out of that?"
One potential option was to make characters' flaws manifest in their off-hours. However, McMahan's first attempt at that went awry. In early drafts of Lower Decks, Lt. JG Sam Rutherford was a bit of a cad, continually dating different women aboard the Cerritos and never settling on one.
"At the end of the pilot, I was like, no, this feels disgusting," McMahan recalls. "That's not very Star Trek. I don't want to do a dating show."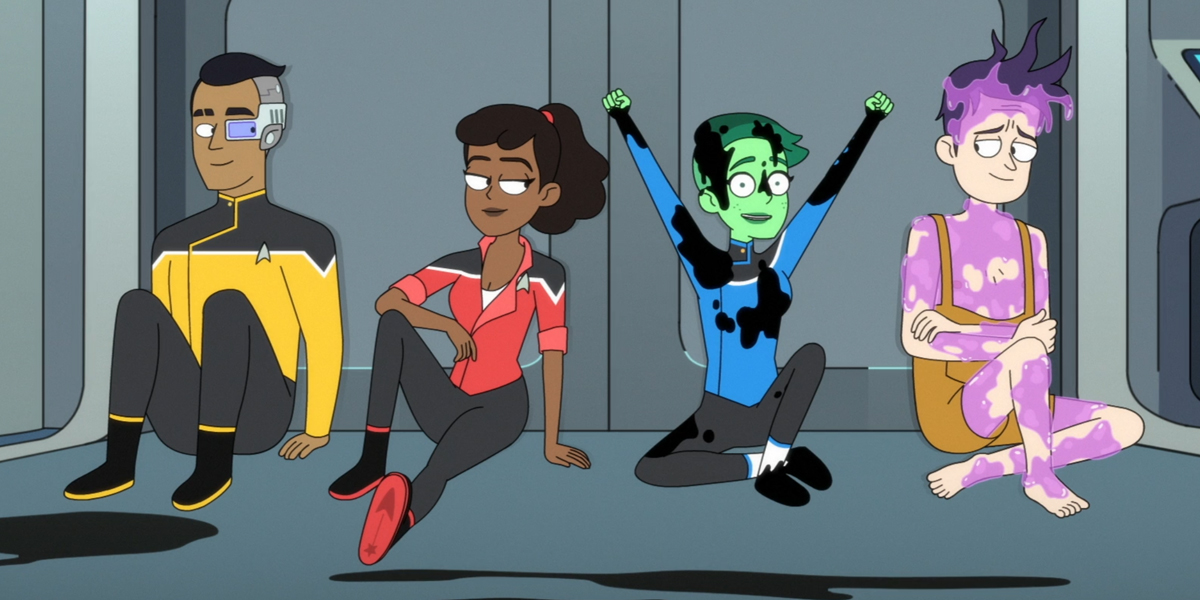 Instead, he discovered that Rutherford was funnier — and more relatable — as D'Vana Tendi's platonic best friend. They both love the Cerritos, and McMahan has found their "shipmance" much easier and more natural to write.
(However, he did enjoy writing Rutherford and Tendi's quasi-pretend romance in "Parth Ferengi's Heart Place" this season. "You want those two to get together," he said, but didn't commit to whether it would ever actually happen.)
In fact, shifting gears for characters and plotlines has already happened a number of times. While McMahan resisted these changes at first, he's since learned to embrace the fluid nature of character development.
"I'm going to create something a little different from what we had before," he said. "No one sits down to watch a show and says, 'How figured out is this? I only like shows that are totally figured out. I don't want to be surprised.'"
Adding new characters
We asked McMahan what it was like to add a new character into the mix. This season, Vulcan science officer T'Lyn joined the main cast, and has meshed well with the existing four main characters so far. McMahan credits her success to Star Trek's long history of interesting Vulcan characters.
"We're just stealing from [Leonard] Nimoy," he said. "I grew up watching The Wrath of Khan. I love Kirk and Spock. They're the perfect tonal combination for comedy. They play it for comedy all the time. We're playing T'Lyn exactly like that, and treating the rest of Lower Decks like Kirk. They're fiery; they're emotional; they're strong-willed. And then T'Lyn just explicitly calls it out."
McMahan cites T'Lyn's inability to craft "second-level" dialogue as a recipe for comic success. He made up an example in which a character is sitting in another character's favorite chair. Whereas Brad Boimler, Mariner, Rutherford, or Tendi would say, "What are you doing?", T'Lyn would simply say "Why are you in my chair?"
"She just explicitly says what's going on," said McMahan. "She ends up being funny, but also relatable. She feels like all of us at some point.
"It's a great comedic tool," he concluded. "She can say four words, and it makes you laugh. It's a superpower that Vulcans have."
McMahan didn't say much about the rest of Season 4, as the last two episodes apparently have some bombshell plot developments. We'll learn what happens as they air on Oct. 26 and Nov. 2. 
Until then, fans have the next standalone episode, "Caves," to look forward to on Oct. 19. The series is available on Paramount Plus, which is available on most streaming devices, and costs between $5 and $12 per month, depending on your plan.