Dell Inspiron 14 2-in-1 (2023): Specs
Price: $699
CPU: AMD Ryzen 5 7530U
Graphics: AMD Radeon Graphics
Display: 14-inch (1,920 x 1,200) 60Hz touchscreen
Memory: 8GB
Storage: 512GB
Ports: 1x HDMI, 2x USB-C, 1x USB-A, 1x headphone jack
Size: 12.3 x 8.9 x 0.61-0.73 inches
Weight: 3.48 pounds
The Dell Inspiron 14 2-in-1 ($699 to start) isn't going to blow you away with impressive specs, an eye-catching design or a vivid display. While it isn't one of the best laptops or best 2-in-1 laptops we've tested, it's decent enough for those who want or need a relatively affordable convertible for work or school.
Though I wasn't enamored with this laptop's mostly plastic chassis, lackluster display and overly loud fans, it's good enough for the price — especially if you opt for the cheaper AMD entry-level model. Just don't expect a stellar experience.
Is the Dell Inspiron 14 2-in-1 right for you, or should you consider another laptop instead? Find out in my full review.
Dell Inspiron 14 2-in-1 (2023) review: Price and availability
Starts at $699
AMD or Intel options available
There are two versions of the Dell Inspiron 14 2-in-1 available from Dell's website: One with an Intel CPU and another with an AMD processor. All versions feature a 14-inch (1,920 x 1,200) 60Hz touchscreen display and come in either Lavender Blue or Platinum Silver.
The $699 entry-level version we reviewed packs an AMD Ryzen 5 CPU, integrated Radeon Graphics, 8GB of RAM and 512GB of SSD storage. For $200 more, you can upgrade to an AMD Ryzen 7 CPU (with integrated graphics) 16GB of RAM and 1TB of storage.
If you prefer an Intel processor, it'll cost more. You can opt for either a 13th Gen Intel Core i5 or Core i7 for $729 or $999, respectively. The former has 8GB of RAM and 512GB of storage while the latter has 16GB of RAM and 1TB of storage. Both laptops feature integrated Intel Iris Xe Graphics. You can often find discounts on both the Intel and AMD models via Dell's website.
Dell Inspiron 14 2-in-1 (2023) review: Design
No-frills design
Plastic chassis feels cheap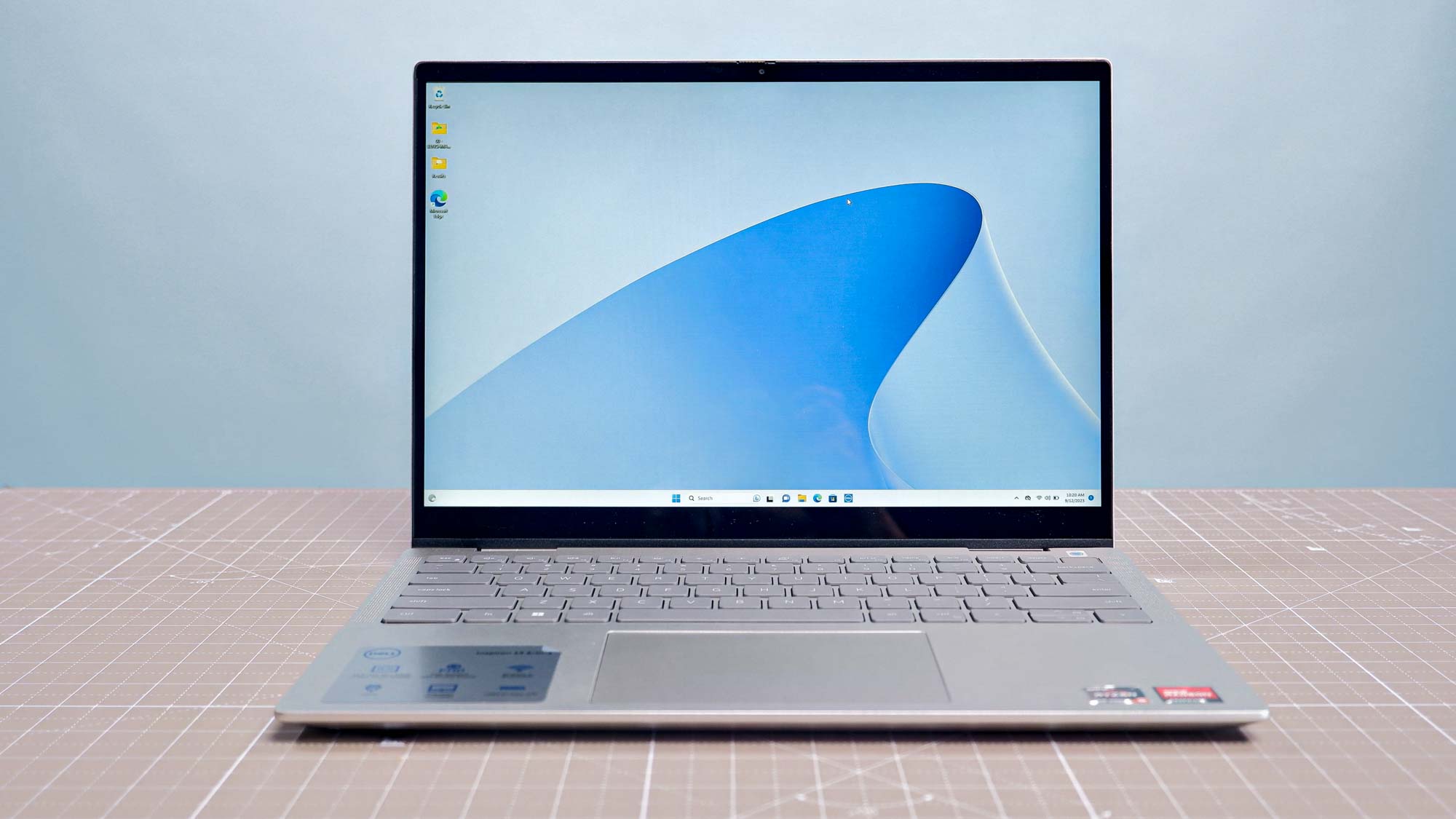 Design-wise, the Inspiron 14 2-in-1 is a fairly unassuming laptop that wouldn't look out of place at the office or your favorite cafe. It's a bit on the thick side, which gives it a somewhat dated aesthetic.
While I prefer the svelte appearance of ultrabooks like the Samsung Galaxy Book 2 Pro 360, the Inspiron 14's basic design isn't offensive to my eyes.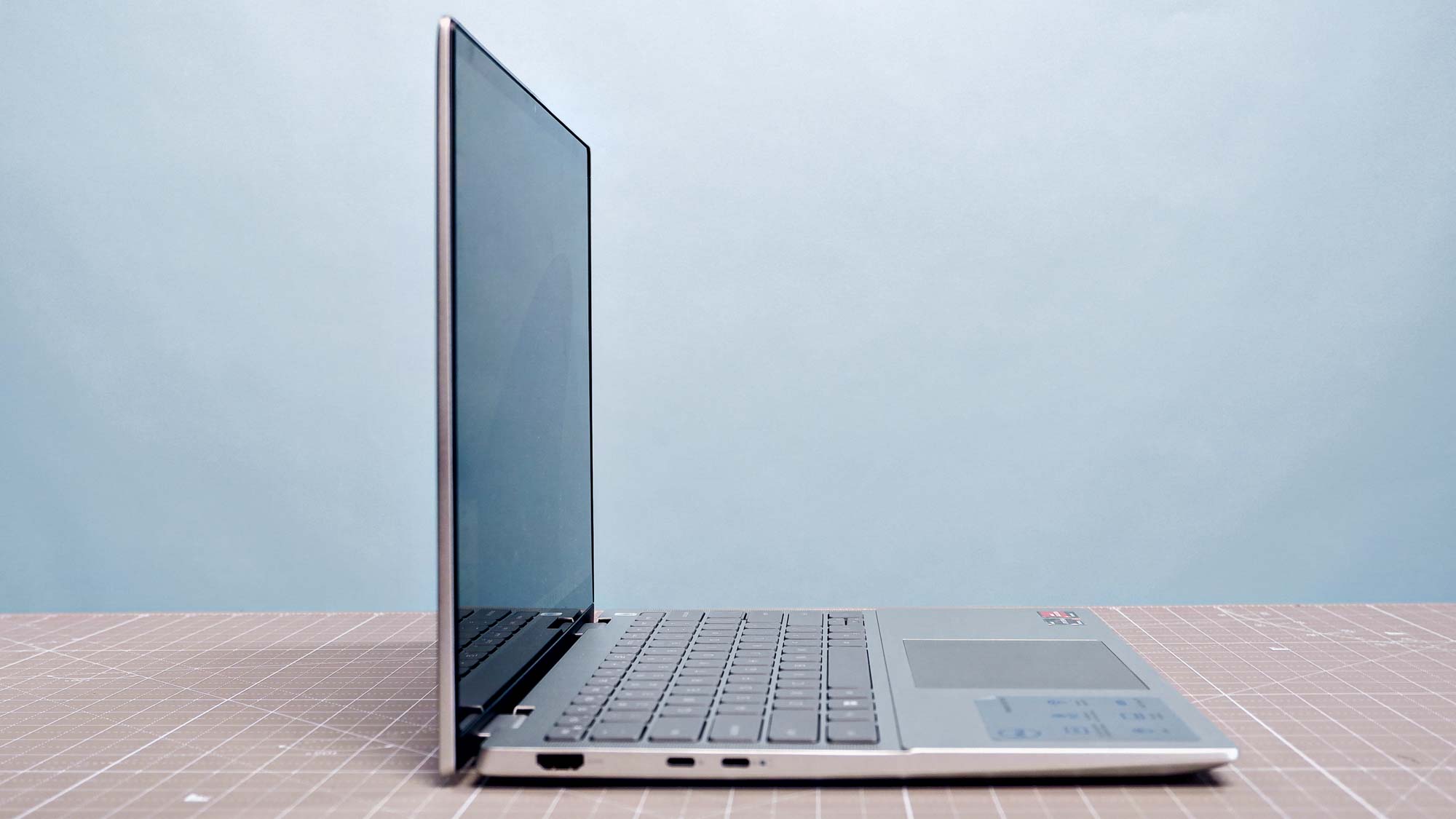 While this machine doesn't look ugly, it doesn't feel good to hold thanks to its mostly plastic chassis. Even the aluminum lid couldn't prevent the laptop from feeling cheap. And while the Inspiron 14 2-in-1 is overall sturdy when closed and has a rigid display that doesn't wobble, the keyboard deck has too much flex when you press down on it. This aspect is a stark reminder you're dealing with a budget laptop.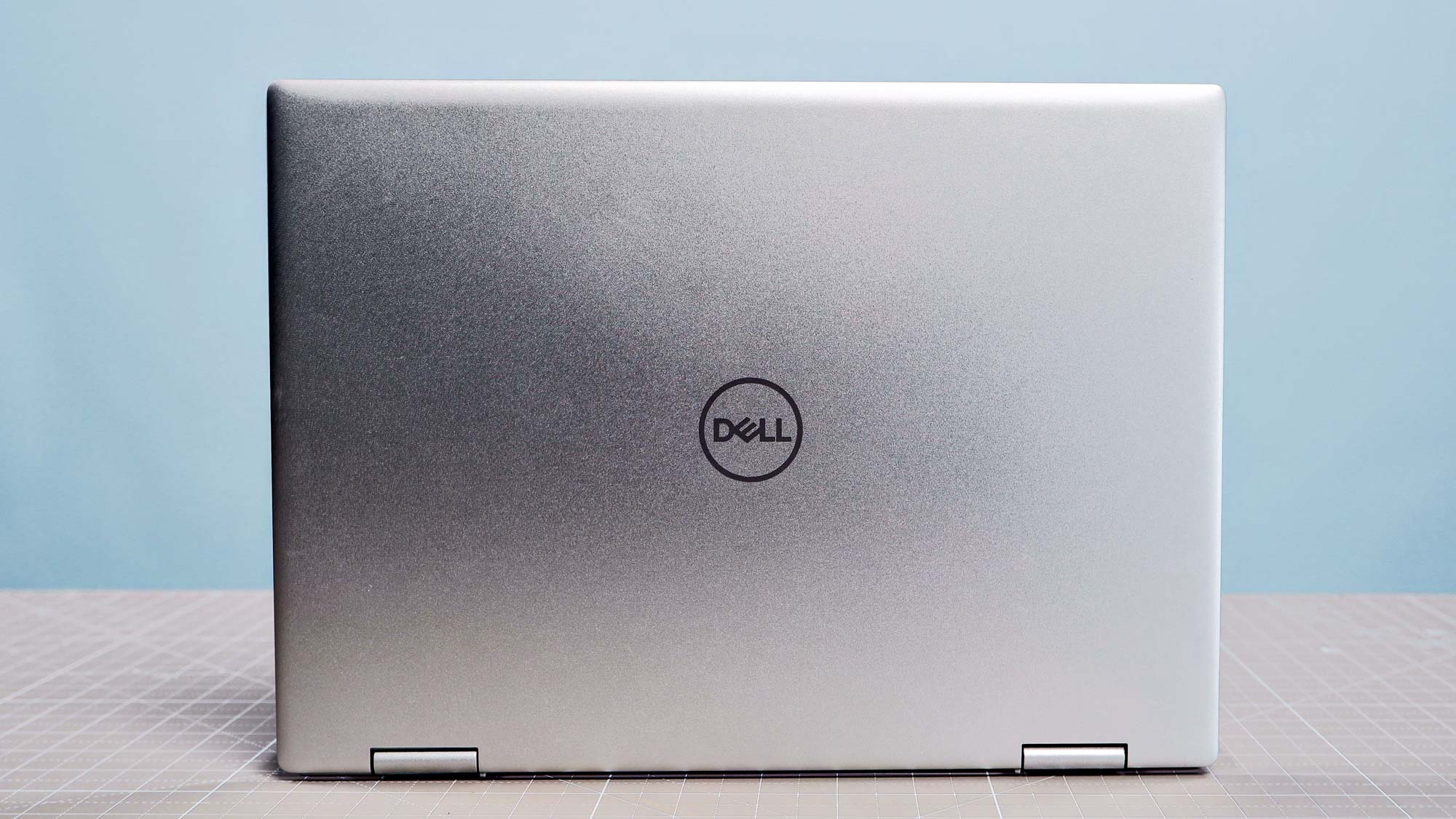 The display effortlessly glides back when you want to use the laptop in tablet or tent mode. That said, opening the Inspiron 14 isn't easy since there's no lip on its lid — which has always been my main gripe with some Dell laptops.
Dell Inspiron 14 2-in-1 (2023) review: Display
Poor color reproduction
Dim display
While I'm not a fan of this convertible's cheap-feeling chassis, I can almost forgive it because of its dual-purpose nature. However, I'm less inclined to overlook (pun intended) the mediocre display. Sure, it has a 1,920 x 1,200 resolution that presents images in sharp detail, but the display's poor color reproduction and overall dimness almost undermine that aspect.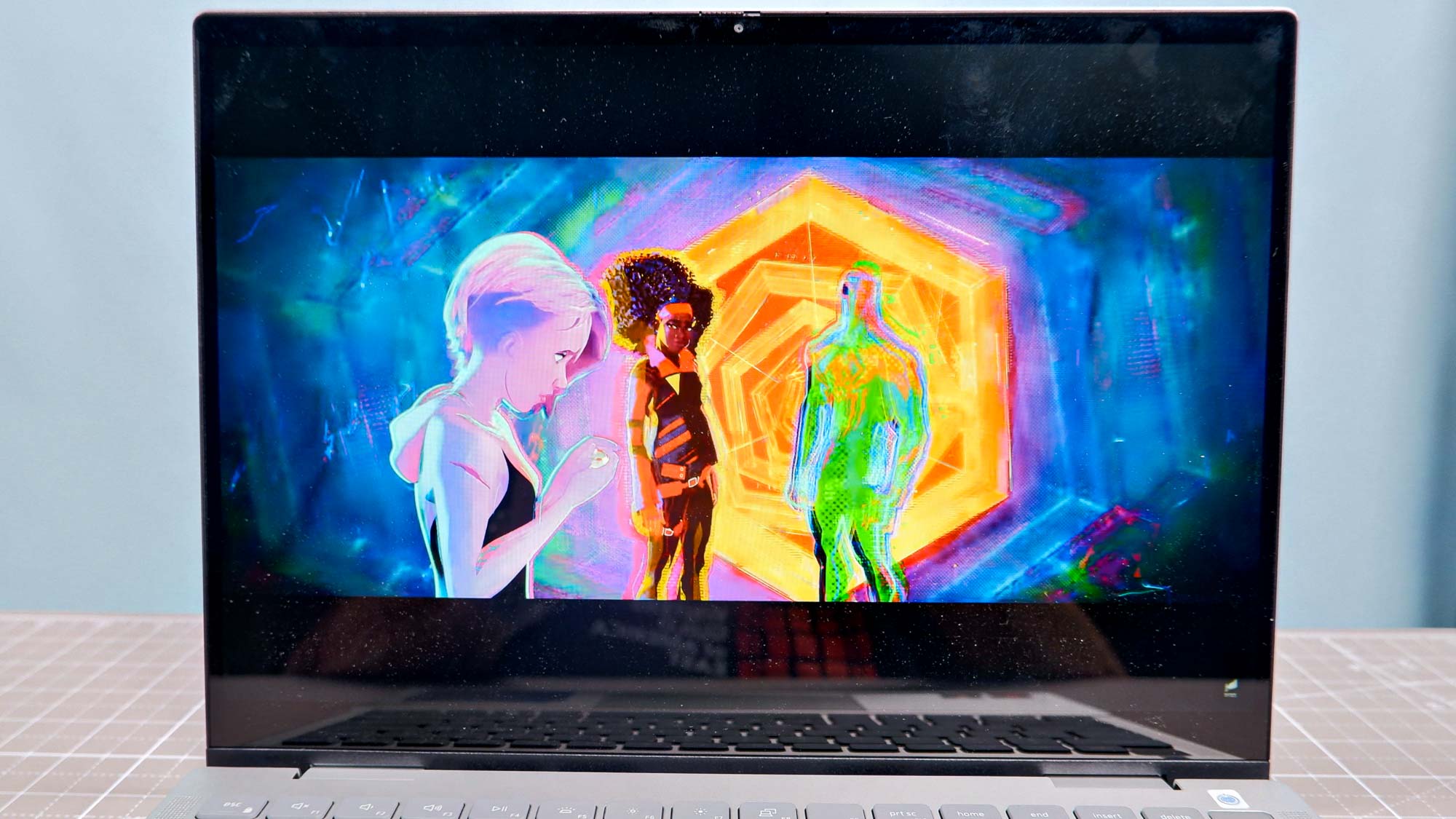 The final trailer for Across the Spider-Verse is a visual feast thanks to its vibrant and bold colors. At least it's supposed to be. On this display, the trailer's colors appeared dull and bland. The high-definition resolution and 60Hz refresh rate delivered clear images that ran smoothly — but it all appeared lifeless and boring.
Swipe to scroll horizontally
| | | | |
| --- | --- | --- | --- |
| Row 0 – Cell 0 | Dell Inspiron 14 2-in-1 | Dell XPS 13 2-in-1 | Samsung Galaxy Book 2 Pro 360 |
| Nits (brightness) | 215.2 | 474 | 373 |
| sRGB | 60.4% | 100% | 123.6% |
| DCI-P3 | 42.8% | 70.9% | 87.5% |
| Delta-E | 0.2 | 0.2 | 0.2 |
Our lab tests confirmed my anecdotal experience. When we pointed our Klein 10-A colorimeter at the Inspiron 14's display, it registered 60.4% of the sRGB color gamut and 42.8% of the more demanding DCI-P3 color space (higher is generally better). We also saw a Delta-E color accuracy score of 0.2 (closer to 0 is better). Color accuracy is decent enough, but color reproduction is downright disappointing.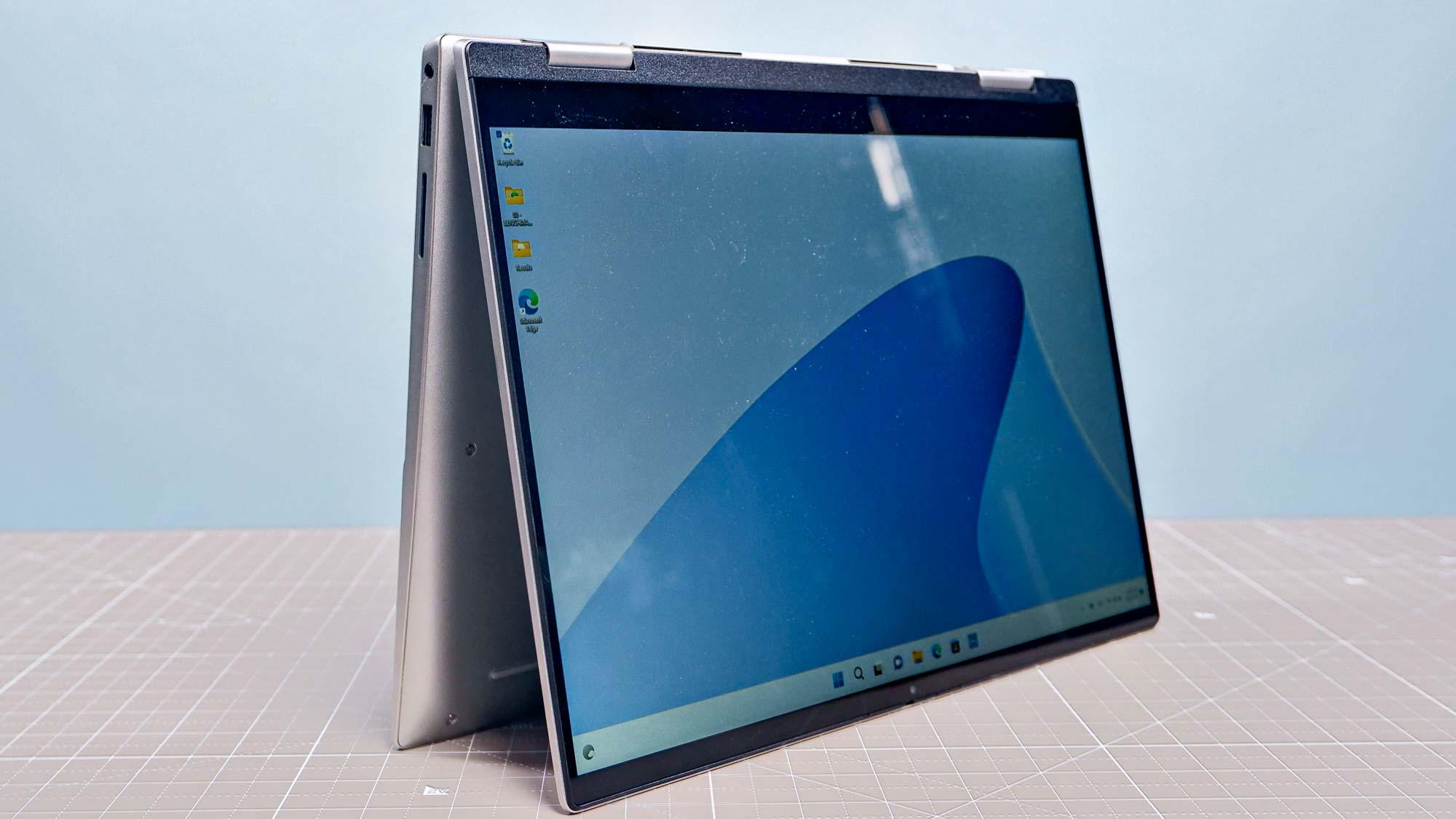 Laptops like the Dell XPS 13 2-in-1 (100% / 83.3% / 0.2) and Samsung Galaxy Book 2 Pro 360 (123.6% / 87.5% / 0.2) fared better both in terms of color saturation and accuracy. But to be fair, both of these laptops cost significantly more too. The Inspiron 14 2-in-1 averaged 215.2 nits of brightness in our testing. That's rather dim, especially when compared to competition, as you can see in the table above.
While the display is anything but impressive, its touch functionality works nicely. There was never a single instance where the touch display failed to recognize my taps and swipes.
Dell Inspiron 14 2-in-1 (2023) review: Audio
The two upward-facing speakers flanking the keyboard produce surprisingly loud audio. Podcasts or anything that mostly involves people talking sounds clear and sharp. The same applies when you're on a video call.
As loud as the speakers can get, they're not great for listening to music. Mids and highs sound fine, but there's next to no bass. If you crank the speakers to max while listening to your favorite tunes, your ears won't be pleased. I suggest using one of the best headphones or the best wireless earbuds when listening to music on this 2-in-1.
Dell Inspiron 14 2-in-1 (2023) review: Performance
Decent performance for the price
Not great for gaming
I reviewed the entry-level AMD model of the Inspiron 14 2-in-1, which packs an AMD Ryzen 5 7530U processor, integrated AMD Radeon graphics, 8GB of RAM and 512GB of SSD storage. Those aren't top-of-the-line specs but they're good enough for everyday computing. I used the laptop during a normal workday and it didn't slow down even when I had over 20 open tabs while simultaneously running a YouTube video and Slack.
Swipe to scroll horizontally
| | | | |
| --- | --- | --- | --- |
| Row 0 – Cell 0 | Dell Inspiron 14 2-in-1 | Dell XPS 13 2-in-1 | Samsung Galaxy Book 2 Pro 360 |
| Geekbench 5 (single-core / multi-core) | 1,472 / 6,274 | 1,564 / 7,097 | 1,719 / 9,043 |
| Copying 25 GB (MBps) | 699 | 648 | 761 |
| Handbrake video encoding | 10:10 | 15:07 | 9:34 |
On Geekbench 5, which measures overall performance, the Inspiron 14 2-in-1 scored 1,472 on the single-core portion of the test and 6,274 on the multi-core. In comparison, the Dell XPS 13 2-in-1 scored 1,564 and 7,097, respectively. Given how the Inspiron costs half as much as the XPS, the fact it's not far behind on performance is impressive.
The Inspiron 14 2-in-1 transcoded a 4K video to 1080p using Handbrake in 10 minutes and 10 seconds. That's a tad slower than the Galaxy Book 2 Pro 360 (9:34) but much faster than the XPS 13 2-in-1, which took a leisurely 15 minutes and 07 seconds.
Since this convertible has integrated AMD Radeon graphics instead of a discrete GPU, it's not ideal for playing games natively. For instance, Sid Meier's Civilization VI: Gathering Storm averaged 25 frames per second at both 1,080p and 1,200p. If you want to play games on this machine then I suggest excellent game streaming apps like Xbox Cloud Gaming or GeForce Now.
Dell Inspiron 14 2-in-1 (2023) review: Keyboard and touchpad
Keyboard deck flexes
Stiff touchpad
Typing on this 2-in-1 is a bit of a mixed bag. The keycaps are large and are spaced out nicely. The keys feel somewhat mushy when typing but that was balanced out by the roomy keyboard deck. But as I said above, the keyboard deck and palm rest have too much flex for my liking.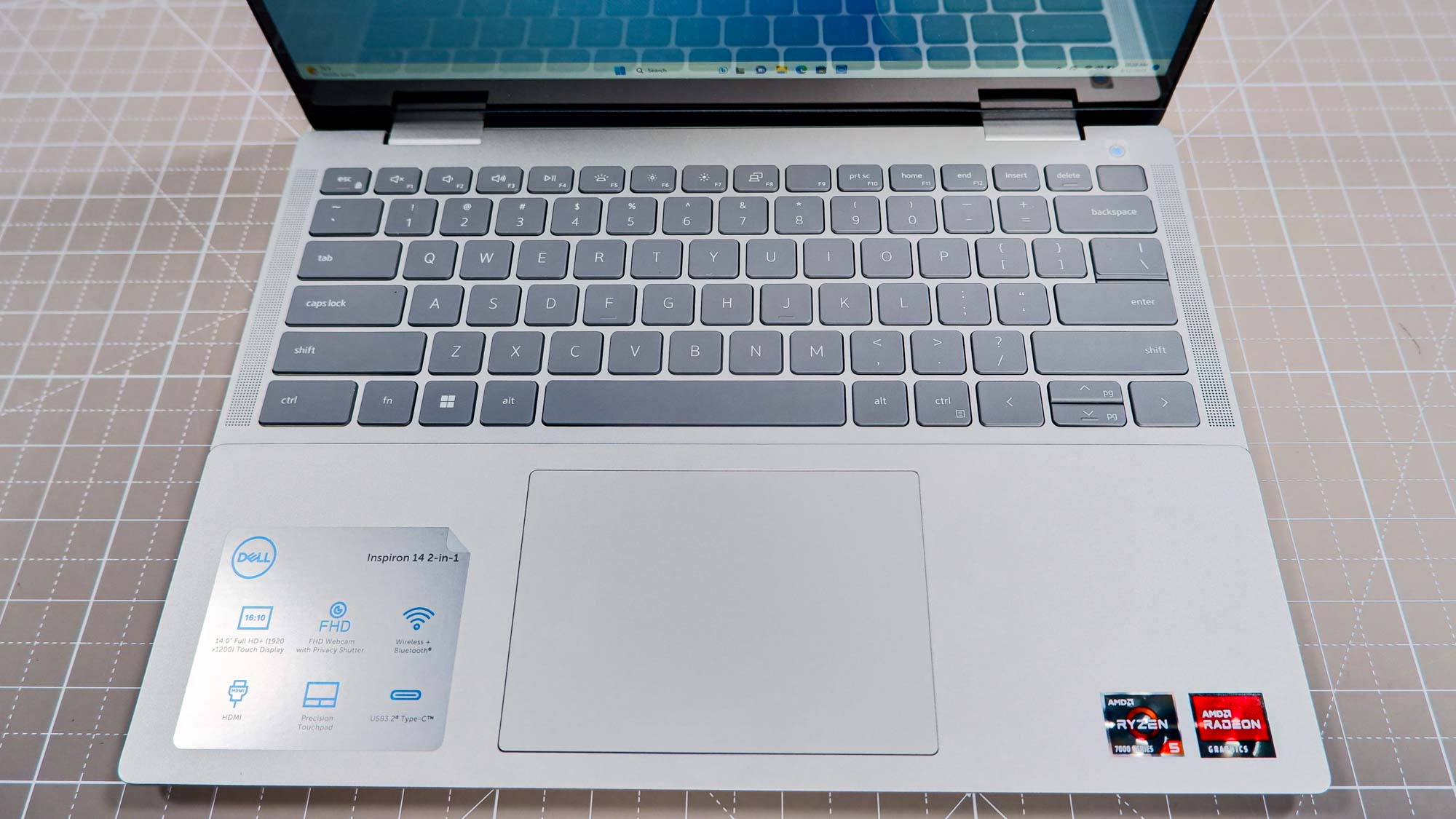 The smooth responsive touchpad works well enough when you perform gestures. That's offset by how hard you need to press the touchpad when you want to left or right click. Sure, you can enable tap to click in Windows so you don't have to click on the touchpad, but that's no excuse. Clicking on this touchpad is simply unpleasant.
Dell Inspiron 14 2-in-1 (2023) review: Battery life and heat
Long battery life
Fan runs loud
Long battery life is one of the Inspiron 14's strongest attributes. On the Tom's Guide battery test which involves continuous web surfing over Wi-Fi at 150 nits, Dell's convertible lasted for 11 hours and 27 minutes. That's almost 30 minutes less than the Galaxy Book 2 Pro (11:59) but over three hours more than the XPS 13 2-in-1.
Swipe to scroll horizontally
| | |
| --- | --- |
| Row 0 – Cell 0 | Time (hours:mins) |
| Dell Inspiron 14 2-in-1 | 11:27 |
| Dell XPS 13 2-in-1 | 8:16 |
| Samsung Galaxy Book 2 Pro 360 | 11:59 |
In our standard heat test (which involves running a heat gun over a device after streaming 15 minutes of full HD video on it) we found the hottest point to be between the vents on the underside, which peaked at 97.2 degrees Fahrenheit. We generally consider temperatures over 95 degrees as being uncomfortable. This convertible doesn't get much hotter than that, but you might not want to keep it on your lap for extended periods.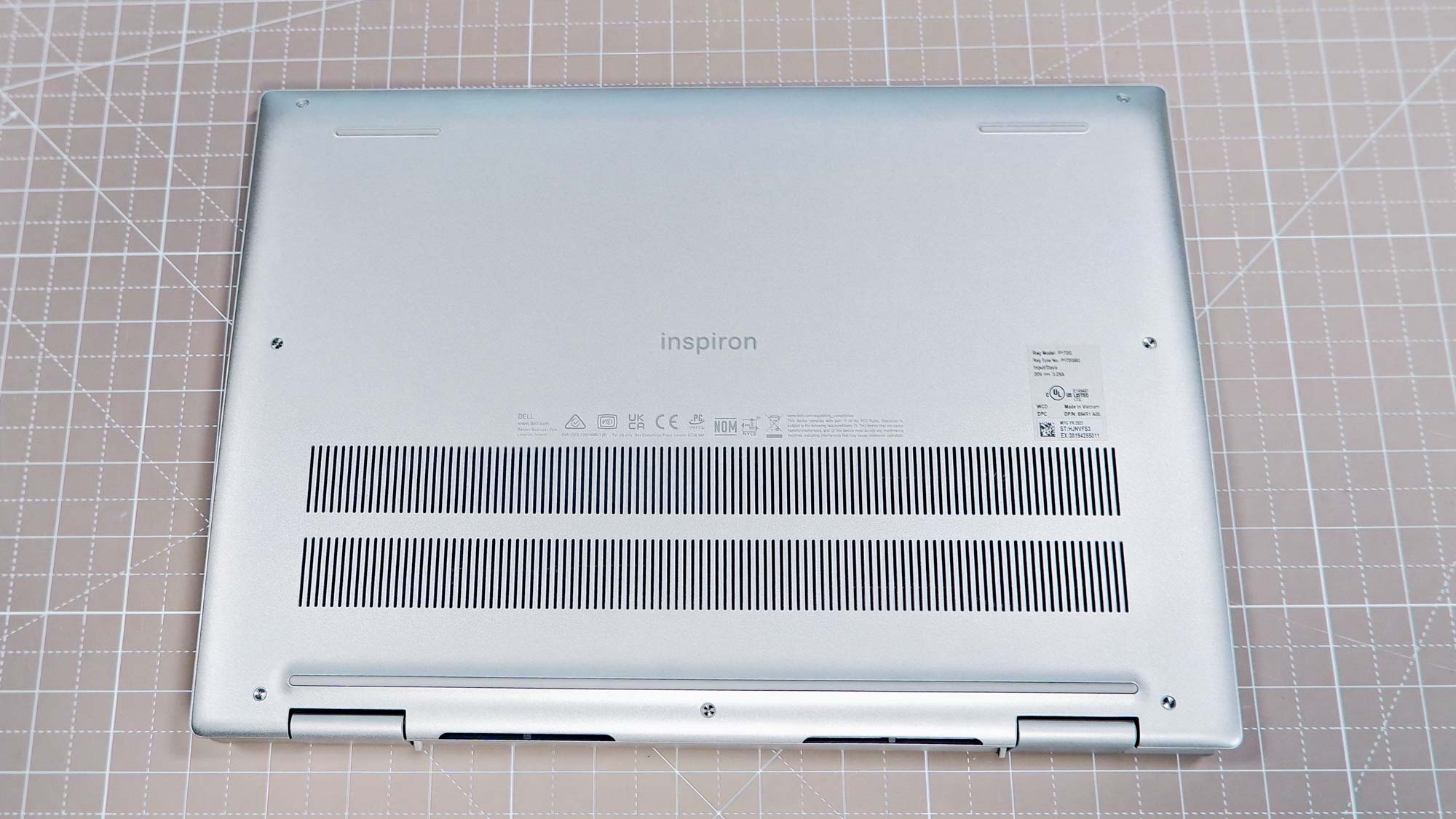 While the Inspiron 14 2-in-1 doesn't get too hot, its fans can get quite loud after only a few minutes of use. This isn't a problem if you're watching videos or listening to music, but if you're surfing the web or working, the fan noise can get irksome — especially when you're around others.
Dell Inspiron 14 2-in-1 (2023) review: Webcam
The Inspiron 14 2-in-1 packs a 1080p webcam but had you told me it was a 720p camera, I'd believe you.
I snapped the photo above in our well-lit office. Despite that, the image looks blurry and washed out. Don't expect to look your best during video calls, even with optimal lighting. You'd be better served by connecting one of the best webcams to this Inspiron if you want to appear presentable.
Dell Inspiron 14 2-in-1 (2023) review: Software
Comes with Windows 11
My Dell app helps optimize performance
The Inspiron 14 2-in-1 runs on Windows 11 and comes pre-loaded with Microsoft 365 apps and the Xbox app. The latter is especially useful if you want to play streamed games. You can choose either Windows 11 Home or Windows 11 Pro, though the latter raises the price from $699 to $759.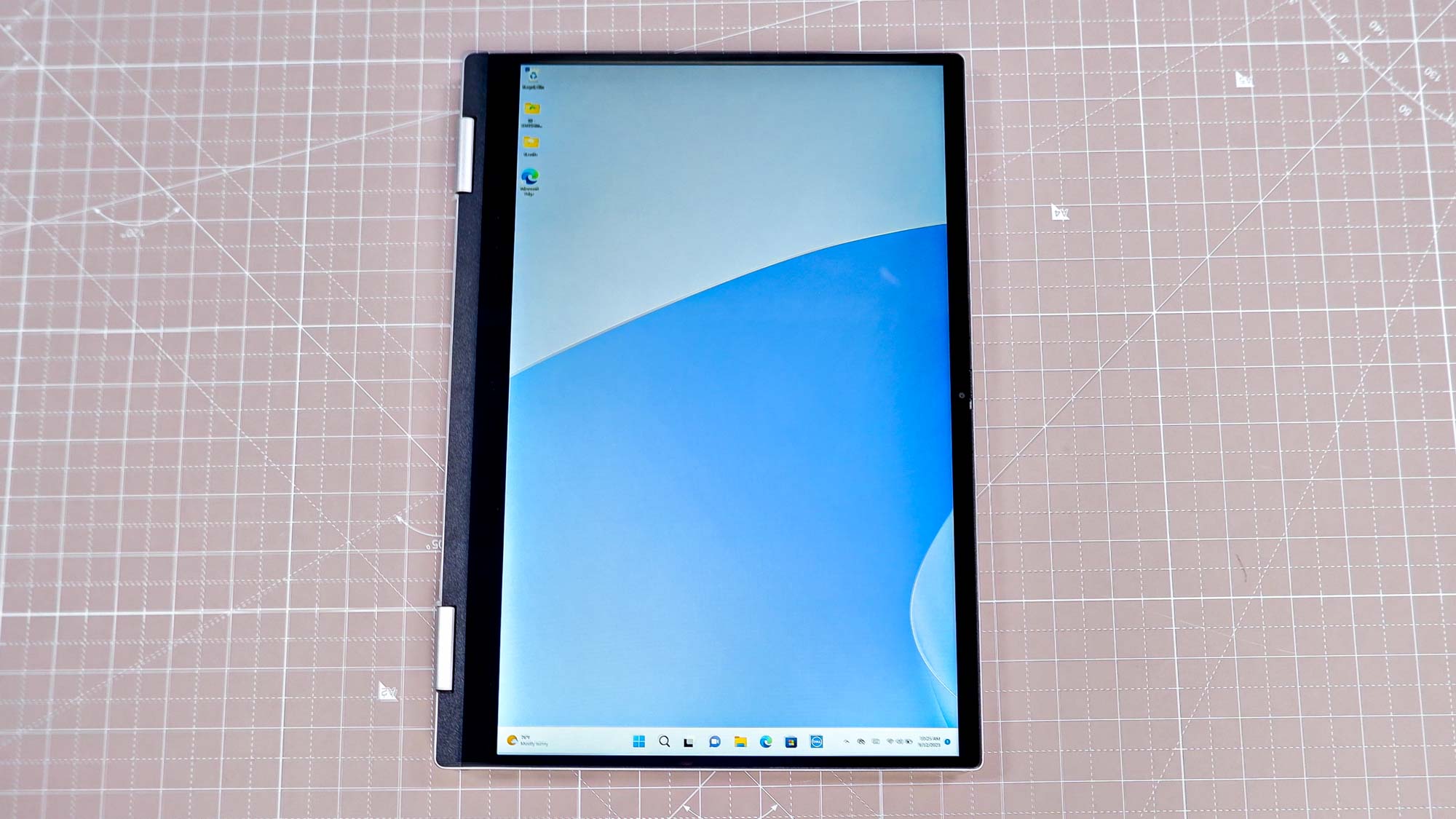 The My Dell app also comes pre-installed. This application has several useful features such as system optimization for performance, sound and visual optimization for streaming content and a power manager.
Dell Inspiron 14 2-in-1 (2023) review: Verdict
The Dell Inspiron 14 2-in-1 is a decent enough Windows 11 computer for browsing the web, watching videos or for work. The best thing about this device is its affordable price if you go with the entry-level AMD model. Other than that, it's decidedly unremarkable in most respects — as is usually the case with the Inspiron lineup.
If you're willing to spend a few hundred dollars more, the Dell XPS 13 2-in-1 starts at $899 and features better performance, a more vibrant display and better build quality. Those who prefer an Apple laptop and don't care about 2-in-1 functionality would do well with the MacBook Air M1, which costs $999 but is frequently discounted to $899.
Even if the Dell Inspiron 14 2-in-1 isn't exactly inspiring, I'd recommend it for people on a strict budget.