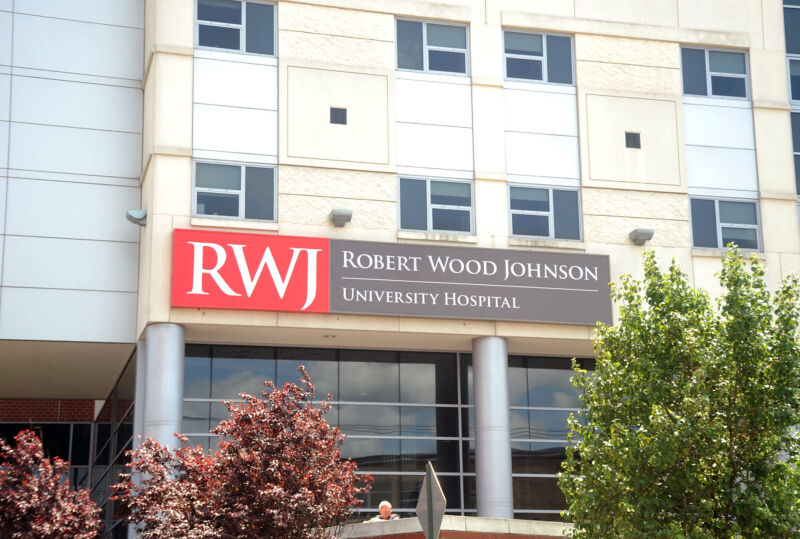 Nonprofit hospitals are under increasing scrutiny for skimping on charity care, relentlessly pursuing payments from low-income patients, and paying executives massive multi-million-dollar salaries—all while earning tax breaks totaling billions.
One such hospital system is RWJBarnabas Health, a large nonprofit chain in New Jersey, whose CEO made a whopping $17 million in 2021, while the hospital system only spent 1.65 percent of its nearly $6 billion in revenue on charity care.
Sen. Bernie Sanders (I-Vt.), chairman of the Senate Health, Education, Labor, and Pensions (HELP) Committee, is gearing up for a showdown next week with the CEO of RWJBarnabas Health, Mark Manigan. Nurses at one of the chain's locations, Robert Wood Johnson University Hospital, are on strike, saying that the facility has become a dangerous place to work due to inadequate staffing levels.
"I look forward to hearing how [Manigan's] health care system could afford to spend over $17 million on CEO compensation in 2021 and how his hospital could afford $87 million on traveling nurses since the strike began, but somehow cannot afford to mandate safe staffing ratios to improve the lives of patients and health care workers," Sanders said in a statement this week.
RWJBarnabas Health is far from alone in having plump executive pay and slim charity care spending. A HELP committee staff report released earlier this month examined the financial data on 16 of the country's largest nonprofit, tax-exempt hospital systems. The systems collectively make more than $3 billion in revenue each year, but in 2021, 12 of the 16 systems spent less than 2 percent of their revenue on charity care—even though, as nonprofits, they earn federal, state, and local tax exemptions for providing charity care to low-income people and other charitable community benefits. Of those 12 spending less than 2 percent, six of them spent less than 1 percent.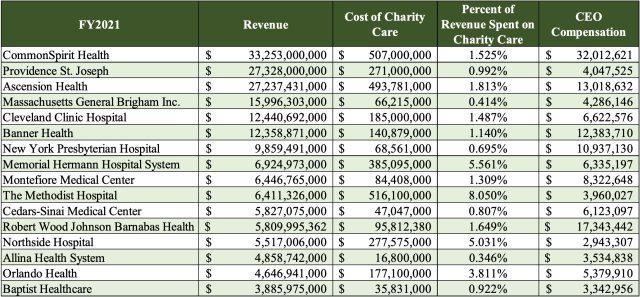 Meanwhile, CEO compensation for the 16 systems averaged over $8 million, with a collective total of over $140 million. By far, the biggest earner was the CEO of CommonSpirit Health, a massive Catholic nonprofit system that runs 139 hospitals in 21 states. In 2021, CommonSpirit's CEO made $32 million. In the same year, the system spent $507 million on charity care, or 1.5 percent of its $33 billion revenue.
In addition to failing to provide low-income patients with free or lower-cost care, some of the health systems ruthlessly sought payment, sending patients to collection agencies, placing liens on their property, and garnishing wages.
Allina Health System, which runs nonprofit hospitals in Minnesota and western Wisconsin, denied providing medical care and blocked appointments for patients—even children—if they had outstanding hospital bills. In 2021, Allina spent 0.3 percent of its revenue on charity care while its CEO made $3.5 million. Only after media attention did the hospital system change its policy.
The findings are particularly troubling given the millions of dollars that hospitals reap with their nonprofit status. In 2020, the country's 2,978 nonprofit hospitals collectively received an estimated $28 billion in federal, state, and local tax benefits as a result of not paying those taxes, according to an analysis by the Kaiser Family Foundation. That works out to an average of $9.4 million per hospital—and accounts for 44 percent of nonprofit hospitals' collective net income (revenue minus expenses) for that year.
The Senate staff report concluded by accusing the hospital systems of "price gouging."
"The disparities between the paltry amounts these hospitals are spending on charity care and their massive revenues and excessive executive compensation demonstrates that they are failing to live up to their end of the non-profit bargain," the report reads.
The American Hospital Association, meanwhile, blasted the report, saying it is "totally off base and does not fully account for the wide range of community benefits that hospitals provide." The Association pointed to its own research, which suggested that tax-exempt hospitals provided $129 billion in total benefits to their communities in 2020.