There have been plenty of reports of Apple looking to get into the smart screen game over the last couple of years. There's been talk of iPads mimicking the Pixel Tablet's ability to turn into Nest Hub-like devices when docked, a dedicated HomePod smart screen and even an Apple TV/HomePod hybrid.  
But the first physical evidence of Apple working on a HomePod with a screen is something completely different. It looks just like a normal HomePod 2, only there's a small LCD screen embedded in the top of the speaker.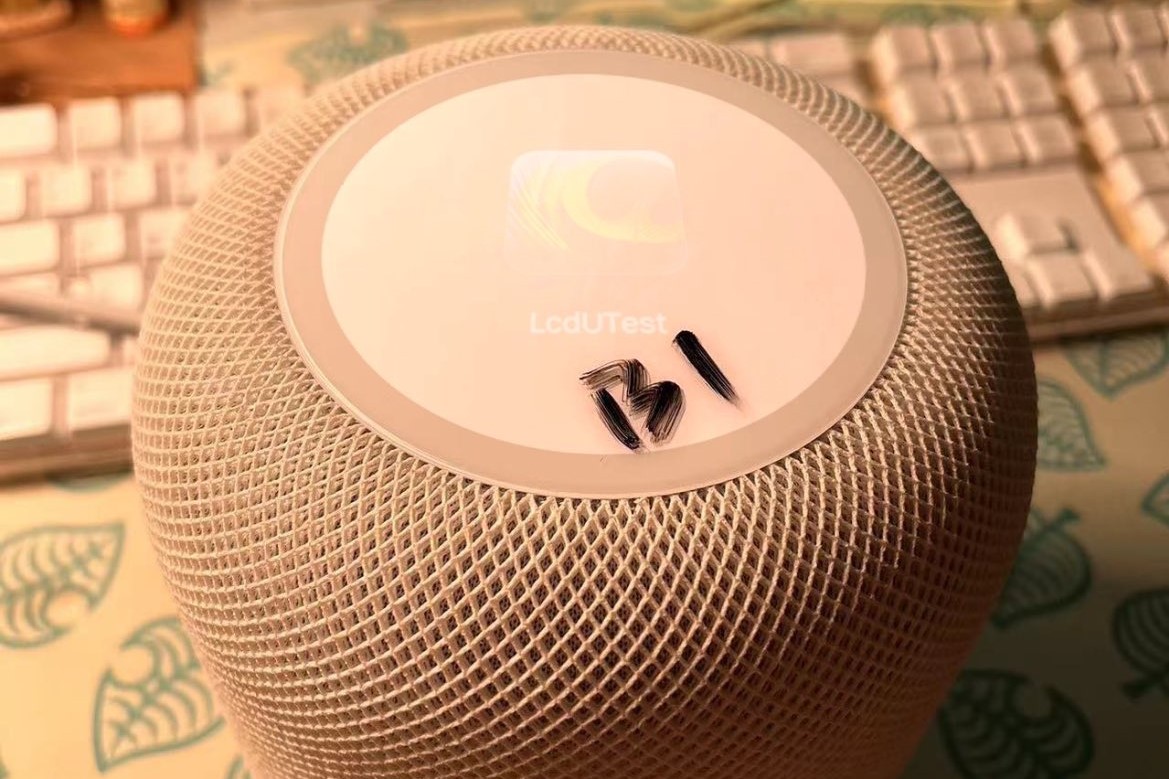 That image is courtesy of the device collector and occasional leaker Kosutami, who was previously proved correct about Apple abandoning its silicone accessories for the iPhone 15. In the picture, you can see the HomePod running a (very faint) app called "LcdUTest".
9to5Mac has confirmed with its sources that this isn't a hoax. Codenamed B720, the "advanced-stage prototype" is real and, as you might expect, "LcdUTest" is an internal application used by engineers to test the display. Intriguingly, the site claims the device is being "actively worked on by Apple", and isn't "something that the company has experimented with in the past."
The site's sources have a few other interesting tidbits about the prototype. Like all HomePods, the speaker runs a fork of tvOS called audioOS, and Apple has apparently been tweaking certain tvOS apps to run in the different aspect ratio (something not required for Apple TV, as televisions have all coalesced around the same one). 
There's evidence in the tvOS 17 code that Apple Music and Apple Podcasts have been rewritten for this new aspect ratio, which makes a lot of sense given this will still clearly be predominantly an audio device.
While the site concedes that it's too early to know for sure what the interface will look like, its sources suggest that the display will show a "blurred animation based on the colors of the album art when a song or podcast is playing." There are also "hints that it will show some important notifications, potentially to answer phone calls and reply to messages."
A screen, but not a smart screen
Should it ever see the light of day, this HomePod feels more like an evolution of the current design rather than a full embrace of smart screens. Another way to control the speaker rather than a method of absorbing information — after all, who spends much time standing over a smart speaker looking down?
Indeed, this feels more Apple CarPlay than Nest Hub: largely a way of seeing basic details and controlling playback.
But that doesn't mean this isn't a direction Apple is looking at more generally. And with Ming-Chi Kuo predicting a HomePod with a 7-inch screen for next year, it's entirely possible that some of the software developed for this prototype will get a second life elsewhere, as Apple looks to make a bigger dent in the smarthome in 2024.