AMD has presented its complete portfolio of desktop processors from the Ryzen 7000 ("Raphael") and Ryzen 7000X3D ("Raphael-X") series and seized the performance crown in several areas. AMD CPUs hold the lead in both games and many production applications.
We have compiled the five most decisive reasons for buying a CPU from AMD's Ryzen 7000 and 7000X3D series and make recommendations accordingly.
Further reading: The best CPUs for PC gaming
Reason 1: Performance
AMD has made a great leap with its current Zen 4 microarchitecture, which is particularly noticeable in the massive increase in performance compared to the previous generation. The performance increase that could be achieved when switching from Ryzen 5000 (Zen 3) to Ryzen 7000 (Zen 4) is impressive and the numbers do not lie.
In terms of single-core performance, i.e. performance per processor core, the Ryzen 9 7950X, for example, can outperform its direct predecessor, a Ryzen 9 5950X, by 20 percent. In the area of multi-thread performance, the performance across all processor cores, the Zen 4 CPUs literally pulverise the Zen 3 CPUs.
The comparative values, which are based on the CPU benchmark 2023 from PC-WELT and the measurement data of our specialist editor Sebastian Schenzinger, make the performance progress clear.
Single-core performance: + 20 percent
Multi-thread performance*: + 35 percent
* using the example of Ryzen 9 7950X vs. Ryzen 9 5950X
As a look at the benchmarks conducted in a resolution of 1280×720 pixels (720p) shows, each model of the Ryzen 7000 series is clearly ahead of its direct predecessor of the Ryzen 5000 series in games as well.
PC-WELT
In particular, the top models of the Ryzen 7000X3D series leave the CPU spearheads from Intel no chance and consolidate the gaming throne for the CPUs from AMD. In terms of performance, there is currently no way around AMD.
Reason 2: Efficiency
With every new CPU generation, the question arises: Have the manufacturers achieved the extra performance by improving the architecture or by accepting higher power consumption? In idle mode or at low loads, current CPUs are now all well optimized and consume very little power. AMD, however, goes much further, especially in games as well as in full-load scenarios.
While the currently fastest gaming CPU on the market, the Ryzen 9 7950X3D, has a maximum power consumption of 80 watts in current AAA games like Cyberpunk 2077, a Core i9-13900K consumes up to 160 watts and more. The current CPUs from AMD are significantly more efficient in this sub-discipline than their corresponding counterparts from Intel's Core i series.
In productive applications and synthetic benchmarks like Cinebench R23, the efficiency advantage of the Zen 4 architecture becomes abundantly clear.
While a Ryzen 9 7950X3D has a power consumption ("package power") of 130 to 140 watts under full load, a Core i9-13900K consumes more than 300 watts and thus more than double the power.
Gamers who attach great importance to performance and efficiency and also want to save money can upgrade their AM4 platform with the still highly recommended Ryzen 7 5800X3D or the even cheaper Ryzen 5 5600X3D.
A look at the measurement results from the big 2023 CPU comparison from PC-WELT shows that the Ryzen processors have the highest efficiency measured by their performance.
Sebastian Schenzinger
Reason 3: Price-performance
If you take into account the excellent combination of performance and efficiency, which is superior to the direct competition, the duel for the better price-performance ratio also turns out positively for the current CPUs of the Ryzen 7000 and 7000X3D series from AMD.
The direct competitors, such as the AMD Ryzen 7 7800X3D and the Intel Core i7-13700K, are currently absolutely on a par in terms of price.
In such cases, the higher performance and superior efficiency clearly speak in favor of buying a Ryzen 7000 or Ryzen 7000X3D.
Reason 4: Upgrades
Another point that currently speaks in favor of buying a Zen 4 processor for AMD's AM5 platform is the possibility of being able to make further upgrades to one's own PC in the future.
Background: Since the AM5 platform with the associated Ryzen 7000 and 7000X3D series processors was only introduced in September 2022, AMD promises to keep the upgrade path open until at least 2026, including new architectures.
For gamers and users, this means that a current Ryzen 7000 can still be upgraded with the coming two generations Ryzen 8000 and Ryzen 9000. This means that Zen 5 and presumably also Zen 6 will be able to run on the AM5 platform.
Further details can be found in AMD's current socket roadmap: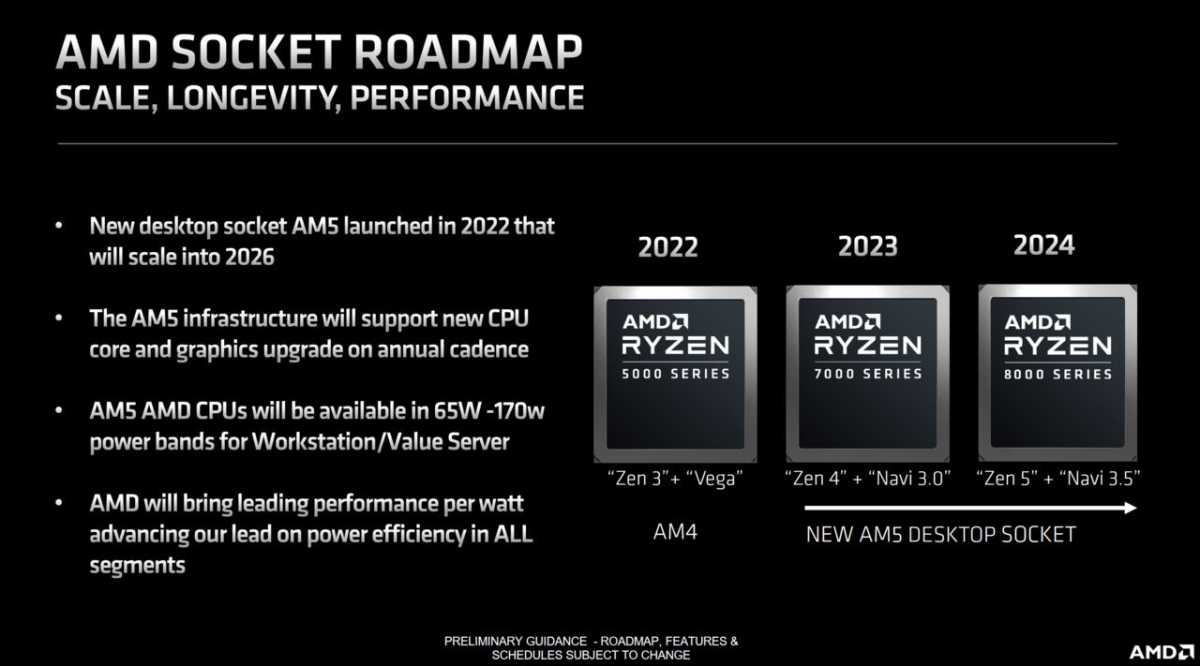 AMD
Reason 5: Feature set
The open feature set, which includes technologies such as AMD EXPO ("Extended Profiles for Overclocking") for the memory, AMD SAM ("Smart Access Memory") for direct access of the graphics card as well as the open source drivers for Linux, is also a strong argument for a CPU from AMD.
On the one hand, these are open standards that can be used with almost any hardware, and on the other hand, users have the option of using free operating systems based on Linux.
In such cases, Intel and Nvidia often rely on proprietary solutions that only work with their own hardware.
Recommendations
The following CPUs from AMD are particularly recommended in the different price classes:
100 to 150 dollars: AMD Ryzen 5 5600 (from $145.15)
150 to 200 dollars: AMD Ryzen 7 5700X (from $190.61)
300 to 350 dollars: AMD Ryzen 7 5800X3D (from $314.99); AMD Ryzen 7 7700X (from $339.48)
350 to 500 dollars: AMD Ryzen 7 7800X3D (from $389.00)
500 to 650 dollars: AMD Ryzen 9 7950X3D (from $649.99)
This article was translated from German to English and originally appeared on pcwelt.de.