You probably already know that 5G is a widely used abbreviation for a version of mobile network standards. (Also, that it's the most current standard in use.) That "G" slapped next to the number means "generation." It's not a reference to the download or upload speeds you get on your cell phone.
You also may have already seen the advertisements about Comcast's new 10G Xfinity network blanketing the airwaves and other platforms. And since the Xfinity website doesn't really clarify what "10G" means, you might assume that the company's home internet service is a faster version of 5G. Even if you dig around and stumble upon Comcast's corporate webpage about 10G, its reference to "multi-gig speeds" won't necessarily dispel your initial impression.
That's likely what Comcast's marketing team wants from co-opting cable-industry jargon created in 2019, long after the naming of cellular networks began. But don't let them confuse you. "10G" is a reference to 10Gbps, or the maximum speed the Xfinity broadband network is capable of. You're reading that right: It has nothing to do with cellular network terminology (like 5G) whatsoever, and Comcast's service is for home internet, not mobile. It's deeply misleading.
In fact, Xfinity's 10G network is technically slower than 5G. Peak theoretical throughput on an uncongested 5G network offers up to 20Gbps download and 10Gbps upload. Xfinity caps out at 10Gbps down and up.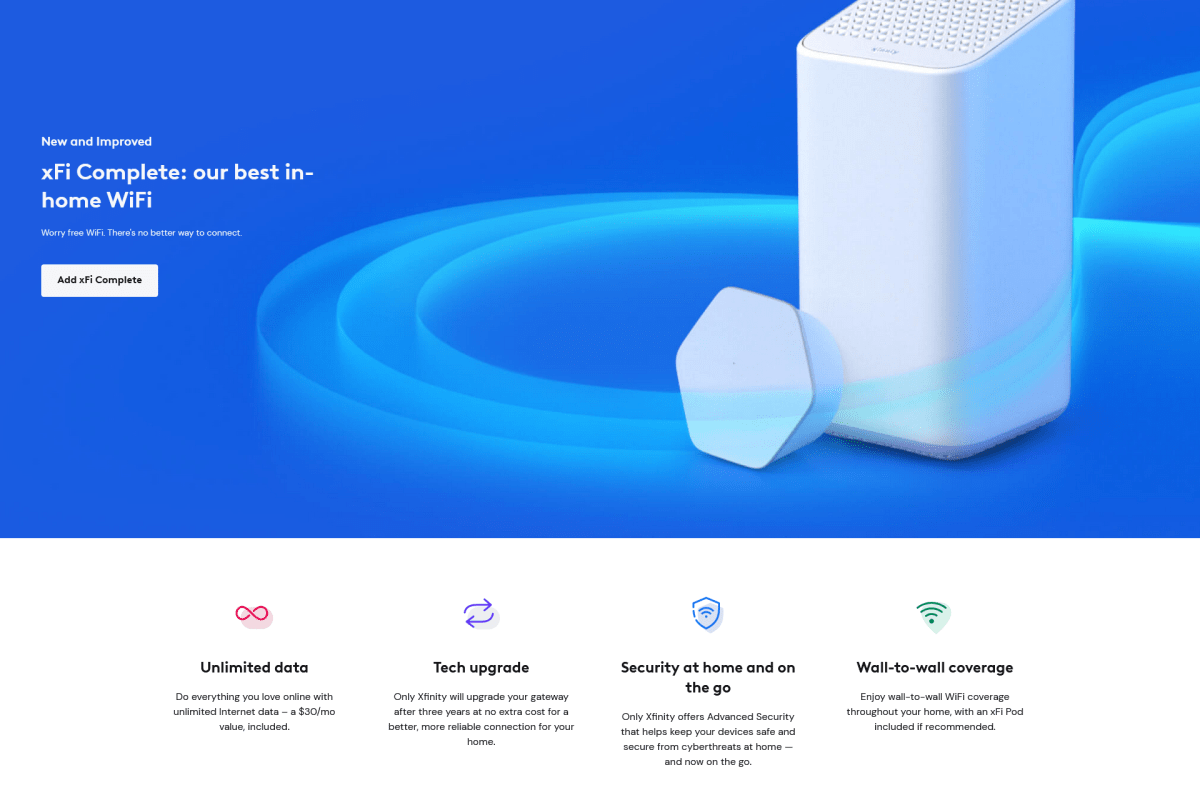 Comcast
The funny part is, Comcast should win the real-world battle here. Practically speaking, your phone on a 5G network will suffer from slowdowns due to congestion and signal strength, making wire-based Xfinity connections likely quicker. Current reports put top 5G download speeds between 3Gbps to 10Gbps in the wild.
But Comcast is tooting its own horn before its multi-gig network has become widespread. Most customers can get just 1Gbps down as the best plan, with an absurdly asymmetrical upload speed of 35Mbps (yes, megabits). And while faster uploads are slowly rolling out to different locations, access is only available when you opt into the company's $30/month xFi Complete add-on, which includes unlimited data and other extras. Oof.
Update, October 2023: Turns out that the National Advertising Division, the organization formed by the ad industry to self-regulate truth in advertising, agrees that Comcast's 10G campaign is misleading. As spotted by Ars Technica, the NAD has issued a press release recommending that Comcast either stop claiming 10G or be clearer that the company is still working toward providing such speeds. This rebuke was issued after T-Mobile filed a challenge. In the same post, the org has also urged Comcast to clarify that internet service is unavailable during power outages.
Long story short, take Comcast's boasts about its new network with a huge grain of salt. Many people will probably think a 10G network is better than a 5G network, but it's just not the case—comparing the two is like pitting apples against oranges. Meanwhile, AT&T's "gigillionaire" advertising campaign may be hard to sit through, but at least the language isn't tricky to understand.
Editor's note: This story was originally published on March 20, 2023, and updated on October 23, 2023 with information about the NAD's call for Comcast to halt or change the use of 10G in its advertisements.