At a glance
Expert's Rating
Pros
Good build quality for the price
Enjoyable keyboard
Gobs of RAM and storage
Excellent connectivity including Thunderbolt 4 and USB-C
Cons
Small touchpad
Unremarkable display quality
Battery life, performance are mediocre for the price
Our Verdict
The Acer Chromebook Spin 714 is a capable ChromeOS 2-in-1, but it fails to stand out from the competition.
Price When Reviewed
$699.99
Best Prices Today: Acer Chromebook Spin 714
$669.99
Want a premium Chromebook? You actually have a lot of choice—in fact, Google just launched a new "Chromebook Plus" push that specifically puts premium Chromebooks (and AI features) on a pedestal. The Acer Chromebook Spin 714 is a relatively expensive 2-in-1 that slightly predates the Chromebook Plus announcement, and while it's an enjoyable device, it has trouble justifying its price.
Looking for more options? Check out PCWorld's roundup of the best Chromebooks available right now.
Acer Chromebook Spin 714: Specs
The Acer Chromebook Spin 714 I received is close to the top of what consumers can expect from modern Chromebook hardware. It has an Intel Core i5-1335U processor, 8GB of RAM, and 256GB of PCIe NVMe solid state storage. The SSD is especially notable. Only top-end ChromeOS devices exceed 128GB.
CPU: Intel Core i5-1335U
Memory: 8GB LPDDR4X
Graphics/GPU: Intel Iris Xe Graphics
Display: 1,920 x 1,200 60Hz LCD Touchscreen
Storage: 256GB PCIe NVMe
Webcam: 1440p
Connectivity:  2x Thunderbolt 4 / USB-C, 1x USB-A, 1x HDMI, 1x 3.5mm combo audio
Networking: Wi-Fi 6E, Bluetooth 5.2
Biometrics: None
Battery capacity: 42 watt-hours
Dimensions: 12.3 x 8.8 x 0.71 inches
Weight: 3.02
MSRP: $699.99 MSRP
This hardware comes at a somewhat steep MSRP of $699.99 (discounted to $570 at the time of this writing). That's not expensive, but it puts the Chromebook Spin 714 in league with Windows alternatives that have similar hardware.
Acer Chromebook Spin 714: Design and build quality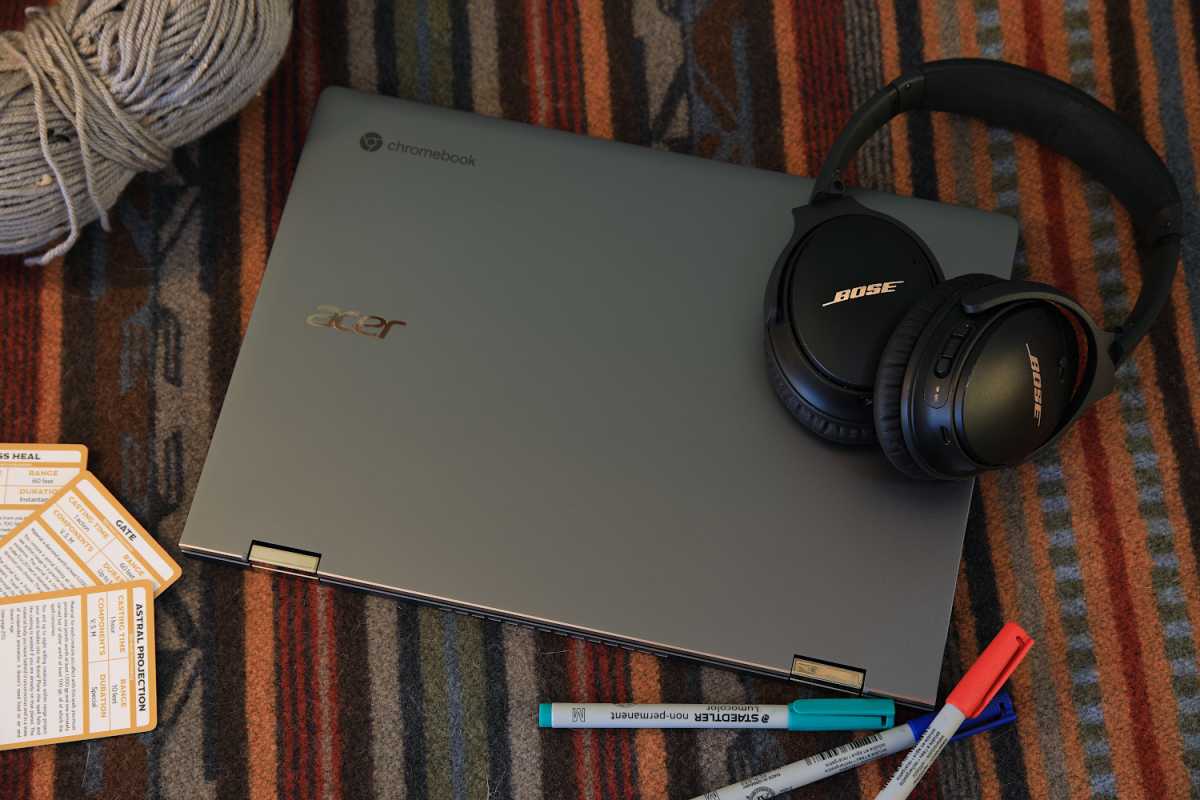 IDG / Matthew Smith
The Acer Chromebook Spin 714 goes for an elegant, professional look with a dark silver metallic chassis that appears to use a combination of metal and plastic panels. It's similar to the look of Acer's mainstream Windows laptops, though Acer adds a hint of flair with chrome display hinges and a slighter larger chrome Acer logo.
Build quality is great for the price. A thick metal display lid keeps display flex to a minimum and provides a sense of heft and durability not found in similarly priced Windows laptops. The display hinges are nicely tuned, too, providing enough resistance to keep the display in place, but not so much that the display can't be opened with one hand.
The Spin 714 is reasonably easy to pack, but it's not the smallest 2-in-1 or laptop you'll find. It measures a bit over a foot wide, almost nine inches deep, and 0.71 inches thick. It's similar in size to Apple's MacBook Pro 14 and Microsoft's Surface Laptop 5 13.5-inch, but thicker—a bit of a surprise, really, given the Spin 714's modest hardware. Its weight is more mid-pack at 3.02 pounds: not the lightest 14-inch device, but also far from the heaviest. The Acer Swift X 14, a laptop with RTX 4050 discrete graphics, weighs just a few tenths of a pound more.
Acer Chromebook Spin 714: Keyboard, trackpad
IDG / Matthew Smith
Acer's keyboard makes good use of the space afforded by the Chromebook Spin 714's chassis. The typing experience is excellent, especially for a 2-in-1 with a sub-$1,000 price point. I enjoyed the keyboard's significant key travel and taut, crisp bottoming action. The keyboard allows a bit more flex along its center than I would like, but it's not enough to dampen my enthusiasm. 
The layout is spacious, with large keys on both sides of the keyboard. Like all Chromebooks, the Spin 714 replaces the usual function row with a set of function keys specific to ChromeOS. They can be used to adjust screen brightness and audio volume, snap a screenshot, or reload a web page, among other functions.
Keyboard backlighting is standard and turned on by default. The brightness is well-tuned out of the box and can be changed to one of five brightness settings by pressing the Alt key in combination with the screen brightness function keys. 
While the keyboard is solid, the touchpad is underwhelming. It measures roughly four inches wide and 2.25 inches deep, which makes it the smallest touchpad I've encountered on a 14-inch laptop in 2023. It's responsive and smooth, but its size is cramped for multi-touch gestures. Even scrolling was a bit annoying—my fingers couldn't move far before encountering the limits of the touchpad.
Acer Chromebook Spin 714: Display, audio
IDG / Matthew Smith
Opening the Acer Chromebook Spin 714 reveals a 14-inch touchscreen with a 16:10 aspect ratio and 1,920 x 1,200 resolution. It's not the most attractive display, but it's well-suited to the 2-in-1's purpose.
The display's resolution works out to a pixel density of 161 pixels per inch. That's not high for a 2-in-1 or laptop in 2023, but it's similar to the resolution of a 27-inch 4K monitor. Text, images, and video look crisp and sharp with no obvious pixelation around small fonts. 
Image quality is otherwise fine. Acer sticks with a conventional IPS LCD that delivers mediocre contrast and a modest color gamut. The display looks acceptable on its own but a bit dull if compared to a laptop with a more modern display technology, like OLED. Most such laptops are more expensive, to be fair, but some—like the Asus Zenbook 14X OLED—aren't much more. 
The display is a touchscreen, of course, and can be used to navigate ChromeOS and some Android apps. ChromeOS, like Windows, has struggled to bridge the gap between a desktop, mouse-centric interface and mobile, touch-centric experience. Absolutely nothing about the stock ChromeOS experience encourages users to touch the display—on the contrary, most icons are small and difficult to accurately tap. 
But not everything can be blamed on Google. This is a three-pound 2-in-1 that measures 0.71 inches thick, which means it's awkward to use as a tablet for any length of time. Speaking personally, I only found the touchscreen useful for watching YouTube or Netflix in "tent mode," which folds the keyboard back to use as a display stand. 
Audio quality is mediocre, too, though typical for an inexpensive laptop. The speakers sound weak at maximum volume and lack the low-end oomph to do justice to music or movies. They're fine for podcasts or video calls but otherwise fail to impress. 
Acer Chromebook Spin 714: Webcam, microphone, biometrics
Acer equips the Chromebook Spin 714 with a 1440p webcam that has a physical privacy shutter. Video quality is good with solid sharpness and good color reproduction. The default field-of-view is wide, though, which means a large portion of the room you're in will be visible. That can be inconvenient if you work from home. 
The webcam is paired with a dual-microphone array. It picks up clear, crisp dialogue but seems to struggle with noise rejection. I noticed the hum of a space heater, and even the rustle of my clothes, came through in recorded audio. Some video conferencing apps may reduce this with their own noise-canceling features, but the microphone's lack of filtering could be distracting if left to its own devices.
Biometric log-in isn't supported.
Acer Chromebook Spin 714: Connectivity
IDG / Matthew Smith
Two Thunderbolt 4 / USB-C ports flank the Chromebook Spin 714, one on each side. Both support 65 watts of USB Power Delivery and can be used to charge the 2-in-1 with any USB-C charger that provides enough power. They also support DisplayPort Alternate Mode, so they can be used to connect with a USB-C monitor (or other display, with an appropriate adapter).
These ports are aided by a USB-A 3.0 port, HDMI, and a 3.5mm combo audio jack, which round out the 2-in-1's legacy connectivity. I might've liked an additional USB-A port, but a single USB-A is typical for a modern Chromebook, and the Spin 714's connectivity is excellent overall.
The ports are well-placed, too. All of them are at the rear of the 2-in-1, which helps with cable management when the laptop is connected to peripherals or an external monitor.
Wireless connectivity is strong, with support for the latest Wi-Fi 6E standard and Bluetooth 5.2. Wi-Fi 6E is common among similarly priced Windows laptops and Chromebooks, but inexpensive Chromebooks often lack Wi-Fi 6E. 
Acer Chromebook Spin 714: Performance
The Acer Chromebook Spin 714 is among the most powerful Chromebooks currently available. It has an Intel Core i5-1335U processor, 8GB of memory, and a 256GB PCIe NVMe solid state drive. These are strong specifications for a Chromebook and provide solid benchmark results, but overall performance is mediocre compared to some recent alternatives. 
CrXPRT 2: 151
Speedometer: 107
Basemark Web 3.0: 1194.67
Kraken: 469.9ms
Jetstream 2: 225.876
These figures easily defeat older and less expensive Chromebooks like the Lenovo IdeaPad Slim 3 Chromebook. But newer models like the Asus Chromebook Plus CX34 (which has an AMD Ryzen 3 7230C processor) can provide similar performance at a lower price point.
Frankly, though, I'm not sure it matters. Chromebooks aren't especially demanding by design—they're primarily meant for accessing cloud-based services, after all. The Chromebook Spin 714 flew between applications and easily handled a dozen open browser tabs.
Graphics performance was mixed. The laptop relies on Intel Iris Xe graphics, which is relatively capable for a Chromebook. Most available games are Android titles from the Google Play Store, however, so both performance and stability can be spotty. Fallout Shelter was fine, but Call of Duty crashed to the desktop. Pokemon Unite played smoothly, but it didn't recognize keyboard input, so I had to use the touchscreen to control my character—awkward, to say the least.
Storage is a perk. The fast PCie NVMe drive provides an impressive 256GB. That's gobs for a Chromebook, since there's no storage-heavy apps to install. 
Acer Chromebook Spin 714: Battery life
Acer packs a 42 watt-hour battery in the Chromebook Spin 714. That's not a huge battery for a 14-inch laptop, but it's a respectable size for a Chromebook and powered the 2-in-1 for 11 hours and 46 minutes in CrXPRT's battery life test. 
That's a mediocre result for a Chromebook. The Asus Chromebook Plus CX34 achieved over 12 hours of battery life, the Lenovo IdeaPad Slim 3 hit 16 hours, and Acer's older Chromebook Spin 514 hit 13 hours.
With that said, over 11 hours of battery life is usable, so I doubt most owners will have an issue. I'm also happy to report that real-world battery life was comparable to the benchmark.
Acer Chromebook Spin 714: Should you buy it?
The Acer Chromebook Spin 714 is a decent ChromeOS 2-in-1 that fails to stand out from the crowd. It's attractive, offers an excellent keyboard, and includes plenty of connectivity. Battery life and performance are mid-pack, however, and the laptop's $699.99 MSRP feels a bit steep for the hardware on tap. In fact, I actually prefer Acer's older Chromebook Spin 514, which has a larger touchpad and longer battery life, over this model. There's nothing particularly wrong with the Spin 714, but nothing particularly right, either.