A quality monitor arm is one of the best upgrades you can make to your home office setup. Not only do monitor arms provide you with a lot more options to move and position your display/s around your desk, but they also free up space on your desk surface, leaving it open for other use. Plus, they help your setup look sharp, too.
There is only one catch: the price. Most monitor arms worth buying are close to $200, and heavy-duty arms are even pricier. It's important to buy the right monitor arm the first time so you're left feeling like you got your money's worth. To that end I put several popular monitor arms through their paces. Below you'll find a list I've curated, highlighting the winners and those that stood out the most.
Further reading: See our roundups of the best monitors and best home office monitors for display recommendations.
Ergotron LX – Best monitor arm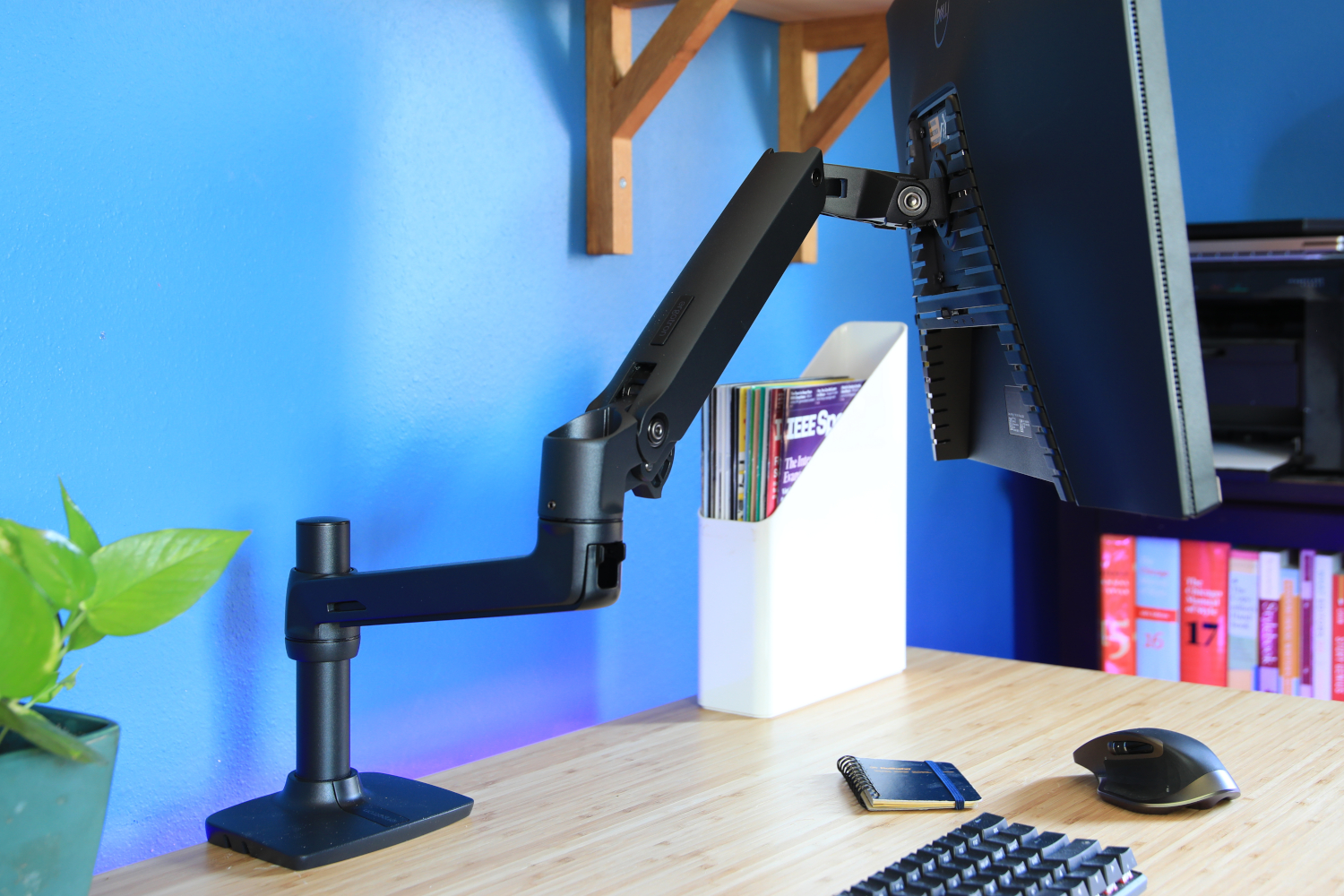 Price When Reviewed:

$172.33
The Ergotron LX is a sturdy, practical monitor arm that can handle most monitors. It's easy to set up, easy to use, and (when purchased in its white or polished aluminum colorway) attractive.
Ergotron positions the LX as an entry-level monitor arm, but the company's definition of "entry level" exceeds most competitors. The arm is primarily constructed from metal, with some plastic cladding, and can support monitors that weigh up to 25 pounds. Ergotron recommends sticking to monitors 34 inches wide or smaller. The monitor arm is backed by a 10-year warranty.
The arm has a healthy range of adjustment that includes 13 inches of lift, 75 degrees of tilt, 360 degrees of rotation, and 360 degrees of pan (or swivel). While not as smooth as the Herman Miller Flo, I was able to adjust the monitor arm left, right, forward, and back without standing.
Setup is simple. The monitor has an included clamp and grommet mount. Installation is mostly handled with a bundled Allen wrench, though you'll still need a Philips head screwdriver to attach your monitor to the VESA mount. Most owners will be able to install smaller monitors (24 to 27 inches) alone, but help is recommended for larger displays.
Ergotron also avoids any serious flaws. I have a few nitpicks, sure. I think the clamp could be smaller. The white colorway doesn't have a color coordinated VESA mount. And the arm's overall design looks a bit industrial. Still, this is a bomb-proof mount, and it's available under $200.  
Herman Miller Flo – Best upscale monitor arm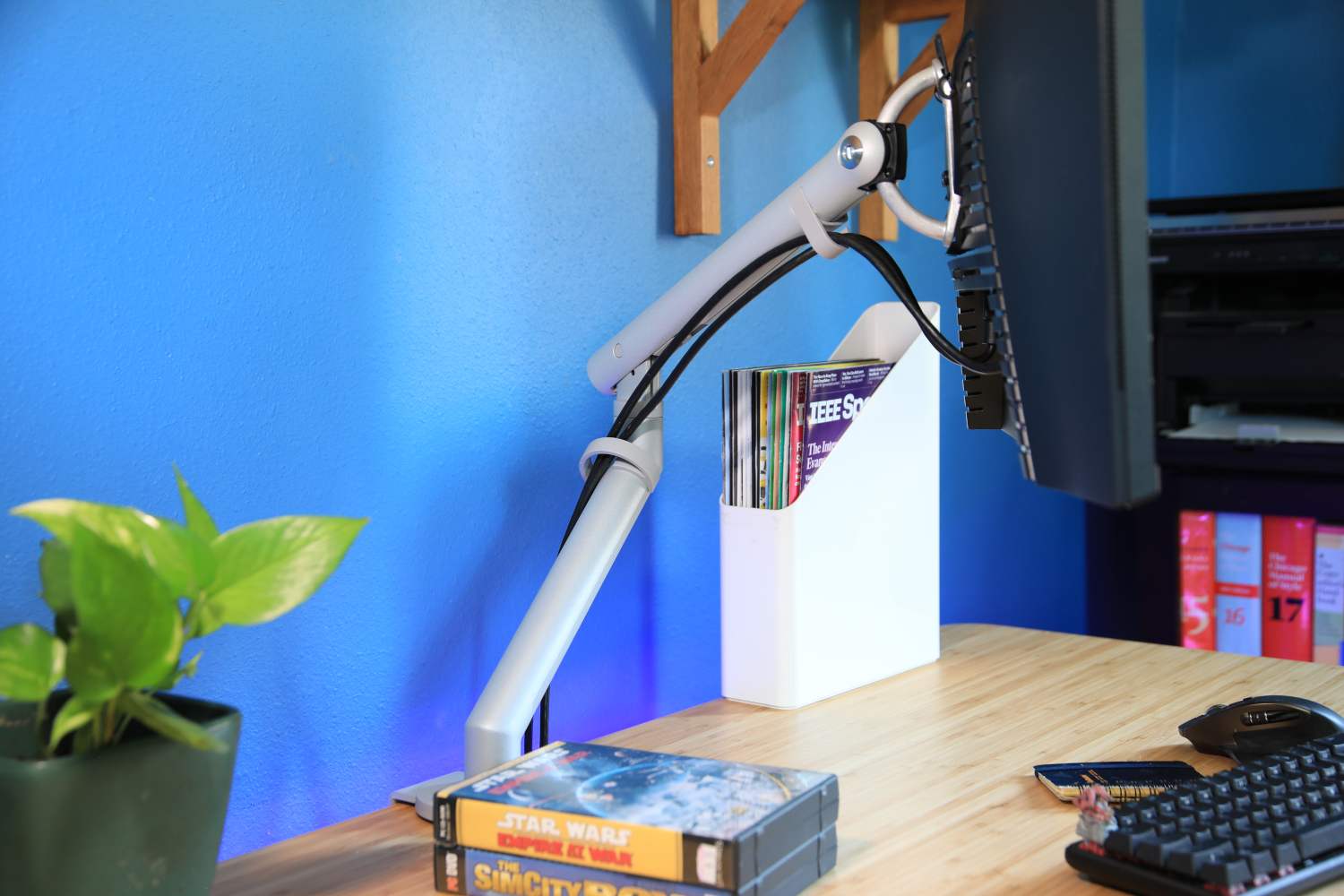 Price When Reviewed:

$295.00
Want a monitor arm that gets the job done and looks good doing it? The Herman Miller Flo is for you.
The Flo's design sets it apart from the pack. Herman Miller ditches the angular, industrial design of many competitors for a smooth, natural look. While clearly designed for a corporate office, it also fits in with a home office setup, where its friendly, approachable look helps it blend in with its surroundings. The Flo is backed by a 12-year warranty and offers 24/7 customer service.
It's easy to set up and use. The monitor's clamp works similarly to other monitor arms I tested, but it's more refined and requires fewer screws (a grommet is also available). The VESA mount is also excellent, providing a simple clip design that's secure and can be easily pre-mounted to a monitor for simple installation. The way this mount works accommodates monitors that have a slightly recessed mount position, which may cause problems for other monitor arms.
The monitor's range of adjustment isn't much different from other high-end monitor arms. It offers 13.3 inches of vertical adjustment, 80 degrees of tilt, and 360 degrees of swivel and rotation. That's essentially identical to the less expensive Ergotron LX. The Flo's operation is smoother, however: I found I could adjust a monitor's height with a mere nudge.
Surprisingly, the Flo has a listed weight limit of 20 pounds and recommends use with monitors weighing at least 7 pounds. Most monitors fit within this range, but some heavier models won't be compatible with the Flo.
Herman Miller lists the Flo at $295, which is a lot to ask for a single-monitor arm. The Ergotron LX offers similar features at a much lower price. However, the Flo is a smoother, more appealing monitor arm, and worth the upgrade if you want form with your function.
Ergotron HX – Best heavy-duty monitor arm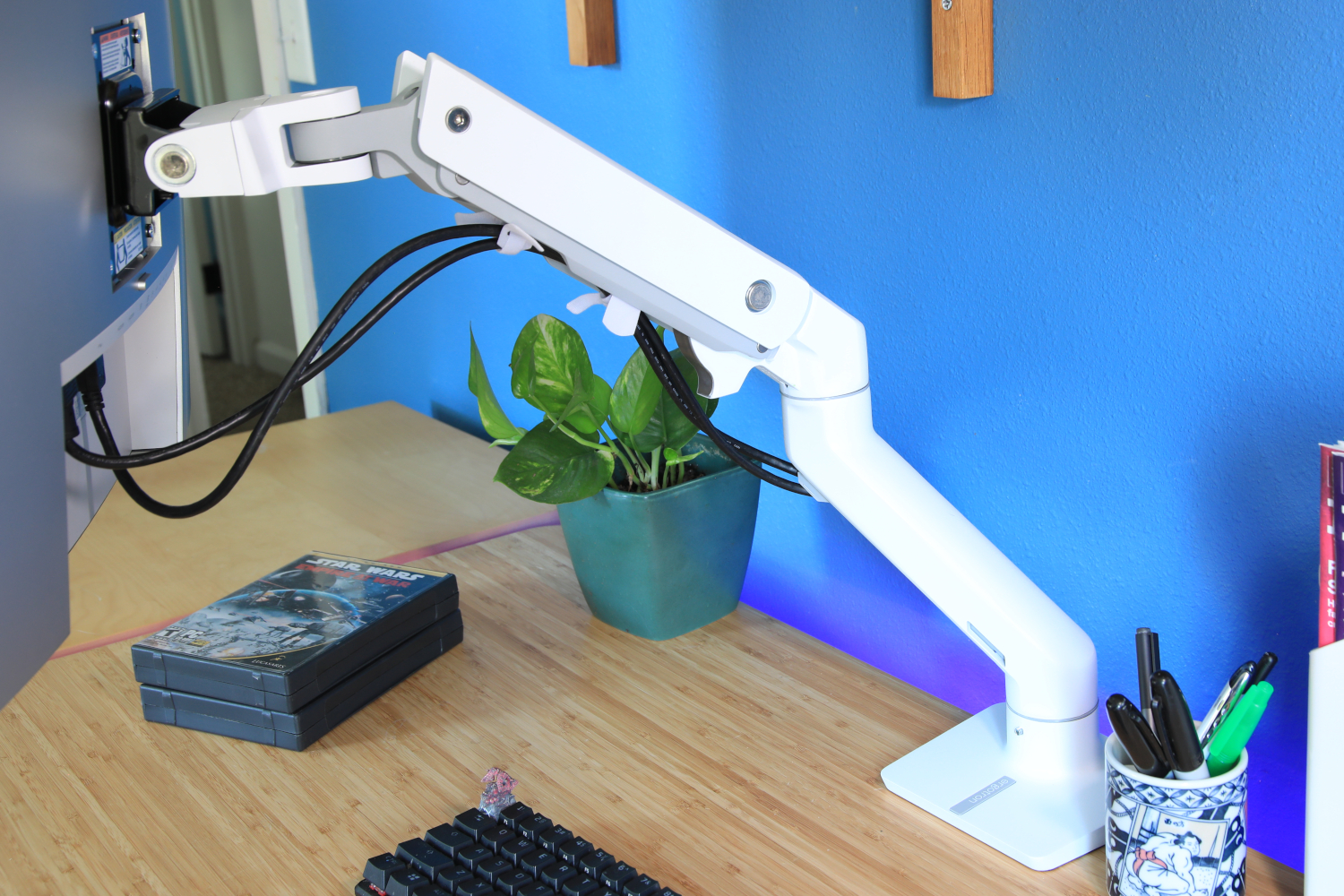 Price When Reviewed:

$345.00
It's natural, given the only slight difference in name, to think the Ergotron HX is merely an uprated version of the Ergotron LX. That's not the case. This is an entirely different monitor arm which pairs its increased capacity with improved build quality and a more professional look.
First, let's talk weight. The Ergotron HX is rated to hold monitors that weigh up to 42 pounds and screen sizes up to 49 inches. That's an extraordinarily high weight limit—I haven't reviewed a single monitor in 2023 that exceeds it. I attached both a 32-inch widescreen and 38-inch ultrawide monitor, which weighed roughly 15 and 20 pounds, respectively, and the HX easily handled both.
The use of plastic is minimal and reserved for small portions of cladding that appear used only for cable routing. The arm's moving parts include larger, sturdier mechanisms, and felt extremely smooth in my use. Ergotron backs the arm with a 10-year warranty.
The monitors range of adjustment is a bit limited compared to the LX. It offers 11.5 inches of height, 75 degrees of tilt, 180 degrees of swivel, and 360 degrees of rotation. However, a somewhat more limited height adjustment is typical in this category due to the size of monitors these stands are expected to carry.
The monitor arm's impressive design also provides a more robust look. This could be a con for some, however, as the arm can seem a bit…much in a home office setup. It's an expensive arm, as well. Expect to pay about $350.
The Ergotron HX is an obvious choice if you want to mount an ultrawide, super-ultrawide, or large format widescreen monitor on your desk.
Workstream by Monoprice – Best budget monitor arm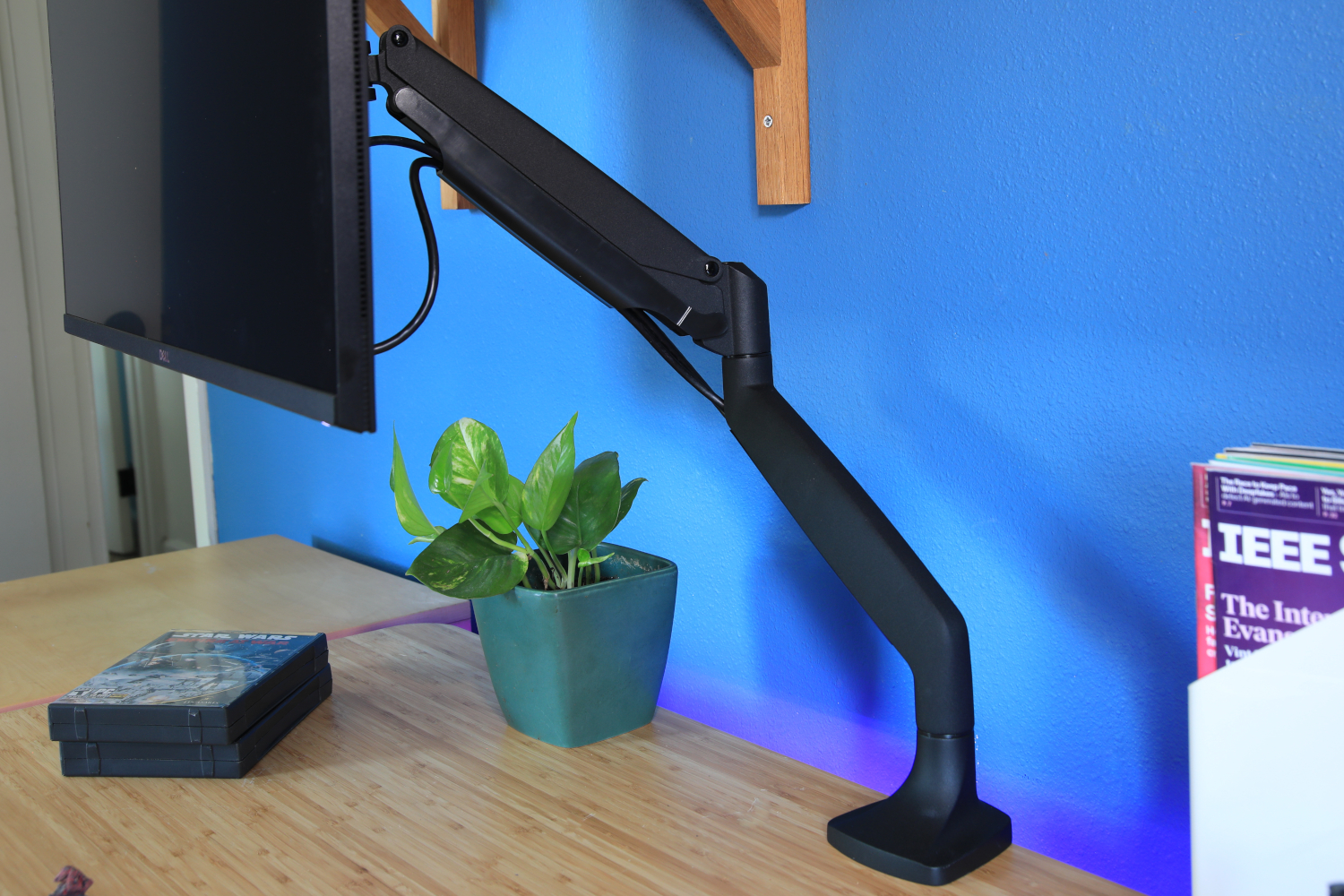 Price When Reviewed:

$59.99
The Workstream by Monoprice single monitor arm is a no-frills solution that delivers basic monitor arm features at an exceptionally low price.
The monitor arm has an all-metal construction that in some ways feels sturdier than the Ergotron LX, as the Workstream doesn't include as much plastic cladding. It's not entirely a win, though, as the plastic that exists feels frail (and I even broke a small, though unnoticeable, bit while adjusting the monitor).
It provides a good range of adjustment, with 13.2 inches of height and 90 degrees of tilt, swivel, and rotation. The arm's height and tilt adjustment are comparable to others on this list, but it can't swivel in a full circle, which may prove annoying if you frequently move a monitor arm to share your screen with colleagues.
The Workstream's slim budget is felt in its difficult setup and stiff operation. Users will need to install several screws for a clamp or gromet mount. More screws may need to be adjusted once the arm is in place, as its default tension proved inadequate for supporting a 32-inch monitor.
Monoprice lists the monitor as capable of supporting 20 pounds, but I felt the 32-inch monitor (which weighed 15 pounds) was pushing the Workstream to its limits. Monoprice also skimps on the warranty, offering just one year of coverage.
These flaws are easily excused by the Workstream's $60 price tag. It's clearly less capable, less attractive, and more difficult to use than Ergotron's LX, but it offers a good range of adjustment and durable construction for less than half the price. It's an ideal choice for shoppers on a tight budget, as well as those who plan to install a small, light 24-inch or 27-inch monitor.
Ergotron LX Dual Monitor Arm – Best dual monitor arm
Price When Reviewed:

$356.41
Two monitors are always better than one, and the same goes for monitor arms. It's no surprise, then, that Ergotron's LX Side-by-Side ranks as our best dual monitor arm. The Ergotron LX Side-by-Side pairs two LX monitor arms together on one mount. The look, feel, and specifications of each arm are close to its standalone sibling.
Monitor size is one exception: While the standard LX is rated for monitors up to 34 inches, the Side-by-Side's arm is only rated for monitors up to 27 inches. The monitor arms aren't long enough to fit two 32-inch or 34-inch monitors side-by-side. Vertical arrangements are also supported, though only if one of the two monitors is small (less than 23 inches diagonal).
Look and feel is otherwise similar to the standard Ergotron LX, and that's why the dual monitor arm also earns a recommendation. The dual-monitor arm provides the same winning balance of build quality, adjustability, and smooth operation, and it's backed by the same 10-year warranty.  Pricing is a bit higher at $330, which is a slight savings compared to buying two LX arms individually.
Workstream by Monoprice Dual Monitor Arm – Best budget dual monitor arm
Price When Reviewed:

$99.99
The same logic that applies to our favorite dual monitor arm also to the budget model, giving Monoprice's Workstream Dual Monitor Arm a clear path to victory.
In fact, the dual arm's pricing is even more impressive. The Workstream Dual Monitor is four times less expensive than the Ergotron LX Side-by-Side. I'm a bit shocked by the quality Monoprice can offer at a $100 price point. Ergotron's alternative is more attractive and easier to use, but is it four times better? That's a tough call.
The Workstream's downsides are identical to standard model. Build quality is impressive for the price, but the arm is difficult to set up and not as smooth in operation. I'm also doubtful the arm is capable of handling two 20-pound monitors, as its spec sheets claim. Fortunately, 27-inch monitors (the largest this arm can handle side-by-side) usually weigh less than 10 pounds, so weight capacity shouldn't be an issue.
What to look for in a monitor arm
Purchasing a monitor arm is a bit different from purchasing most home office gear. A monitor arm, unlike a monitor, is a hefty, durable piece of equipment that never really goes obsolete. It must also support the specific functions you want out of the box, since upgrades and customization tend to be limited.
Adjustability and range of motion
The range of adjustability and motion a monitor arm can offer is a critical but often overlooked feature. A monitor arm should adjust for height, tilt, swivel, and pivot—and it should do so without tools.
All the monitor arms we recommend meet this standard, but some differences remain. Only some monitor arms provide 360 degrees of swivel, meaning the neck of the monitor arm can be rotated to any position. That's handy if your desk is in the middle of your room since you can use the monitor from various positions.
Most inexpensive monitor arms ditch adjustability and stick with simple tension mechanisms that are secured by a screw. It's inexpensive but fixes the monitor's position in place once it's adjusted. We recommend avoiding mounts that use this strategy.
Ease of installation and adjustment
None of the monitor arms tested were difficult to install, but the difference between budget and premium models was clear. Budget models require more screws to install, and the default tension of the arm's adjustment mechanism is less likely to be suitable out-of-the-box.
The ease of adjustment varies greatly, too. All the monitor arms we surveyed require an Allen wrench to adjust tension (which is necessary if the arm seems too stiff or loose), but some were much more difficult than others. The Herman Miller Flo felt smooth and effortless, while the Workstream by Monoprice required serious torque.
Cable management
Proper cable management is important if you value a clean, clutter-free desk.
This is one aspect of design that didn't improve with pricing. The Herman Miller Flo's cable management was basic, while the Workstream by Monoprice hid cables well. This did come with a trade-off, though, as the Flo's seemed least likely to cause cables to bind while moving the monitor.
While cable management is useful, none of the monitor arms I tested can handle the full complement of cables that might be attached to a high-end USB-C monitor (like the Dell U3223QE). This is an aspect of monitor arm design that manufacturers could improve.
Maximum supported size and weight
It's important to buy a monitor arm that can handle the monitor you own.
This won't be a major concern if you own a 24-inch or 27-inch monitor, as most such monitors weigh 10 pounds or less. With that said, it's wise to double-check the monitor's weight before buying a monitor arm. Remember the monitor's weight can exclude its stand. Larger 32-inch, 34-inch, and 49-inch monitors are more difficult to handle and may require an upgrade to a "heavy duty" monitor arm.
Monitor size limits should be respected as well. It might be possible to attach a 40-inch monitor to an arm meant for a 32-inch monitor. The 40-inch monitor may even come within the arm's weight limit. A larger monitor will distribute weight differently, however, which could cause an arm's tension mechanism to fail.
How we test monitor arms
Every monitor arm we recommend was personally tested first-hand at a PC World contributor's home or the PC World office. We examine the quality, ease of installation, and range of adjustment of each arm to verify it meets the manufacturer's claims. The monitors we use to test arms can vary over time, but generally include at least one 27-inch and one 32-inch widescreen monitor. Monitor arms rated for "heavy duty" use were tested with at least one monitor that weighs 20 pounds or more.
FAQ
---
1.
Is a monitor arm worth it?
Whether a monitor arm is worth the price is subjective, but we believe our recommended monitor arms are worth making the investment. A monitor arm is easier to use than a stand, allows a wider range of adjustment, and keeps your desk clear of clutter. They're also durable—there's a good chance you'll replace a monitor before the monitor arm.
2.
Are monitor arms compatible with my monitor?
Nearly all monitors, and nearly all monitor arms, use the VESA mounting standard. The 100x100mm bolt pattern is by far the most common, though 75x75mm is sometimes used as an alternative. All the monitor arms we recommend support both bolt patterns.
Not sure that your monitor supports VESA? Check the rear of the monitor. The VESA mount can be found in the center of the monitor, and the bolt pattern can be verified with a ruler or tape measure. This is likely beneath the neck of your monitor's stand if you have one attached.
It's possible to mount a monitor that lacks a VESA mount, but you'll need to purchase a VESA adapter. It's a large, X-shaped device that clamps to the rear of the monitor.
3.
Are monitor arms compatible with my desk?
Most monitor arms offer two mounting options: clamp and gromet.
A clamp mount is the most common for home office use. A U-shaped clamp fits over an edge of your desk. A screw mechanism is used to secure it. Most clamps are adjusted by hand and fit a wide range of desks. It's important to double-check a monitor arm's specifications if your desk is more than an inch thick, as some clamp mounts are too small to work with a thick desk surface. The clamp also requires an edge that's free of obstructions on both the top and bottom of the desk.
Grommet mounts insert into the circular cut-outs found on many desks built and sold for corporate offices. A grommet mount is also a form of clamp, but size of the mechanism is different, and the mount attaches the monitor to the interior of the desk instead of an exterior edge.
Nearly all monitor arms ship with a clamp and grommet mount, but grommet mounts are less common. It's wise to double-check that a grommet mount is supported if that's how you plan to mount the monitor arm.
4.
Will a monitor arm damage my desk?
It's possible that a monitor arm's clamp mount, if used, will cause minor damage to your desk. It may scratch the desk's surface when mounted or removed, and over-torquing the clamp might cause a dent on some softer desks, such as those which use a veneer over particleboard. A glass desk can also prove troublesome—refer to the desk's manufacturer to make sure it's safe to use a monitor arm.
5.
Do monitor arms wobble?
A quality monitor arm will tame minimal monitor wobble, though some might come through if the arm is mounted to a thin, light desk. Make sure to mount the monitor arm to a secure surface and adjust the arm's tension to a level suitable for the monitor you've mounted.
6.
Should I buy a $25 monitor arm on Amazon?
A monitor arm's price tag can intimidate budget shoppers. Most budget monitors sell for $200 or less. Spending another $150 to $300 for a monitor arm can seem hard to justify.
Still, we encourage shoppers to avoid cheap monitor arms found on Amazon and other retailers. The least expensive monitor arms lack a dynamic tension mechanism, like a gas piston or spring. A few arms in the $35 to $50 range use a gas piston, but it's often a wimpy example barely sufficient for holding a 27-inch monitor.
Inexpensive monitor arms also lean more heavily on plastic. That's not necessarily a problem out-of-the-box, but plastic tends to become brittle over time, which may reduce the lifespan of a monitor arm.