For over 30 years, Tempur-Pedic has reigned supreme as one of the best mattress brands in the world – and that's reflected in its premium pricing and lack of regular sales. The Tempur-Adapt is Tempur-Pedic's mid-range model, and I had the chance to test it earlier this year. Do I think you should buy it during Black Friday? Well, that depends.
While Black Friday mattress sales are one of the few opportunities to snag a Tempur-Pedic deal, proceed with caution. Trust me – you don't want to buy based on discounts and brand reputation alone. The Tempur-Pedic Tempur-Adapt is an excellent mattress, but it isn't for everyone – honestly, it wasn't even the perfect match for me. 
As a seasoned product tester who's been through more beds than Goldilocks, here's what I'd like you to know about the Tempur-Adapt mattress if you're thinking of buying it in the forthcoming Black Friday deals event… 
What it feels like to sleep on a Tempur-Adapt
For three weeks in January of this year, I slept on a twin size Tempur-Pedic Tempur-Adapt mattress. What follows is a snapshot of my experience as an average-sized combi (side and stomach) sleeper with lower back pain – but for all of the gritty details, check out my complete Tempur-Pedic Tempur-Adapt mattress review.
Back sleepers are most likely to enjoy the Tempur-Adapt. This medium-firm (7.5) mattress delivered exceptional pressure relief and equal weight distribution when my fellow testers and I lay on our backs. It felt great for my achy lower lumbar so I recommend it if you're seeking a mattress for back pain. It's also a serviceable mattress for stomach sleepers – I personally didn't feel that dreaded dip in my hips.
On the other hand, side sleepers may have a hard time settling into the Tempur-Adapt. As a dominant side sleeper myself, I found it didn't give enough along my shoulder, and another side-sleeping tester felt her hips sinking below her body. If you favor your side at night, pass on this one and check out our Helix Midnight mattress review instead – we think it's the best mattress for side sleepers.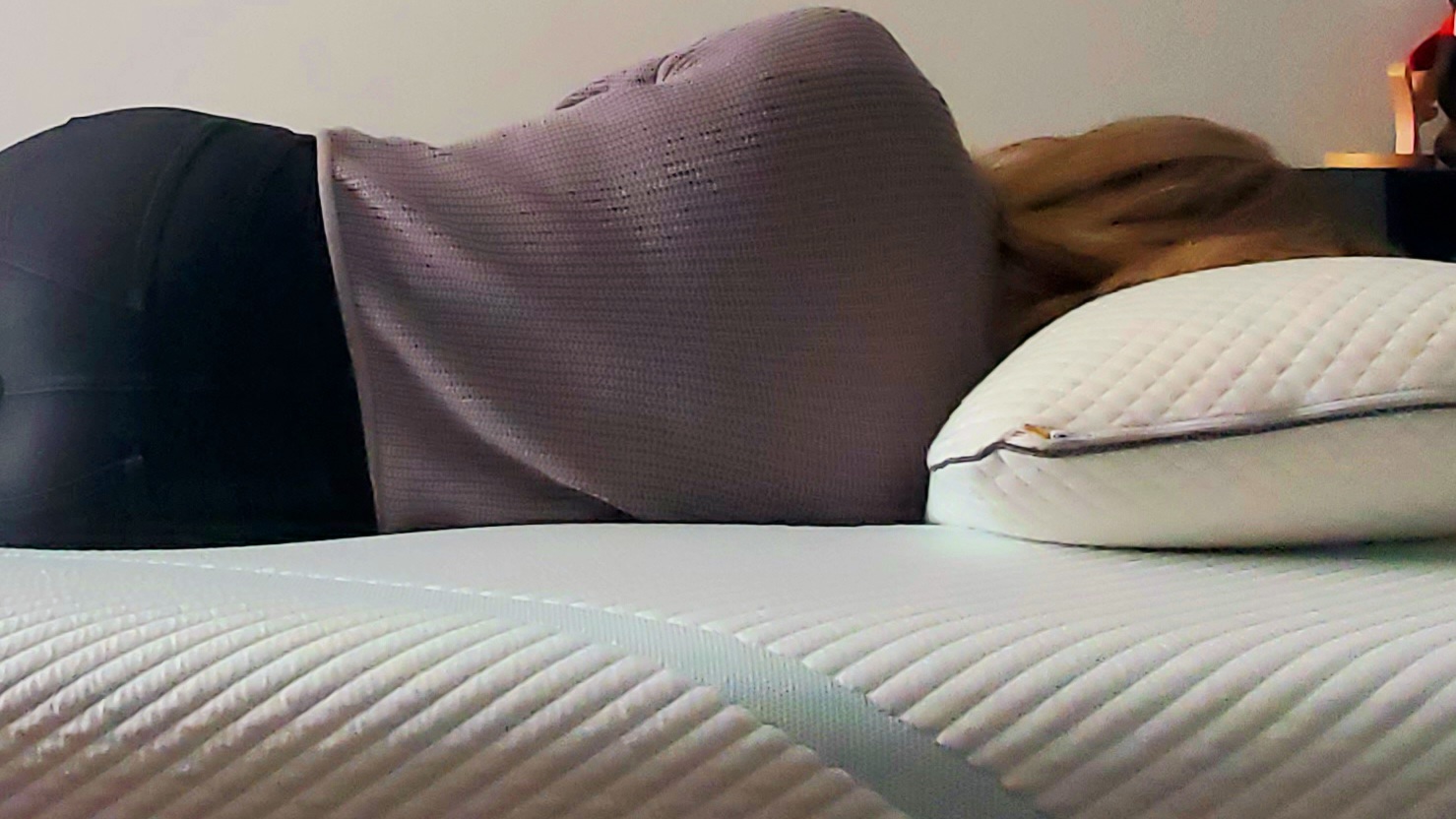 Obviously, I sleep alone but I was able to test the motion isolation of the Tempur-Adapt with a 10lb weight and an empty wine glass. Couples, you won't have to worry about being disturbed by your partner's fidgeting or vice versa – the Tempur-Adapt does a stellar job of absorbing movement.
Edge support is above-average for a memory foam mattress. You could opt for the medium hybrid version of the Tempur-Adapt, which adds a layer of coils for sturdier sides and corners. This will also yield a more responsive feel – which could diminish the Tempur-Adapt's exceptional motion isolation.
My biggest grievance with the Tempur-Adapt is its temperature regulation – or rather, lack thereof. Although the top cover feels cool to the touch, the Tempur material on its own does a poor job of wicking away heat. I woke up in a puddle of sweat several times during one of the coldest times of the year. If you're even slightly heat-sensitive, consider a proper cooling mattress instead.
3 reasons to buy the Tempur-Adapt on Black Friday
You may find a screaming deal for a Tempur-Adapt but don't pounce on it until you're certain it's the right fit for your sleep needs. Here are three reasons you should consider buying the Tempur-Adapt on Black Friday:
1. Back and stomach sleepers will rejoice
Among my testing panel, back sleepers were the biggest fans of medium-firm Tempur-Adapt for its perfect blend of top-notch pressure relief and full-body support. Similarly, the stomach sleepers in my group enjoyed a balanced feel along their hips and torso.
2. You'll forget you share a bed with a fidgety partner
The Tempur-Adapt boasts some of the best motion isolation I've ever experienced. Granted, I could only rely on my drop tests to showcase this, but the results were convincing. Tempur Material overall is heralded for its outstanding ability to isolate movement, and plenty of Tempur-Pedic customers can vouch for that.
3. It's Tempur's legendary pressure relief at a reasonable price
While the Tempur-Adapt is very much a luxury mattress, a slight dip in MSRPs combined with occasional sales puts it on more equal footing with rivals like Saatva. Among Tempur-Pedic models, the Tempur-Adapt is consistently the most affordable option, outside of the Tempur-Cloud mattress in a box.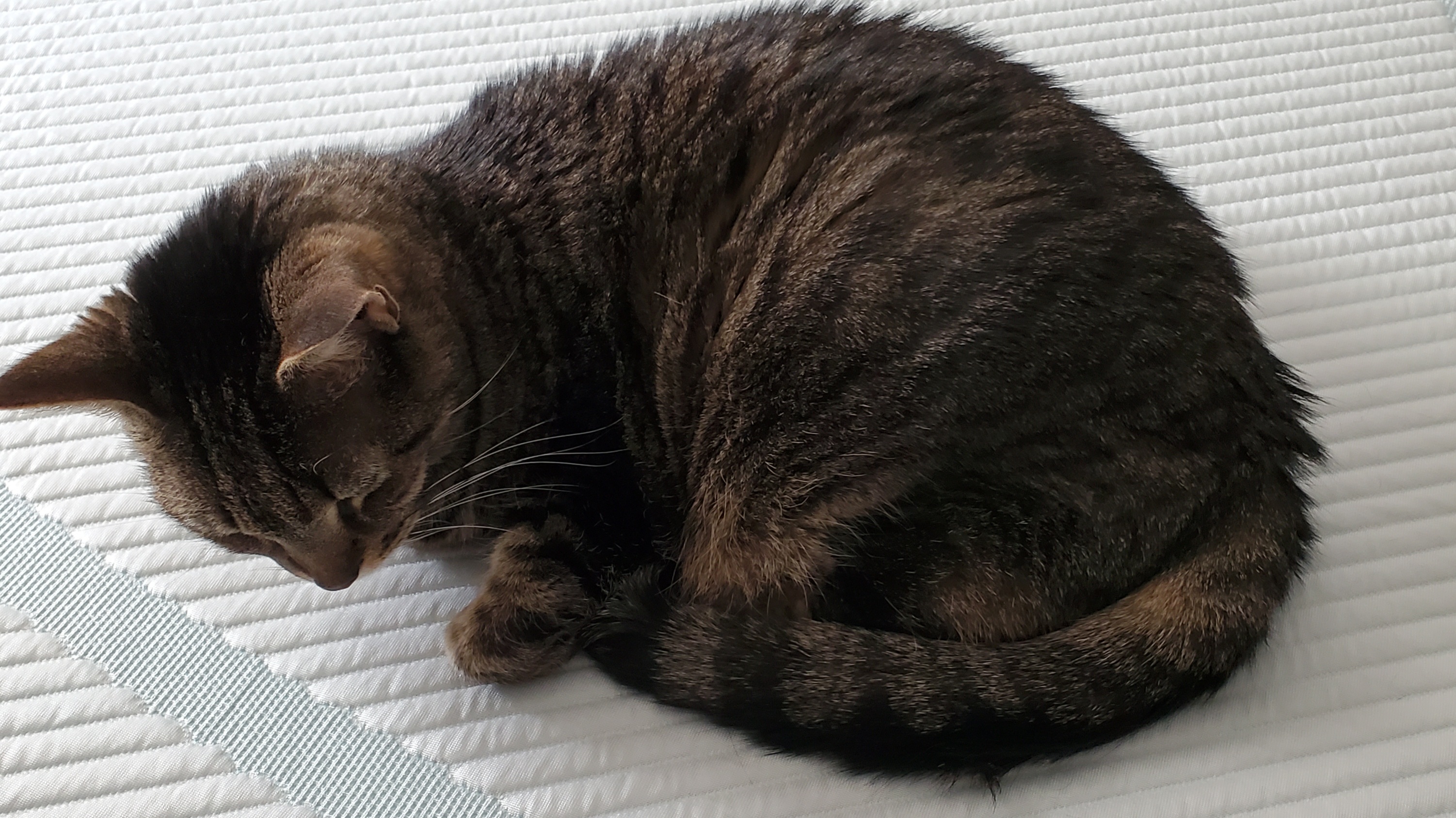 3 reasons not to buy the Tempur-Adapt on Black Friday
The Tempur-Adapt won't appeal to everyone. Here are three reasons why you shouldn't buy the Tempur-Adapt mattress on Black Friday:
1. Hot sleepers won't be able to take the heat
The cooling fibers in the Tempur-Adapt's cover didn't keep me cool for very long. Unless you're willing to invest in specialty bedding to enhance the Tempur Material's adaptive cooling, give this one a pass. 
The Tempur-Breeze line of cooling beds starts at an eye-watering $4,100. If you're not willing to drop that kind of money on a mattress, head over to my Nectar Premier Copper mattress review.
2. Side sleepers will have a hard time getting comfy
As a dominant side sleeper, the Tempur-Adapt lacked give along my shoulder. Another side sleeper in my testing group said it was too soft along the middle, causing her hips to sink. 
Suffice it to say, the medium-firm Tempur-Adapt will be less of a crowd-pleaser for side sleepers. Instead, seek a plusher mattress or a firmer bed with a better balance of comfort and support for side sleepers – as you'll find in my Awara Natural Hybrid mattress review. 
3. The amenities are paltry compared to other brands
Aside from in-home delivery and free disposal of your old mattress, the Tempur-Pedic's extras are rather basic: a 10-year warranty and a 90-night trial. By comparison, Saatva includes a full year to trial its mattresses and a forever warranty, along with free white-glove delivery. Even mid-range brands like Nectar and DreamCloud offer longer warranty and trial periods. 
Where to find Tempur-Adapt Black Friday deals
Tempur-Pedic mattresses are available at a broad range of retailers – Amazon, Mattress Firm, and Pottery Barn to name a few. However, your best bet is to head straight to the source as most sellers will follow Tempur-Pedic's pricing conventions anyway. As a general rule of thumb, we recommend buying from the manufacturer for the best aftercare – but on the flip side, shopping around could potentially land you a better deal, quicker shipping, or help you find stock if Tempur-Pedic sells out.
Tempur-Pedic doesn't offer regular sales outside of major holidays. The standard deal is $300 off its Tempur-Adapt range – a discount we spotted last Black Friday and will likely see again for 2023. Stay ahead of the game and bookmark our Tempur-Pedic mattress sales hub to be among the first to snag a deal when its Black Friday specials go live.