At a Glance
Expert's Rating
Pros
Good option for streaming
Better than average overall speeds
Lots of power user options for customization
Free version available
Cons
Third-party audit not updated since 2015
Speeds were inconsistent in our tests
Not the easiest VPN for beginners
Our Verdict
Hide.me comes with a wide variety of features that can be tweaked making it a good option for those looking to customize their VPN experience. It also has good overall speeds and a handy free version. Some minor interface snags and speed inconsistencies hold it back a bit though.
Price When Reviewed
$9.95 per month | $15 for 3 months | $49 for 17 months
Best Prices Today: Hide.me
Hide.me VPN in brief:
P2P allowed: Yes
Unlimited device connections: No, 10 simultaneous device connections
Business location: Malaysia
Number of servers: 2,300+
Number of country locations: 85
Cost: $9.95 per month, or $49.99 for 17 months
Hide.me from Malaysia-based eVenture Ltd. is a VPN that might not have the name recognition of today's most popular services, but it packs just as many features. It has slowly expanded its networks in recent years to encompass more locations, and add more servers. 
Since our last review, Hide.me has added even more servers and almost doubled its country locations. It has also decreased the price on its longer-term subscriptions and added a few additional power-user features. So, with all of these advances let's take another look and see where it stands in the current VPN market.
What are Hide.me's features & services?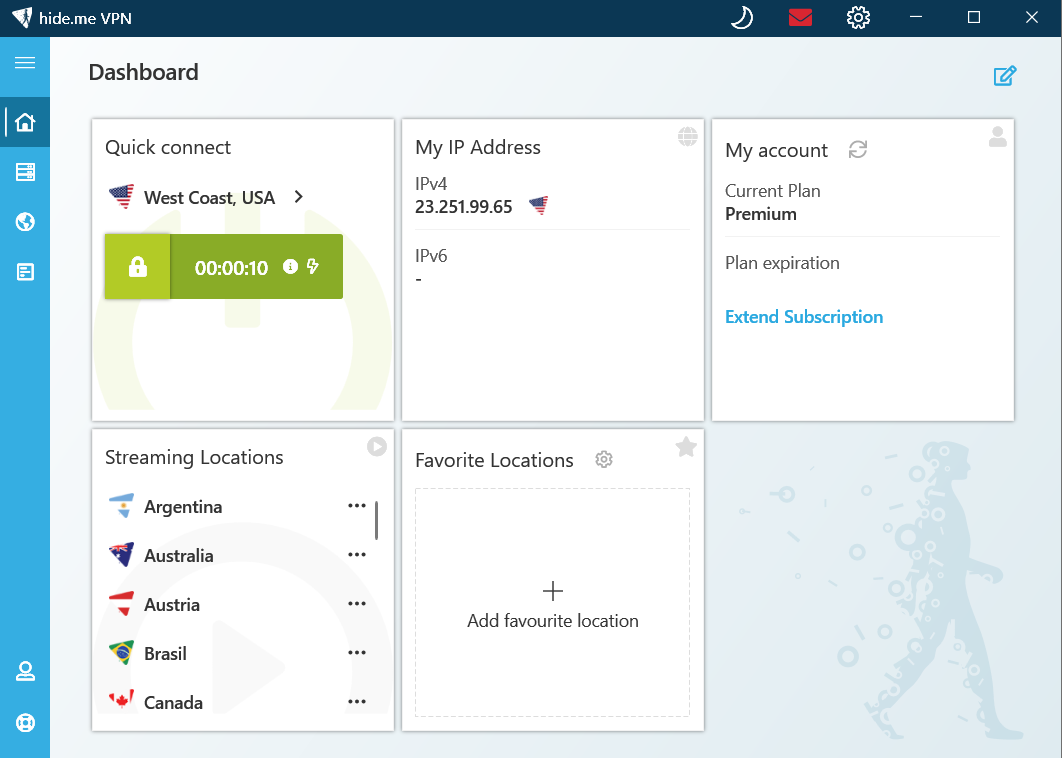 Sam Singleton
Since our last review of Hide.me, it has changed up its interface quite a bit. Now when you open up the application you're confronted with a dashboard that shows some relevant information such as a Quick connect button that will connect to the last used server, information on your IP Address, Account information, a list of streaming optimized servers, and a list of your Favorite Locations. 
Furthermore, all of these widgets are movable and interchangeable as well, meaning you can customize the look to only display the info you need. This is a welcomed change of pace from the more simplistic home screen of old that only displayed an Enable/Disable button in the center. 
On the left sidebar you have additional tabs for Locations, Map, and Features, as well as Your Account, and Support. The Locations tab displays a searchable list of all available Hide.me server locations with especially fast 10G servers tagged with an icon next to the server name. Along the top you can filter through all servers, those optimized for streaming, or Multi Hop servers as well. For those who are more spatially inclined, the Map tab displays the physical location of all of these servers on a world map instead.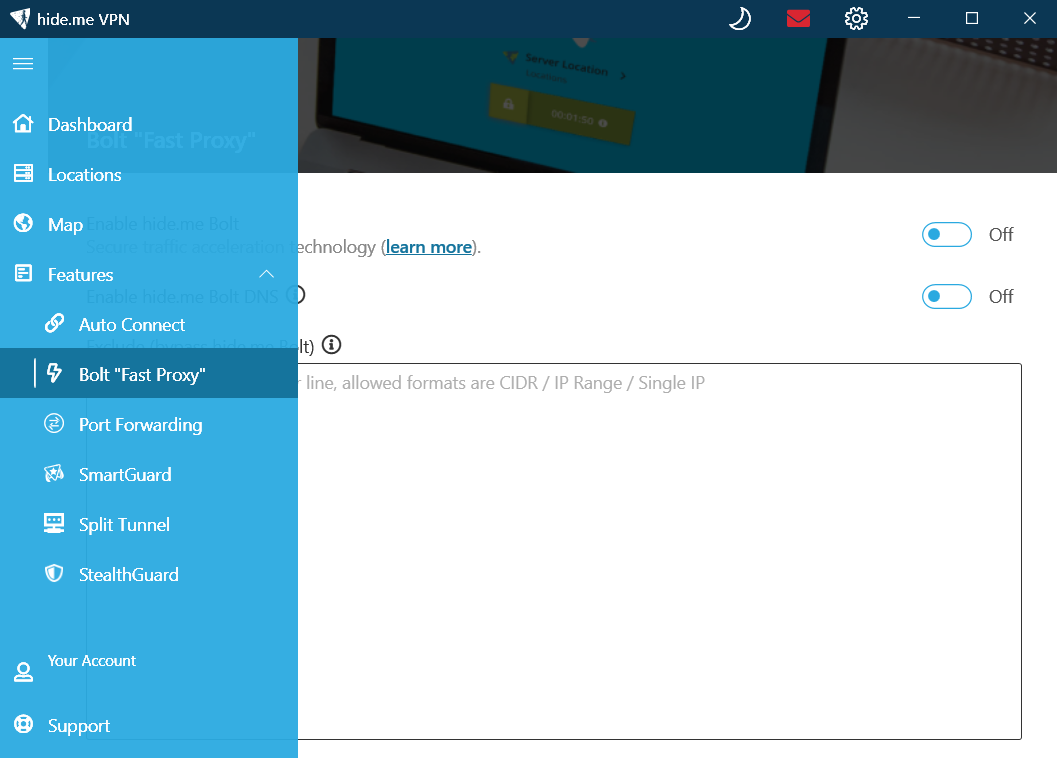 Sam Singleton
The Features tab is where Hide.me really shines—there's a lot here. There are the usual options to launch on system startup, connect automatically, and so on. It also introduced a feature called Bolt "Fast Proxy" which optimizes internet speed performance over an OpenVPN connection. Theoretically, this should lead to huge speed increases, particularly in Windows—I personally didn't notice much of a difference during my testing.
There is also an option to set up Split Tunneling and its own complementary proprietary firewall feature called Stealth Guard. This can be used to limit either an app or your entire internet unless a Hide.me VPN connection is present, thereby eliminating IP address leaks should your connection falter. There is also a separate Kill Switch feature available as well under the settings menu.
Hide.me even offers more unconventional tools such as port forwarding and protection from DNS, IP, and IPv6 leaks. Like I said, this service has a lot of features. Add to that the vast array of protocols available and the option to use custom DNS and it quickly becomes apparent that Hide.me is a power user's dream.
With all of that being said, due to the sheer amount of available features and the maze of menus you need to work through to tweak all of them, this service probably isn't for beginners—or the faint of heart. I personally found navigating the app a bit disorienting. I do like the recent revamp to its older simplistic interface, but I can't help but think that it went too far in the opposite direction. It's a minor gripe though and figuring out the menu system is only a matter of spending some time in the application itself.
Hide.me is available for Windows, Mac, Linux, Android, and iOS, as well as some consoles and smart TVs. There are also browser add-ons for Chrome and Firefox that come with support for the SOCKS proxy. 
Finally, it's worth noting that Hide.me has a handy free version that provides all of the great security features of its premium counterpart. The only downside is that you're limited to 10GB per month and it only provides access to 8 of its servers. Due to these limitations, I don't recommend using the free version to stream, but it's a great way to browse securely or just to try out the service to see how you like it.
How is Hide.me's performance?
In order to test Hide.me's performance, I rated connection speeds across its servers in five different countries all around the world for multiple days and then compared them to my baseline internet speed. Across all locations tested, the speeds averaged just over 31 percent of the base download speed and 67 percent of the base upload speed. That's okay, but short of our list of the fastest VPNs.
Within that aggregate, however, were some truly incredible speeds. I just found they weren't consistent. It was quite common for each location to show some great relative speeds one day and then fall off completely the following day. I also found that the drop in speed was quite significant the further the Hide.me server was from my physical location. This is of course not uncommon as distance tends to affect ping, but it was so drastic in some instances it caught me a bit by surprise.
Please note however that online speeds can vary wildly in pure Mbps tests from day to day and even hour to hour. It's best to take any and all speed tests with a grain of salt. Your experience with Hide.me may differ from those in the tests for this review.
Despite all of this, however, I never really ran into any major problems with using the service to stream video or download files. Therefore, I'm confident that Hide.me has enough speed to take care of just about anything you need to do over a VPN connection.
In regards to streaming, Hide.me performed admirably. Every optimized streaming server I connected to was able to access streaming sites such as Netflix and Amazon Prime. I even tested its non-optimized servers and they had no issues as well. Due to the inconsistent speeds though I did find that my video tended to drop in quality for very brief periods of time. Still, Hide.me should serve you well for streaming and getting around region blocks.
How is Hide.me's security and privacy?
Hide.me
Hide.me has a very thorough privacy policy on its website. It states that it does not track your activity when you're connected to the VPN. It doesn't keep connection logs or store IP addresses. The company does, however, keep troubleshooting logs that include a randomly generated username and an internally assigned IP address for each user. The troubleshooting logs are erased every few hours, according to the privacy policy. Additionally, it logs monthly data traffic amounts for quality assurance purposes.
The company did pass an independent security audit of its 'No-log' policy by Defense Code Ltd., but that was in 2015. Unfortunately, a more recent audit has not been completed since that time. The fact that it was one of the first VPN services to undergo an independent audit shows that it takes privacy seriously. However, seeing as how many VPNs are now undergoing audits every year or two, an updated version would go a long way towards assuring users that Hide.me is continuing its privacy commitments. Having said that, it does publish annual "Transparency reports" detailing all data requests the company has received in a given year.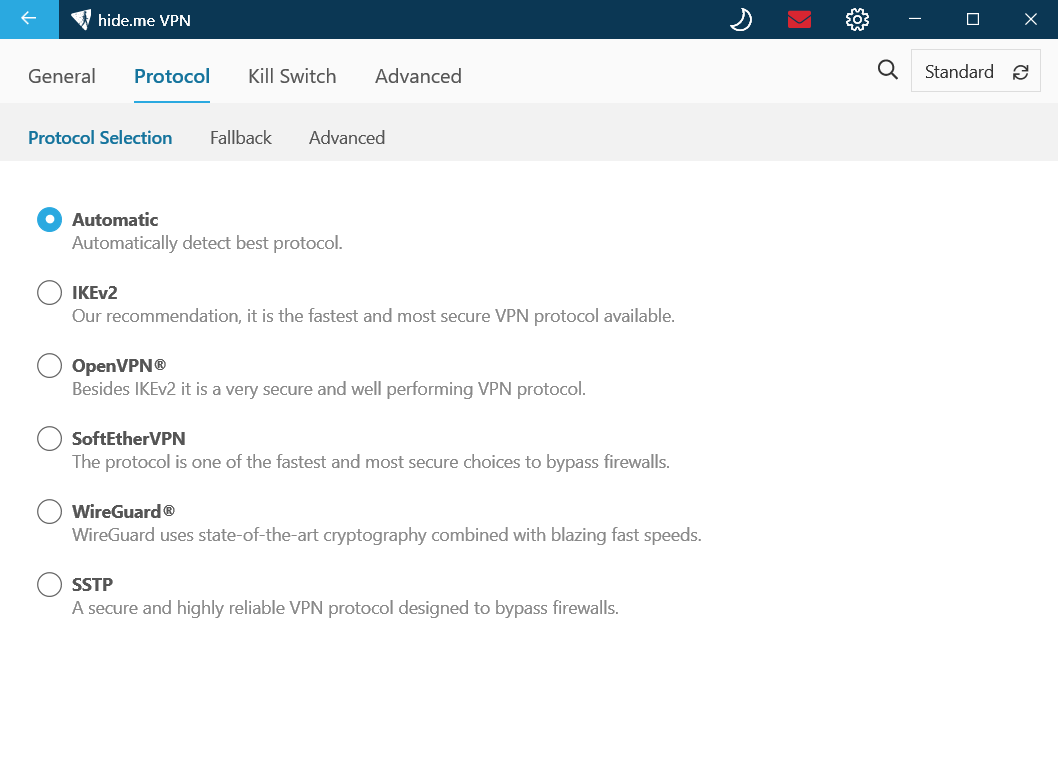 Sam Singleton
The VPN itself comes with industry standard AES 256-bit encryption. It also offers a whole range of protocols including IKEv2, OpenVPN, SoftEtherVPN, WireGuard, and SSTP—that's more than most other services. Furthermore, it even offers advanced configuration options for many of these protocols to add to the customization. And in my testing I found that there were no IP address leaks when using Hide.me across any of its servers and protocols. 
When signing up for Hide.me you do have to provide personal billing information and it accepts payments via Credit Card, PayPal, Google Pay, and various cryptocurrencies.
Is Hide.me worth it?
Hide.me is a really intriguing VPN service. On the one hand it offers fantastic tools to help power users tweak and configure to their heart's content. On the other, it can't quite nail down some basic things you want from a VPN such as consistent speeds across servers and a user-friendly interface.
It makes all of the right privacy promises though and the service was able to unblock all streaming sites that I tested. Overall, it's a well-rounded service that ticks almost every box you could want from a top VPN. I can easily recommend it for experienced power users, but beginners might want to try the free version first before committing to the premium service.
Editor's note: Because online services are often iterative, gaining new features and performance improvements over time, this review is subject to change in order to accurately reflect the current state of the service. Any changes to text or our final review verdict will be noted at the top of this article.