After it started testing a
$1-per-year subscription for new users
in select countries X (previously Twitter) announced over the weekend that it has decided to launch an even more expensive tier than the one that gets users verified on the platform.
In an attempt to stop the deep dive of its revenue to abysmal numbers, X is now launching the Premium Plus tier, which costs no less than $16 per month. The information was confirmed by the X Premium account, along with details about the benefits that those who are willing to pay for it will receive.
For starters, Premium Plus will completely remove ads from the For You and Following feed tabs. More importantly, X promises to offer Premium Plus subscribers the largest boost for their replies in comparison with other Premium tiers or unverified users.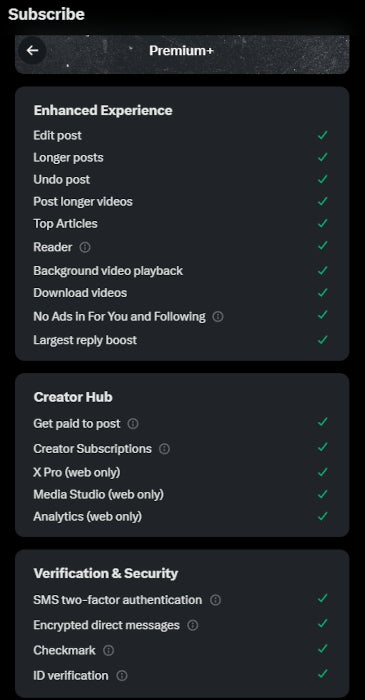 Premium Plus benefits
Finally, X says that Premium Plus subscribers will have access to its full suite of creator tools. All of these benefits are now available for those who subscribe to Premium Plus on the web. It's not possible to subscribe to Premium Plus on mobile yet, but that's probably going to be added very soon.
However, Android and iOS users might be forced to pay for X's Premium Plus plan due to the fees the company must pay to Apple and Google. Those fees are non-existent on the web because the distribution is handled directly by X.
Currently, X has three different subscriptions plans: Basic, Premium, and Premium Plus. The cheapest tier costs $3 per month, while the Premium and Premium Plus are now available for $11 and $16, respectively. For more details about the benefits of each of these tiers, make sure to visit X's dedicated page.