For a limited time, Amazon is offering an Audible deal on its audiobook subscription with a price of up to 60% off the normal subscription cost. You can cancel at any time during the discounted period and not be committed to a longer subscription.
With the discounted Audible subscription, you get one audiobook title to download and keep each month, plus unlimited listening to thousands of select Audible Originals, podcasts and audiobooks.
In this Audible deal in the U.S. you pay just $5.95 for the first four months. The subscription, if you don't cancel it during the period, costs $14.95/month thereafter.
In the UK you pay £2.99 for the first three months. The subscription, if you don't cancel it during the period, costs £7.99/month thereafter.
This deal is open to all, as long as you are a new customer of Audible or have cancelled your Audible account within the past 12 months.
The Audible offer is available until December 31, 2023 in the U.S. and November 27, 2023 in the U.K. (early Black Friday deal). The Audible app works on iPhone, Android, Windows, or on Amazon's own Fire Tablet, Fire TV and Echo.
Get the Audible U.S. discount for four months.
Get the Audible U.K. discount for three months.
Audible deal
The audiobook membership service hosts the world's largest selection of audiobooks and "premium spoken-word entertainment", according to Amazon. Membership includes unlimited listening to the Plus Catalogue–thousands of Audible Originals, podcasts and select audiobooks.
Audible membership includes a credit every month, applicable to any audiobook, regardless of its price or length. Prime members can claim two audiobooks as a part of the trial.
You get to keep the books for life, even if you cancel–which you can at any time, including the day before the third month if you no longer wish to continue as a member paying full price membership.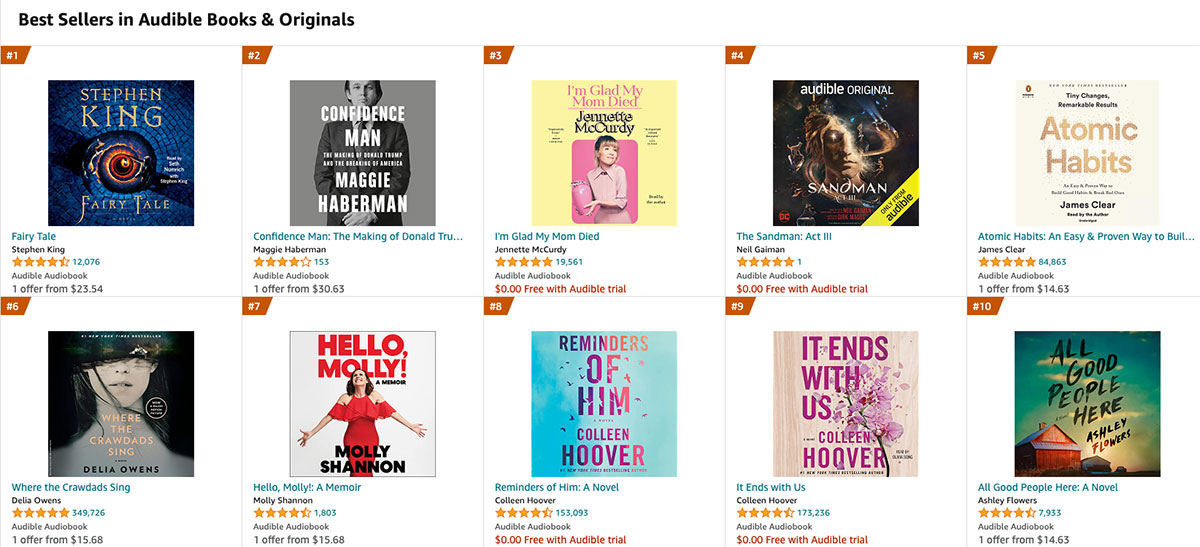 Audible
Members also get unlimited listening to a huge selection of Audible Original Podcasts, at no extra cost.
Outside of the membership, audiobooks cost considerably more from Audible via Amazon. For example, Barack Obama's A Promised Land autobiography will set you back a whopping $39 or £49.
There are different-level Audible membership plans:
US Audible pricing
Monthly membership: $7.95/month for Audible content but no monthly best-sellers or new releases
1x Book Premium Plus Monthly membership: $14.95/month
2x Book Premium Plus Monthly membership: $22.95/month
12x Books Premium Plus Annual membership: $149.50/year
24x Books Premium Plus Annual membership: $229.50/year
UK Audible pricing
1x Book Monthly membership: £7.99/month
2x Book Monthly membership: £14.99/month
12x Books Annual membership: £69.99/year
24x Books Annual membership: £109.99/year (best value)